The world lost one of its truly gifted minds when it lost Robin Williams. He had this way of touching us with humor and emotion unlike any one else. And in his passing we are reminded of the importance of our connection with one another. In our lives, our journey, each of us has our own struggles. At any moment as we go through our day, we need to realize that beyond a person's exterior is someone with a real human need for love, understanding, encouragement and acceptance. In this world of interconnectedness, we need to never forget that the greatest gift we can offer to each other is ourselves.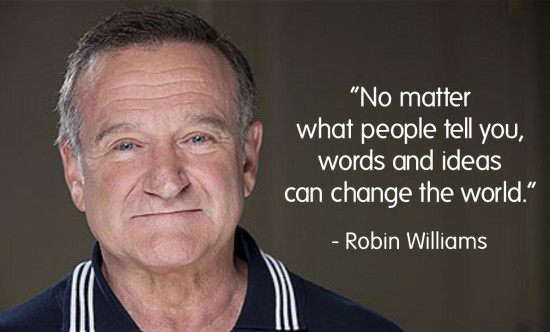 The Rotary Club of Cincinnati annual Believe 2 Achieve event once again sold out with 400 members and guests raising money for three local nonprofit organizations. The event was emceed by Dave Lapham, former Cincinnati Bengals player and radio analyst with Cincinnati Reds bat boy Teddy Kremer serving as assistant. The $101,000 raised was distributed to Stepping Stones for Camp Allyn, The Down Syndrome Association of Greater Cincinnati, and The Autism Society of Greater Cincinnati.
To learn more about the Rotary Club of Cincinnati, please visit their website, www.cincinnatirotary.org.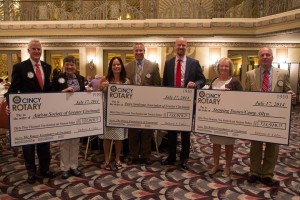 Do you have an idea worth spreading? I encourage you to audition for the TEDxCincinnati main stage event that will be October 16. It is the first time ever that TEDxCincinnati is holding auditions. If you are selected, you no doubt will be speaking before a packed sell-out audience October 16 at Memorial Hall.
It is such an awesome event and organization. If you are unfamiliar with TEDxCincinnati, it is a local program offering events that bring people together to share a TED-like experience. TEDTalks videos, live speakers, and sometimes entertainment combine to spark discussion about a broad range of topics. TED is a nonprofit that supports world-changing ideas. At TED, the world's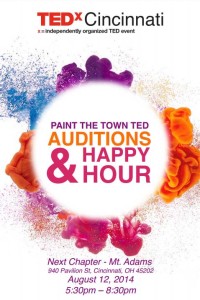 leading thinkers and doers are asked to give the talk of their lives in 18 minutes or less. Talks are then made available, free, at TED.com. TED speakers have included Bill Gates, Jane Goodall, Elizabeth Gilbert, Sir Richard Branson, Benoit Mandelbrot, Philippe Starck, Ngozi Okonjo-Iweala, Isabel Allende and former UK Prime Minister Gordon Brown.
"What is truly magical about TEDx events is the enthusiasm that they spark for issues. We are all about energizing people, opening dialogue, and moving people to action," said Jami Edelheit, TEDxCincinnati curator and organizer.
Want to audition?
Auditions will be held at the upcoming TEDxCincinnati happy hour – August 12 from 5:30 pm to 8:30 pm at the Next Chapter in Mt. Adams. (Tickets are $20 and can be purchased through the website.) HOWEVER, you must reserve your audition spot by emailing TEDxAuditions@gmail.com. Each speaker will have up to 2.5 minutes to share their idea.


Andrea Francisco lives in Cincinnati and is a soon-to-be-senior at Indian Hill High School. She will also be interning with me this fall to share her thoughts through my blog. I will have more information about her later, but for now she is sharing her wonderful experience as an exchange student this summer traveling to Taiwan. This is the last in her three-part series about her trip.
Please click here to read part one.
Please click here to read part two.
by Andrea Francisco
As I look back on the past two weeks, I can't help but laugh and smile, because of all the wonderful memories that were made. Everything about this trip somehow made me feel closer to the world, and for that I can't thank my host family and all the people I met in Taiwan enough. Also, I feel more mature and like a global citizen who is ready to live the life ahead of me to the very fullest.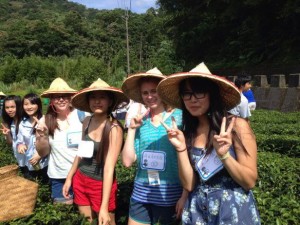 Because of this amazing exchange program organized by New Taipei City, I can say that I am much more cultured and have a more positive perspective of the world. I made so many new friends from Cincinnati here in Taiwan that I probably never would have even met back home had I not joined this program. Overall, I believe the most impressive things we did together in Taiwan include going to a huge night market, lighting giant lanterns into the sky, and learning how to spin Chinese Yo-Yos from elementary school kids. In addition, we witnessed countless performances from kids our age and younger, including a dragon show and glee club dance. These kids are breathtaking in their performance and enthusiasm onstage; you just have to go to Taiwan to understand! All in all, I have not only learned a great deal about the Taiwanese culture, but also about myself as a person. This experience is truly unforgettable and definitely the biggest highlight of my summer. I sincerely recommend this program to anyone who is looking for adventure and fun packed into an enlightening experience.


Andrea Francisco lives in Cincinnati and is a soon-to-be-senior at Indian Hill High School. She will also be interning with me this fall to share her thoughts through my blog. I will have more information about her later, but for now she is sharing her wonderful experience as an exchange student this summer traveling to Taiwan.
This is the second of a three-part series. Please click here to read her part one.
By Andrea Francisco
I have to admit, before heading with Carly to the MRT train station that would take me to her boarding school, I was a little nervous. Her high school, named Shuang-Xi, was to host me along with Claire, another American girl from our exchange group, for three consecutive days. Temporarily, Claire and I would have no contact with other Americans, and it would be as if we were Taiwanese ourselves living our daily lives. Actually, Claire is ethnically Taiwanese as her parents are both from Taiwan, but culturally she is just like any other American teenager. Throughout the three days, Claire and I greatly bonded as the only fully-speaking English people and became good friends. We also made friends with countless Taiwanese students, who were always excited to see us and ask us how American life is. One of my favorite things we did together was at our farewell barbeque, where we slow-roasted everything from chicken to tofu in barbeque sauce. Overall, it was truly amazing to see how beautifully our cultures could mesh, and I am excited to find out more ways to exchange our cultures.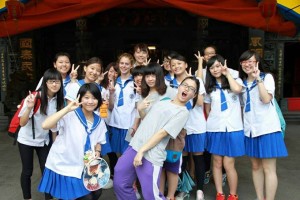 All in all, Shuang-Xi high school has taught me so much about the lives of teens just like me who happen to live halfway around the world. I am very impressed with how kind and friendly everybody is there. As one of the four students lucky enough to go to boarding school with their host buddy, I was unsure of how the next three days would look like. However, after spending only a few days at this school, I had made many new friends that touched me and made me think differently about the world. Furthermore, there are many differences between my high school in America and my host school in Taiwan. For example, at Shuang-Xi students stay in the same room with the same group of kids all day, while different teachers rotate to teach classes in their room. This highly contrasts with my school in America, because we are always in a frenzy to scramble to our next class in only five minutes, which we have to repeat for seven bells. In addition, I want to let my host buddies and host school know that I am so grateful for their friendliness and enthusiasm towards me. Hopefully in the future you all can come to my school and I will show you what life in an American school is like.