My morning thought: Never let a lack of knowing all the answers deter you. All of us are constantly learning…even experts.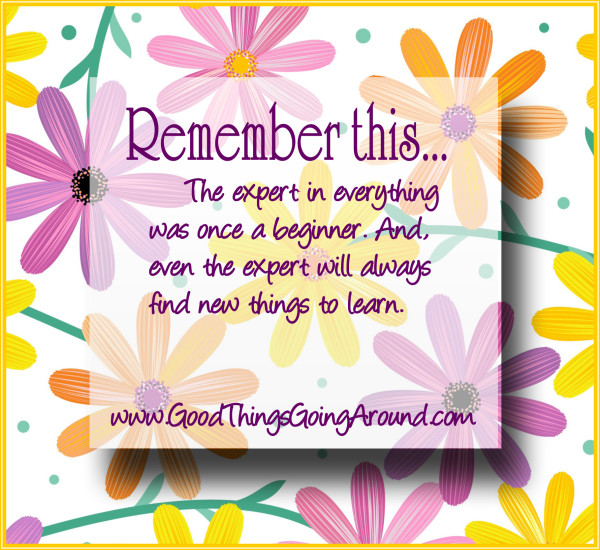 Chris Pike remembers that moment like it was yesterday. He and his wife were in town to celebrate Chris' birthday with his family. Their longing to share a home with double the joyous, childlike antics of a golden retriever took them to a farm that was ironically in the neighborhood of our region's hub for adventure – Kings Island.
And there he was. A 10 week old, cream colored teddy bear who bounced as he ran straight into the arms of the couple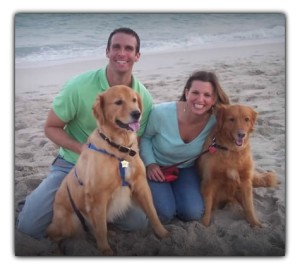 whose home and hearts were to be one with his for the rest of his life. Skyler had a way with women. Truth be told, he had a way with everyone. It was his beautiful, magical gift that he was brought into this world to share.
Kiara too filled her world with love.  Every day was an adventure, a new opportunity to explore and new people to meet.
Sadly those gift was brought to an end by a disease that takes the lives of one out of three dogs. Canine cancer, Chris learned, was actually fairly common especially in golden retrievers. In fact, cancer took the life of not just one but two bundles of sheer happiness from the Pike's household.
Today, the legacy of Skyler and Kiara is in the hard fought battle of Chris to wage a war against that deadly enemy.
Chris is the vice president of marketing and promotions for the National Canine Cancer Foundation, a national nonprofit organization that provides grants to researchers working to save lives, find cures, improve treatments, and develop more accurate and cost effective diagnostic methods in dealing with canine cancer.
The Foundation continues to grow. In fact, over the past four years, it has surpassed each year prior in terms of funds raised and they just reached over $200,000 that will be ready to fund 2014 grants.
You can help them on their quest to eradicate cancer.
Please click here to read about this weekend's Pup Crawl in Oakley Square to raise funds for the National Canine Cancer Foundation. It's going to be a ton of fun for a great cause!


The generosity and dedication of young people always inspires me. I received an email the other day from Annie Blumenfeld, a 16 year old from Connecticut, who very obviously has a huge heart for dogs.
It was after watching as her beloved rescue dog, Teddy, had to remain inactive in his crate for several months and endure many vaccinations and x-rays, that Annie did some research and took it upon herself to fight her furry friend's enemy –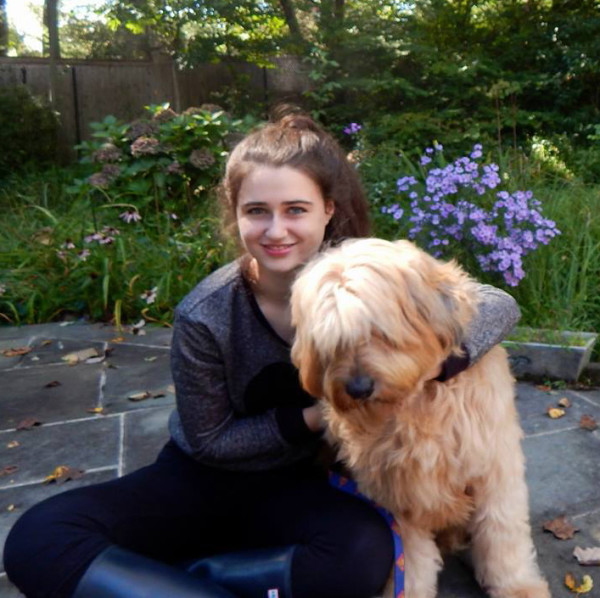 heartworm disease – head on.
"It broke my heart to see that Teddy could not understand why he was in his situation and that he could not play with any of his friends," Annie told me. "It was such a painful, expensive and long process that could have been easily avoided with a monthly preventive.
"I discovered more than one million dogs in the United States currently have heartwork disease and 45% are unprotected."
And with that, Annie founded her own nonprofit called Wags 4 Hope to raise money for the medical needs of animal shelters and raise awareness about heartworm.
The young philanthropist designed her own website and personally did all the legwork involved in gaining 501C-3 status. She writes her own blogs and a monthly pet column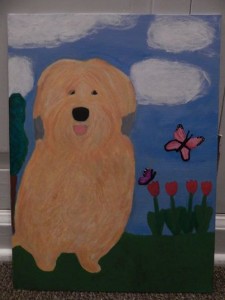 on pet responsibility. At her school, she established a Wags 4 Hope that currently has 40 members who hold fundraising events and collections. And she has painted and sold 300 original dog portraits with 100% of her profits going to animal shelters. Annie just finished a very personal painting of her dog, Teddy, for the new children's cancer wing of the Mayo Clinic in Minnesota.
"I hope Teddy brings the children lots of hope and laughter," she told me.
No doubt, Teddy and Annie already have.
If you would like to learn more about Annie's cause, and even purchase one of her paintings, please visit http://www.wags4hope.org.
About heartworm from Annie's site:
Heartworm disease is caused by a parasitic worm, Dirofilaria immitis, from mosquitoes. These worms are spread through the bite of a mosquito and produce offspring while living inside the dog. The worms are called "heart worms" because they live in the heart, lungs, and other blood vessels of an infected animal. In the United States, heartworm disease is most common in the South because of the extreme heat in which the mosquitoes thrive in, but they are present and highly populated in all 50 states. Heartworm disease is also present throughout Europe, Australia, Canada, and Africa. Heartworm disease cannot be spread from one dog to another it is only spread by the bite of a mosquito.
Since, heartworm disease treatment is very expensive, and there is a chance that your pet may not survive the treatment, preventatives are a great solution. There are many safe FDA approved products that can be used. All of these products require a veterinarian's prescription. These preventatives are used monthly and are simple. There is a vast range of different products from liquids, to tablets. The use of preventatives depend on your location and your dog. Some veterinarians use their own holistic remedies. Please talk to your veterinarian about the best way to protect your pet.


Cambray Smith is a senior at Wyoming High School in Cincinnati and is interning with Good Things Going Around through the summer. Please visit back as this tendor, very talented student, leader and philanthropist shares her life lessons in blog posts.  To learn more about Cambray, please visit her introduction page and you can find her posts by doing a blog search or clicking on the category with her name.
Hello again! I've returned from spring break and I'm getting back into the routine of school, activities, and general busyness.  During this break, I was given the opportunity to reflec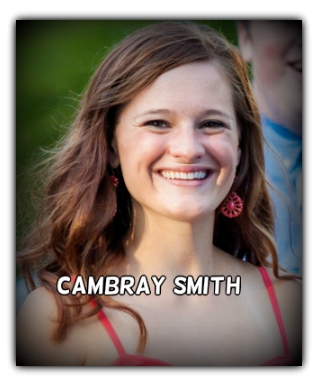 t and I've emerged much more appreciative of certain parts of my life.  They're the fairly standard "things to be thankful for", but that doesn't mean that reminders are ever remiss.  They're in no particular order.
1.  Time with my family.  I am so grateful that I was able to attend my aunt's beautiful wedding in St. Augustine, Florida.  It was a small, intimate ceremony that was full of emotion, love, and laughter.  From the cousins taking over the dance floor to the surprise African drum circle that comprised of both college percussion students and any brave wedding guests, there was an air of community and connectivity among everyone in attendance.  I also had a great time playing hilarious games of beach volleyball with my three sisters and parents.  It's bittersweet knowing that I'll be heading off to college in a few short months, but I wouldn't have traded this time for anything.  Even fourteen hours in the car together was yet another chance for us to laugh with (and occasionally at) each other, all in good humor of course.
2.  Time to relax and do nothing.  I'm really bad at this, to be quite honest.  Even when I attempt to kick my feet up, I often do this by attempting to accomplish something secondary that I feel like I should be doing.  Last week, I really enjoyed lounging around with my sisters, watching some Netflix, and letting my brain rest.  I had a no-stress, no-guilt policy for several days, and I highly recommend it to anyone who is constantly seeking productivity like I normally am.
            3.  Time to learn.  This complements number two as to not result in laziness.  When I got back from Florida, I made it a priority to continue reading the four books that I had abandoned during the school year due to my homework.  I read parts of several nonfiction books (A Severe Mercy, The Language of God, David and Goliath) and two fiction books (Sula and This Side of Paradise).  I'm not finished with all of them, but I left my room totally enthusiastic about life after spending time burrowed up in my books.  I also continued research for the social justice program that I'm a part of (The Heroine Fellowship) and looked at many sources expanding my knowledge on both HIV/AIDS and poverty solutions around the world.  These remind me of what issues I'm passionate about and they also help ground me in my studies at school so that I can use my education to its full.
4.  Time for prayer and reflection.  Daily life is so busy and I (wrongly) snip these activities off my list first because they're not "essential" by some standards.  However, I continually come to the conclusion that these are the most important commitments that I can make.  Seeking God and attempting to understand my own heart better are habits that need to become first for me, and spring break allowed me to leisurely pursue these actions while reestablishing their critical nature in my life.
It's sometimes hard to make these priorities, but I'm grateful that I was given time to do so.  I can't wait for my next break, but in the meantime, I'm much more enthusiastic about my life now that I've had time to recharge and recenter myself.