Here is to good people doing good things!
When Cincinnati Metro bus operator Jontay Love got in his vehicle the day of October 13, it was to be a day like many others. However things took an unexpected turn.
He was driving Metro's Rt 43 through Avondale around 10:15 pm when he heard gunshots. Jontay stopped his bus and saw an injured person lying on the ground calling for help. He followed Metro protocol to alert the authorities, and he got off the bus to assist the victim. Jontay stayed with the individual and talked to him until authorities arrived…and then finished his route as usual.
"I wanted to help keep him calm. I didn't want him to panic or go into shock," Jontay said.
A Metro operator for the last 10 years, he has had several commendations for his service during his tenure. SORTA presented him with Metro's STAR Award, which stands for "Service That Attracts Recognition," on Oct. 21. This award acknowledges and rewards employees who demonstrate exemplary service to Metro and the community.
Here is to random acts of kindness!


The Greater Cincinnati Foundation recently honored dynamic people whose commitment to philanthropy is helping to make our Greater Cincinnati community a better place for all of us.
Ed and Carole Rigaud are this year's recipients of the Jacob E. Davis Volunteer Leadership Award, recognizing their leadership and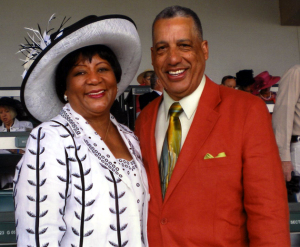 generosity of time toward improving the quality of life in our region. The Award was named in honor of Jacob E. Davis, GCF's first Governing Board Chair and Volunteer Director from 1978 to 1987.
The Rigauds' names are synonymous with generosity and dedication. They have demonstrated these qualities in their professional, volunteer, and family lives. I have been fortunate to have seen Carole's heart in action first hand during my eight year tenure working with Lighthouse Youth Services, one of her charitable causes.
During his 36 years at Procter & Gamble (P&G), Ed became the first African-American line vice president, eventually serving as vice president of government relations in North America. In 1998, he became the first president and CEO of the National Underground Railroad Freedom Center, on loan from P&G. Today, Ed is a co-director of Taft Business Consulting LLC. He is also the president and CEO of Enova Premier, LLC, automotive product supply and services.
Ed's numerous volunteer roles include being a past member of the National Museum and Library Services Board, appointed by President Bush in 2002. His many volunteer activities include Honorary Chairman of the National Underground Railroad Freedom Center, and serving on the boards of the Williams College of Business at Xavier University, and UC Physicians at the University of Cincinnati Medical College.
Carole has a long list of volunteer commitments and awards. She serves on the Lighthouse Youth Services and 4C for Children gala committees. She volunteers for the National Underground Railroad Freedom Center, Lighthouse Youth Services, Advocates for Youth, The Women's Alliance, The Healthcare Connection, and Cincinnati Youth Collaborative. Carole has served as the co-chair of the 2013 National Underground Railroad Freedom Center's International Freedom Conductor Awards and on the boards of GCF, Mount St. Joseph University, Cincinnati May Festival, Dress for Success, The Mercantile Library, Interact for Health, Cincinnati Museum Center, Northern Kentucky University Foundation, and The Center for Holocaust and Humanity Education.
Carole has been honored as an Enquirer Woman of the Year, a Girl Scouts Great Rivers Council Inc. Women of Distinction, and with the Lighthouse Youth Services 2010 Beacon of Light Humanitarian Award.
The GCF honored Foster & Motley Wealth Management with GCF's Bridge Builder Award. The Bridge Builder Award is given each year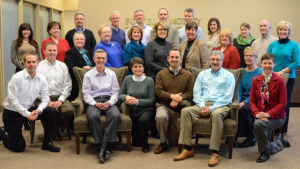 to a professional advisor(s) who has been a supporter of the Foundation in multiple ways over many years.
Foster & Motley, Inc. is an independent SEC Registered Investment Advisor established in 1997. Its focus is to help its clients reach their financial goals. Its team of 32 employees provides the highest quality, customized, fee-only financial planning and investment services. They assist clients in managing well over $950 million in assets and provide comprehensive solutions to their complex financial and investing needs.


I'm looking forward to participating again in the annual Bark Out Against Battering event next Saturday, October 25 at Washington Park (1230 Elm Street across from Music Hall).
The benefit for YWCA Cincinnati is to raise awareness about the partnership between SPCA Cincinnati and local YWCA domestic violence shelters.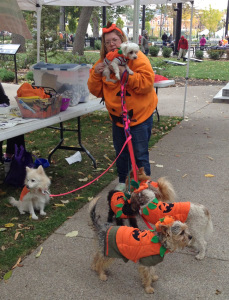 Local 12 anchor Paula Toti will be the emcee for this family event.  The Pet Parade will begin at 12:00 followed by a pet costume contest (please only dress your pet if his body language tells you he is not stressed wearing it). Registration begins at 11am. There were also be a Pet Trick-or-Treat, where attendees can walk their pets from one booth to another for a small treat from a local pet shop or service non-profit. There will be Food trucks, a pet Photo Booth and animal adoptions as well as some really awesome Raffle Prizes.
The festivities begin at 11 am and conclude by 1:30 pm.
This event will help to connect the link between domestic violence and animal abuse. Not only is cruelty to animals frequently both an indicator and predictor of interpersonal, family, and community violence, but an alarming number of women report that threats to their companion and farm animals prevent them from leaving abusive relationships. This event will allow the YWCA Domestic Violence Shelter and Women Helping Women to further emphasize that connection. Funds raised will help to support the Domestic Violence Shelter's efforts to work with the SPCA in removing the worry women have, by assisting in providing protective shelter for pets during the women's stay in shelter.
For more information about the YWCA, other Domestic Violence Awareness Month events, and ways to help abused animals please visit: www.ywcacincinnati.org , www.womenhelpingwomen.org , www.spcacincinnati.org
There is also a Facebook page.


This post was written by my intern, Andrea Francisco, a senior at Indian Hill High School in Cincinnati
On Friday, October 24th, come to Indian Hill High School for Touchdown for Downs, a fundraiser that will help fund important cognition research benefiting those who have Down syndrome. A few years ago, an Indian Hill High School student, Becca Daun was inspired by her brother to help fund its research. She created "Touchdown for Downs", a truly awesome fundraiser that is held during one of Indian Hill's home football games.
While interviewing my fellow classmate Carissa Contra, a volunteer for Touchdown for Downs, I asked her to tell me what this annual fundraiser is all about. She told me it benefits the Lumind Foundation and The Down Syndrome Association of Greater Cincinnati. "We are so excited to spread awareness and raise money for a great cause! From raffles to food and drinks, this event is all about having fun and raising money as a community," she said
After asking her why this cause is important to her and how she got involved, Carissa responded, "Rebecca Daun and I started it to support her brother, Michael, who has Down syndrome, and just raise awareness around the community."
If you're wondering, the Lumind Foundation is a foundation that was established in 2004 to fund cognition research relating to Down syndrome. In essence, their mission is to "accelerate the development of treatments to significantly improve cognition, including memory, learning and speech, so they can participate more successfully in school, lead more active and independent lives, and avoid the early onset of Alzheimer's disease." Their vision is "not a cure, but treatments to improve memory, learning, speech, and ultimately independence."
Similarly, the Down Syndrome Association of Greater Cincinnati is another organization that supports people who are impacted by Down syndrome through support programs, community groups, and advocacy work. The organization's mission is to "empower individuals, educate families, enhance communities and together, celebrate the extraordinary lives of people with Down syndrome."
Last year's Touchdown for Downs was a great success: they raised more than $4,000! This year, they hope to have even more people come. This is an event that is sure to stay and create a lasting tradition at Indian Hill. Touchdown for Downs will be held at Indian Hill High School on 6865 Drake Road on Friday, October 24th at 5:30 P.M., where there will be food and drinks under the pavilion. Also, there will be raffles, T-shirt sales, and bake sales. At 7 P.M., Indian Hill will play its game against Wyoming and at halftime there will be a show including the participation of special-needs students. Please come out and support research benefiting people who have Down syndrome while having a fun time at Touchdown for Downs!


Every once in awhile I write about someone in my life who inspires me. Carolyn Dickerson is one of those people.
Carolyn and I first met through the American Marketing Association when she took on a leadership role and began working with me (I lead the Nonprofit Marketing Special Interest Group for the AMA). Little did I know how her presence in my life would impact me personally and professionally. We quickly became friends. If your life has been lucky enough to have crossed paths with hers, you more
than likely have grown as a result too.
Carolyn is brilliant when it comes to business leadership and marketing. Always studying to remain up-to-date on technology advances, she has successfully managed projects ranging from $100K to $2.5M; and conducted presentations and trainings in sales and social media; and consulted with many organizations to help them to be more productive and successful.
What really sets Carolyn apart is her rare and genuinely caring nature, and how she flawlessly knows how to bring out the best in those around her. Carolyn so naturally motivates people by focusing on their strengths. She goes out of her way to help others find their inner spark, when sometimes they can't find it themselves. And she is always looking for opportunities to give back.
Carolyn is one of five children born in rural Kentucky. "When you grow up in a very poor family, your parents give you what they can. Mine didn't have money to give, but they gave me my values," she said.
"I have known my purpose since I was a small child. I was raised to serve thanks to my mother," Carolyn went on to tell me. Her mother was a petite woman, with a frame no taller than 4 feet 9 inches. But Carolyn's mother had immeasurable wisdom. "She was an aide at St. Elizabeth Hospital working in the psychiatric ward before the medical profession understood what Alzheimer's and dementia were. One day she came home and I saw a large bruise on her back as she took off her uniform. When I asked what happened, she said someone was upset and threw her up against a wall before some could pull him off of her. When I asked why she did what she did for a living, she told me, 'Honey, someone has to care!'
"This is why I am who I am and my younger sister is a nurse, my nephew is a certified nursing assistance and the family legacy goes on! Her legacy is that she taught that caring is important.
My dad always taught us to dream big because he wanted a better life for us than he had. He always encouraged us to get an education. He told us, 'To Show THEM what you are made of! You can do anything if you want to do it bad enough. Dream big!'"
What Carolyn's parents gave her is something far more valuable than money. Carolyn is someone I admire so much in the way she leads and manages. She demonstrates every day that organizations, teams, and people are the most successful when they encouraged to see the big picture and the finer points of their strengths. But also I admire Carolyn as a human being who models integrity and compassion.
And I am glad to be able to call her my friend!