Just think about it as Can University – a place where girls learn that they CAN. No limits. No constraints. Only opportunities to be remarkable.
And for 10 years, more than 10,000 local girls have grown physically; in confidence; character values; teambuilding and life skills through this great learning think tank.
Also known as Girls on the Run of Cincinnati, it is part of an international non-profit organization dedicated to enhancing the lives of young girls in grades 3 to 8. Its 12-week programs (one in the fall and one in the spring) combine exercise with positive education and encouraging role models. Meeting at various locations twice a week, each 75 minute lesson incorporates running and walking games, as well as teaching participants about healthy eating, leadership, setting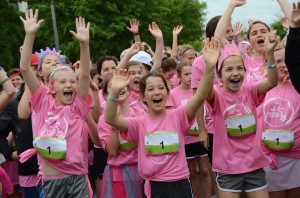 goals, cooperation and other age-appropriate topics. The culmination has the girls participating for their very own 5K run/walk.
Megan Folkerth is making a difference.
This fall will be the 11th race in which she has volunteered for the organization. Since 2009 she has served on the Race Committee, coordinated the running buddies and been one (an adult matched with one of the girls to run together in the 5K), and a SoleMate fundraiser.
A long distance runner herself having completed 15 marathons, five ultra marathons, various other races and in training now for a 100 mile trail race, Megan understands the value in reaching within yourself. "It is a huge sense of accomplishment when you push yourself to attaining a new goal," she told me.
Why is Girls on the Run important to her? "I think about the struggles you go through as a young girl and how awesome a program like this would have been for me years ago. We are helping these participants to grow up and be successful and lead a healthy life.
"My greatest satisfaction though comes from watching them cross the finish line and finish something they did not think they could do 12 weeks ago, and knowing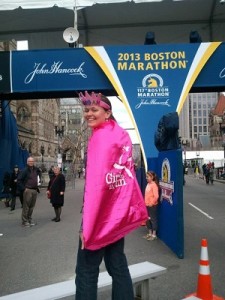 my efforts contributed to that success. It just makes you feel great."
It is an afterschool program – girls meet twice a week at their site with a head coach and assistant coach. There is a lesson and a running component. Lessons vary from body image to self esteem to anti-bullying. Different element of curriculum each time and big celebration is 5K.
Megan has helped organize a bone marrow drive with the Flying Pig Marathon. She coaches in a running group and done some volunteer work with MS.
She has been running – first half marathon in 2007. She has done 15 marathon, various halfs and others, 5 ultra marathon (50K or over and usually trail races). Why does she run? She works in the health field and this is a huge component to leading an active life. Sense of accomplishment to push self to attain a new goal.
How can you help?
Girls on the Run relies on volunteers to work directly with its girls and coach its programs. In addition to coaching, there are several other volunteer opportunities including: race day event volunteers, office support volunteers, SoleMates participants, committee members and various other projects. There are also group volunteer opportunities for corporations or organizations.
SoleMates are adult runners who pledge to raise money for Girls on the Run while training for their own races. With the program costing about $160 per girl, these fund raisers have an important role in ensuring everyone who wants to participate will have that opportunity.


You are awesome!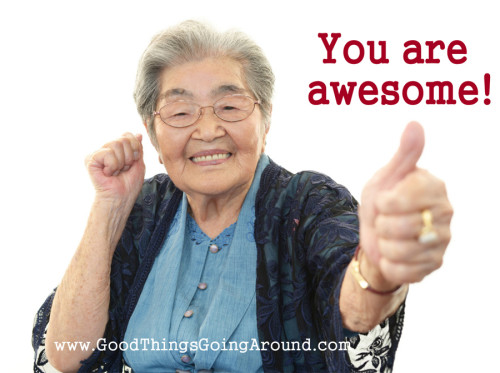 What a neat idea! Coming in October to Cincinnati is the Grand City Experiment.
What is the Experiment you ask? The Grand City Experiment is a serv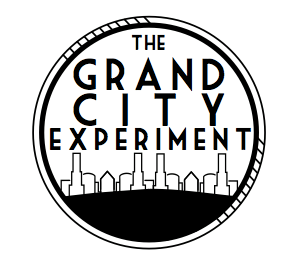 ice project from this year's C-Change, a leadership development program of the Cincinnati USA Regional Chamber. Led by Aftab Pureval and Andrew Salzbrun, the group will be asking people to engage with neighbors, co-workers, family, friends and even strangers in a daily charge to make Greater Cincinnati more welcoming.
To participate, simply share your email address at www.TheGrandCityExperiment.com. You will receive a few emails prior to October and then daily emails once the experiment begins. Daily challenges may range from introducing yourself to a stranger to inviting someone in your office out to lunch.


I had just come across a paragraph I had written awhile back for the Big Brothers Big Sisters of Greater Cincinnati. It was about the importance of mentoring. Reading it inspired me to share some thoughts.
To Big Brothers Big Sisters…
All of us, no matter what our upbringing, will face obstacles and detours on our journey through life. Having a positive role model – a mentor – who we can count on to help guide us, teach us and inspire us is a true gift that has the rippling power to uplift our entire life. The power of an adult who cares to an impressionable young person is so huge. It is the greatest feeling to know you have made a positive impact on a child. I have been the mentor and the mentee. Those relationships will be ones I will always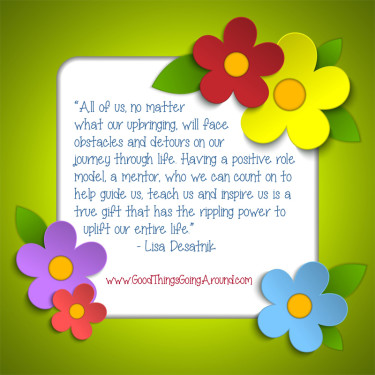 treasure. They have taught me about empathy and integrity. They have made me a better, stronger person. Thank you to the Big Brothers Big Sisters of Greater Cincinnati for fulfilling such a vital need in our community.
Mentors change lives
So I got to thinking about the people who I have been lucky enough to have crossed paths with, people who I consider my friends, role models and mentors. There have been many, each impacting my life in a different way.
There is Bill Mefford, who took me under his wings as a young professional, had the confidence in me to let me learn by doing on amazing projects, and was always available to share his knowledge when I needed it. Bobbi Harrison, one of the most creative people I have ever met, is someone I can always count on to bring out my smile. Just being in the same room with him inspires me to think in ways I hadn't considered before. Toni Miles, Peg Gutsell and Sandy Kerlin were three clients turned friends whose appreciation for my strengths gave me wings. Friend Dianne Wente has never let me quit and always pushed me to see my potential. Mike Shikashio met me for the first time at an Association of Professional Dog Trainers conference and continued to find me throughout the weekend to ask if I was going to pursue dog training. Since then, he has never once waned in encouraging me and pointing out my strengths. Mike has been a rock to me, always finding time no matter how busy he is (and believe me – as a father, husband, successful dog trainer and president of the International Association of Behavior Animal Consultants, he IS busy) to be my sounding board, providing information, and offering advice. Other dog training friends Barb Gadola and Sheri Boone have also been there for me. Carolyn Dickerson has reminded me about inner strength and inspires me to be a better person. And of course my parents who taught me about kindness, love, standing up for what I believe it, and so much more.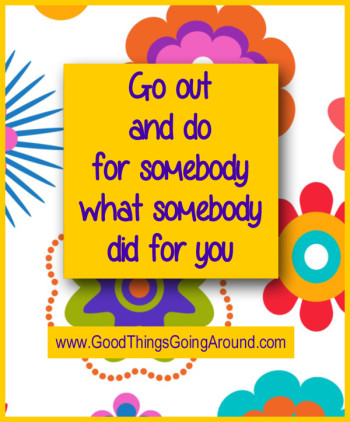 I know I am missing out on so many who have played a role in my being the person that I am today. I am grateful to each and every one of them. And I strive to pay that forward by using my gifts to empower others.
My challenge to you is this – take a moment to reflect on those who have been a positive influence on your life and how their presence has impacted you. Be grateful. Pay it forward by being that positive influence in someone else's life.


Cambray Smith is a graduate of Wyoming High School  in Cincinnati and is interning with Good Things Going Around.
Around through the summer. Please visit back as this tendor, very talented student, leader and philanthropist shares her life lessons in blog posts.  To learn more about Cambray, please visit her introduction page and you can find her posts by doing a blog search or clicking on the category with her name.
Cambray just returned from a life changing mission trip to Haiti where she learned some valuable lessons in empowerment and hope.  The divide between our two diverse cultures became much smaller as she spent time caring for orphaned children there.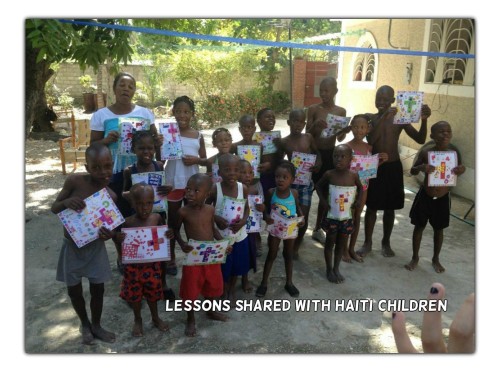 I'm going to be honest, my trip to Haiti was kind of depressing.  Despite the gorgeous flight in over the ocean, my plane was completely filled with humanitarian-type foreigners—never a good sign for the state of the country.  Many streets are lined with burning trash.  There is extremely limited opportunity to work due to the lack of any big industry or service (almost everything is imported), and 95% of schools are private, so average kids cannot afford to go, leaving them with way too much free time and few skills for later in life (assuming there are even jobs to find).  Everywhere you look, there is still damage from the earthquake two and a half years ago, and the natural disaster only highlighted to the world the foundational struggles of daily life in Haiti.
It's important to note that some of the reasons Haiti hasn't moved on despite the influx of foreign support is because in our desire to help, we have donated items that essentially drain the Haitian economy.  The basic textiles industry has been replaced with free donated clothes from the US, and the peanut industry was greatly harmed when churches organized drives that sent over tons of jars of peanut butter.  Our desire to help has led to job loss and in many cases, dependency, and in order to move this country forward, Haitian leaders will have to take charge and change this cycle.  As those trying to help, we need to research programs that are making long-term investments instead of immediate relief.  It feels great to be able to give out free clothes to a bunch of random people, but we also need to understand that we may be crippling job opportunity in the future.
My trip was with Back2Back Ministries, an orphan care group whose motto is "Care for today, hope for tomorrow".  They focus on investing into children in five ways: physically, spiritually, emotionally, socially, and educationally.  As short-term trip participants, it's stressed that every interaction that we have with the children needs to be positively building into one of these areas, and we spend a lot of time planning how we want to impact the kids each day.  We were paired up with kids from an orphanage called Harvest Care, so it was nice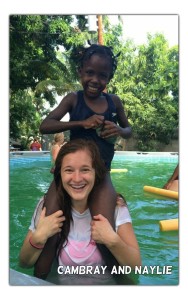 to be able to continually build a relationship with a specific child over the days.  I was partnered with a seven year old girl named Naylie, a sweet yet sassy little girl who loves to draw and eat mangos.
Knowing that there are fifteen children getting an education, food, attention, and love throughout these little lives is something that can't be said of all of Haiti's young, and even though it's a small start, I'm excited to continue praying for these children.  All over Haiti, on a small scale, programs are positively impacting this country, and to see very tiny (and sometimes malnourished) humans learning and living in a safe community is enough to give me hope for the rest of the country.  Hopefully, one day across Haiti (and the world), all kids will live in families instead of children's homes, and instead of short-term volunteers, Haiti will burst with visitors coming to celebrate the beautiful culture and ocean.