Over 1,600 Animals For Adoption At 'My Furry Valentine'
Last August, I wrote a blog post about a local photographer who specializes in capturing the personalities of pets. For Carolyn Evans though, her work goes so much deeper than her talent. She devotes so much time and energy into finding permanent, loving homes for animals who are without much hope.
If you know me, you know I have a special heart for what she does.
And so, I'm eager to help get word out about a huge event coming up next weekend that Carolyn is organizing with help from a friend, Kathy Parsanko, and a crew of other committed volunteers.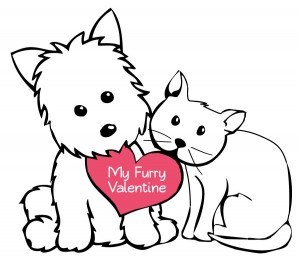 With Carolyn at the helm, for the first time EVER, shelters and rescue groups from our entire Tri-State region are pulling together with one unified mission: to educate the public that adoptable animals from shelters and rescue groups are one of the best sources for finding a new family pet -­‐-­‐ and to achieve the highest number of homeless pets ever adopted in Cincinnati in one day.
 My Furry Valentine, the Tri-­‐State's largest Pet Adopton Event, will be held Saturday, February 11, from 11 am to 6 pm. with the main event being held at flexi USA, Inc. Headquarters.  (8494 Firebird Drive
West Chester, OH 45014) There are other participating locations – for a list, please visit www.myfurryvalentine.com
Over 1,600 adoptable animals will be looking for their permanent home. Could you be one?
Pet overpopulation is an enormous problem in the U.S., and in our area. More than 33,000 homeless, adoptable dogs and cats are euthanized each year in our Cincinnati region, as a result.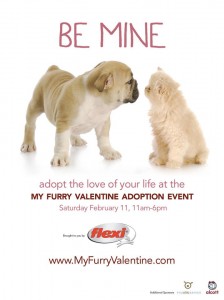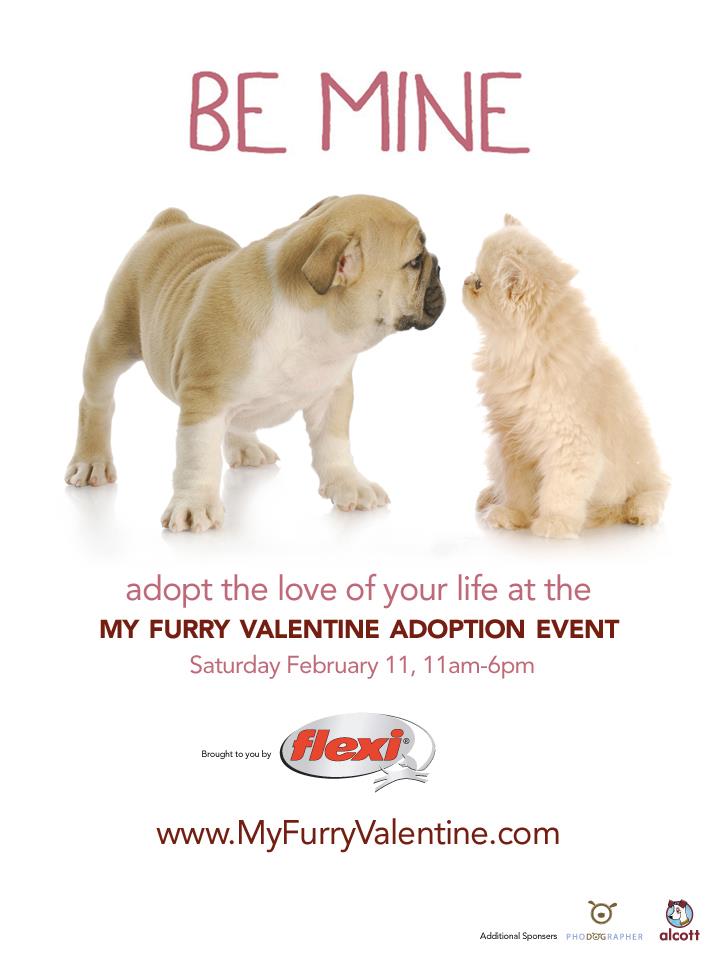 Participating Shelters and Rescue Groups
ABC's of Bullies, Adams County Dog Pound, Adore-­‐A-­‐Bull Rescue, All Dogs Come From Heaven, Animal Adoption Foundation (AAF), Animal Friends Humane Society, Animal Rescue Fund, Bluegrass Boxer Rescue, Boone County Animal Shelter, Brown County Animal Shelter, Campbell County Animal Shelter, Cincinnati Lab Rescue, Circle Tail, Coalition to Ban Dog Auctions, Clermont County Humane Society, Franklin County Humane Society, Friends of Noah, Grant County Animal Shelter, Golden Retriever Rescue & Adoption of Needy Dogs (GRRAND), Greyhound Adoption of Greater Cincinnati, Homeless Animal Rescue Team (HART), Homeward Bound Greyhound Association, Humane Association of Warren County Animal Shelter & Adoption Center, Joey's Greyhound Friends, Inc., Kenton County Animal Shelter, Kyle's New Hope Animal Rescue, League for Animal Welfare, Maverick's Mission Rescue, Maysville Rescue Team, Michelle's Spoiled Rotten Foster Dogs, Midwest Boston Terrier Rescue, Moore Love Rescue, No Kill Tri-­‐State, Ohio Pug Rescue, Our Gang Rescue, Owen County Friends of Animals, Pampered Pets Animal Rescue (PPAR), Paws Adoption Center, Puppy Pals Rescue, Queen City Greyhounds, Recycled Doggies, Sacred Hearts Animal Rescue & Sanctuary, Save The Animals Foundation (STAF), SPCA Cincinnati Stray Animal Adoption Program (SAAP), The Scratching Post, This Little Piggy & Me Guinea Pig Adoption & Rescue, Three Sisters Pet Rescue, Tri-­‐State CART (County Animal Response Team), UCAN Non-­‐profit Spay Neuter Clinic, United Pet Fund, Wags & Whiskers… and more continue to register daily!
 Donations Accepted
My Furry Valentine is accepting donations that day on behalf of the Cincinnati Pet Food Pantry (providing temporary food assistance for animals whose owners are struggling financially.) They accept unopened, unexpired bags of dog/cat food and kitty litter. And also for Blankets and Bones (a community outreach program that provides comfort to dogs in shelters) accepts new or gently-­‐used blankets and new rawhide bones. Anyone bringing a donation to the event will be eligible to win one of several great prizes.
My Furry Valentine is sponsored by Flexi USA, Alcott and PhoDographer. More information, including adoptable pets and satellite adoption locations for the day is available at http://MyFurryValentine.com
This is a GREAT PSA on pet adoption!

2 Responses to Over 1,600 Animals For Adoption At 'My Furry Valentine'