I have seen little pop up libraries around town – small stands in residential neighborhoods inside which are books for people to take, read and enjoy. But I have never seen a pop-up food pantry before…until I heard about a project by a group of Turpin High School students in their school's chapter of the Future Business Leaders of America. It is part of the business management class.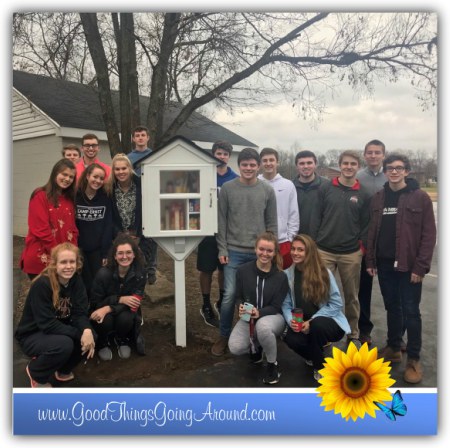 The Newtown Giving Box is a hand-made container that is shaped like a house, and has a large door that opens to containment blocks where non-perishable food, hygiene and household items are stored for those in need to anonymously stop by and take what they need. The free little pantry is a partnership with the Newtown United Methodist Church (3546 Church Street; 45244) – where it is located – and is stocked by community donors, many of whom are Turpin students. It is to help families and individuals who struggle with occasional food insecurities.
"One of the biggest things we have learned is that there are people everywhere who need help," said Jessie Pierce, Club vice president, "and, where there are people in need, there are people willing to help. I have always loved community service. This has really opened my eyes to who I am helping.
"The Newtown Giving Box has taught us a lot about leadership and how much it takes even for a smaller project. It was a lot of work to get this in the ground."
I asked some of the other Club participants for their thoughts. This is what they shared.
Lindsey Viel told me, "A teacher said that someone else wants to do this now. That makes me happy that we have opened other people's eyes too."
"This week was the first time we saw it being used substantially. When I showed photos to our class, it was so exciting. It makes me feel like I am contributing to the community which is a really good feeling," said Molly Campbell, Club president.
The students maintain a Facebook page where they post what is needed. Your contributions are very welcome.
What is accepted:
– Non-perishable food items: peanut butter, canned meats, canned fruit and vegetables, nuts, grains, bread, crackers, baby formula, baby food, pasta, etc.
– Hygiene Items: Shampoo, Conditioner, toothpaste, deodorant, body wash, feminine care products, children's bath products, etc.
– Household Items: Toilet paper, paper towels, dish soap, sponges, diapers, etc.