animal

Derek Hassenpflug, CFP®, ChFC® is a certified financial planner and branch manager for the Kenwood Ameriprise office, but on weekends, you may very likely see him if you look to the sky. Derek earned his private pilot certificate in May of this year and these days thinks of himself as a 'general aviation weekend warrior' ….who also happens to have a big heart for dogs and giving of his time.
For those who know him and his volunteer work, it was probably of no surprise that as soon as he got his pilot certification he registered for Pilot N Paws, a nonprofit organization that, through private pilots willing to offer free transportation, connects people and organizations to save the lives of thousands of animals. Derek's first route first came when he saw a notice of a black lab needing to be taken from a kill shelter in Campbellsville, Kentucky to the Cincinnati Lab Rescue. He brought his friend, Jack Finke along for the ride. Together they had a flight they will never forget. The dog had been abandoned in central Kentucky and ended up in an SPCA for awhile and was on path to being euthanized.
In Derek's words…
"If I didn't already have two dogs, he would have gone home with me. He slept the whole way back to Cincinnati. He is such a nice dog.
I don't understand how people can just abandon dogs. We have a small black lab mix that we found wondering around Newport Aquarium eight years ago. She was chipped so we called the shelter and found her adoptive parents who told us she had run away. They said they had two dogs and asked if we wanted her. We love her so much.
Doing this is not inexpensive. I reserve and rent the airplane and pay all of my own expenses but it is great to be doing two of my passions. That trip to Campbellsville was one of the most rewarding things I have ever done."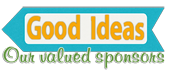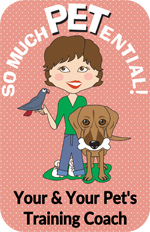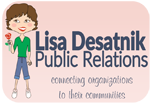 Thane Maynard is our Cincinnati Zoo & Botanical Gardens' director. He is also an ambassador for animals and a fun personality seen on many television shows. Tricia Macke from FOX19 sat down with him for a behind-the-scenes look at Thane's life.
FOX19.com-Cincinnati News, Weather

Funny how fate works sometimes. It was a night like so many before it for Barbara Lichtenstein. At least that's how it started off. She was in her car, having just turned onto the busy intersection at Springfield Pike heading toward choir practice when she saw him…a four-legged homeless dog who clearly hadn't eaten a homemade meal in quite some time. He had bristly fur, rotted teeth, and lumps that Barbara later learned were cancerous.
Barbara, being the animal lover that she is, pulled over, put him in her car and went on to her practice – bringing him inside with her. That night, she learned, he was also a classical lover. As soon as they began to sing, all of his fear of the unknown magically disappeared. "To this day, when he gets fussy in the car, I turn on classical music," she told me.
Several surgeries, good food, and a houseful of love have seen little Ajax blossom into an affectionate companion who seeks out his family just to know they are there. That family also includes Charlotte, a feminine (as Barbara describes her) and sweet little girl who was also found abandoned and who tolerates sharing favorite humans with Ajax.
Barbara Finds The SPCA
It was a number of years back. Barbara was studying architecture and decided not to continue. She has another, more important reason to work. "I've always been a dog lover. I grew up with dogs and I thought it was time to step up and do something for them," she said.
She and her husband, Phil, gave the SPCA a donation when they were building the new shelter and that very quickly evolved into volunteer work. Three years ago she got involved with the organization's big fundraiser – the Fur Ball. One year she chaired it and this is her second year serving as co-chair (with Holly Mott).
The Fur Ball
Held at the Cintas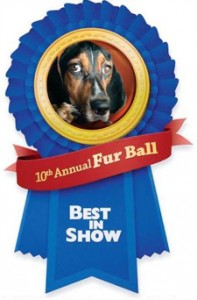 Center, April 28, the dinner/dance Fur Ball  will be an evening of dinner, dancing to the music of Airwave, a silent auction, and a 'Best in Show' dog show with animals from the shelter. There will also be dogs and cats there available for adoption.  For animal lovers, it is a fun event for a great cause.
The SPCA Cincinnati serves Hamilton County and the City of Cincinnati covering over 500 square miles and is the oldest humane society in Ohio. Last year, it handled around 18,000 animals. Good homes with concerned, qualified families were found for thousands of these animals.
Efforts are continually being made to improve its adoption rates. Barbara told me the adoption fee is just $20 and that includes spay and neuter. Proceeds from the Fur Ball will help the SPCA keeps those adoption fees down so that more people and more animals in need of love can find each other.
A few seats are still available for the Fur Ball. Cost is $150 per person. To register, please visit www.spcacincinnati.org.

NOTE:  I have a new pet behavior blog located at http://www.SoMuchPETential.com/blog.  Thanks!
It is a beautiful heart that can see into the eyes of children their potential for caring and love, and into the souls of animals who have no voice to speak of their needs. Love, safety, nourishment, and play ~ life's precious gifts that can so often be taken for granted are not always available to everyone. And especially not to some, whose only wrongdoing was being born.
But, what if young, impressionable minds were taught responsibility for those without human language? What if those who are less fortunate are given opportunities? They are given a voice.
 Emilie Buchwald is that voice.
And I love her language.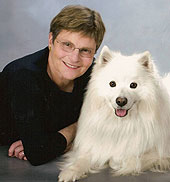 A friend introduced me to his mother-in-law a few weeks back. He had a hunch she and I would have something in common. He was right.
Emilie is the author of two award-winning children's novels. A poet and a fiction writer, she has taught literature, poetry, and writing for children. She has a Master of Arts in English and a Ph.D. in English Literature, and an honorary Doctor of Humane Letters from the University of Minnesota. Emilie is the publisher emeritus and co-founder of Milkweed Editions, the editor or co-editor of 200 books that have won more than 200 awards and distinctions, with a million books in print when she retired in 2003. She has received the McKnight Artist of the Year Award, the Kay Sexton Award for service to Minnesota's literary community, and, in 2008, the National Book Critic's Circle Lifetime Achievement Award.
(No, her credentials are not what we have in common although I find writing very fulfilling and have always thought it would be fun to write children's books ~ but the credentials do make it a little intimidating to be writing about her. )
Actually, it is what Emilie has chosen to pursue with her 'free time' now that she is officially 'retired' that connects us. In 2006, after a long and accomplished career, she began a new journey. She founded The Gryphon Press to create high-quality children's picture books whose ultimate purpose is to educate kids about important animal issues and the human-animal connection. (It wasn't mentioned in her bio but Emilie also happens to be a passionate advocate for those who don't speak human.)
Her publishing company, The Gryphon Press, is named for the mythical bird that represents fair play and justice. It has sold over 400,000 books to date ~ each one compellingly written and movingly illustrated to engage kids in learning about the responsibilities of dog ownership, pet adoption and overpopulation, getting rid of puppy mills, therapy and service dogs, the intelligence of dogs, dog parks, issues of abuse, and more. Most books have won national awards.
 "I love the process of putting an artist and an author together, seeing a book take shape and putting it through production but I wouldn't have gotten back into this if it wasn't for an important reason," she told me. "I was reading blogs and stories about how difficult it is to educate about animals and I just thought, 'I know how to publish books. I can publish books for kids about this and talk in terms they can understand.' This is a wonderful way to change things."
 Yes, Emilie, it is!
Take for example, Buddy Unchained, the story of a happily rehomed mixed-breed dog who shares his sad memories of life before being rescued. The book sends a powerful message that caring humans can and do help, and includes resource information for adult readers.
Or Always Blue for Chicu, the daunting story of a smuggled parrot's neglect and suffering who is ultimately rescued and reunited with his soul mate. The book makes the clear point that a bird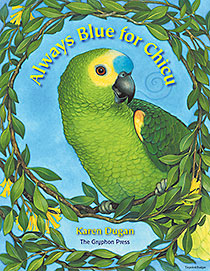 is a wild animal and formidable pet that can live a very long life and will require significant attention.
Or Are You Ready For Me?, a book (written by Emilie's daughter, Claire) that helps parents answer the common question ~ "Please, can we get a dog?". In this story, a dog and puppy at and adoption center ask two children how they will be treated.
Schools and other educational institutions are using The Gryphon Press books and creating lesson plans around them.
"It's very satisfying to me," said Emilie. "I've had instances where teachers have cried because they haven't had a way of teaching these kinds of lessons before. I get letters all the time and see kids using our books."
The only frustration? "Not being able to do more," Emilie told me.
To that, I've got to say…Emilie, you have done A LOT.
And "THANK YOU!"