A note from my friend, Magno Relojo…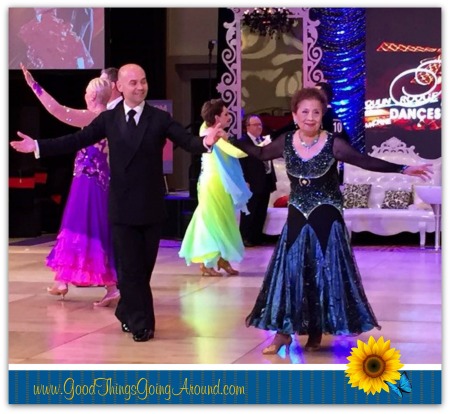 A 90 yr old lady who happens to love dancing and dressing up, inspires us with her enthusiasm for learning and memorizing her dance routines. At this age these can be difficult tasks to do but it is so amazing to see her mobility in dancing and in her everyday life. We love to tell her story and by chance it might inspire others to be positive about life.
She told me that when she dances it is just pure joy that she feels especially during competitions when there are lots of people watching…she seems to like that. I would too especially when you look good, feel good and are happy about life…you want to show everyone so they feel happy too.
By the way, this lady is my mother-in-law, Dr. Aurora Lira.
She wants everyone to Smile and be Happy
(Aurora and her professional partner are at the Millennium Dancesport Championships in Orlando, Florida – one of the largest events in the world) where they have already won some first places, a gold medal in a senior gold rhythm championship, and some money in a gold rhythm scholarship.)
If you follow my blog, you may remember my post about Aurora several years ago. You can read it here.