CINspirational People is a new feature of Good Things Going Around profiling diverse people of Greater Cincinnati, what inspires them, and what is inspiring about them. Know someone for us to consider? Please submit your idea.
Sherry Hopkins
GTGA: What is an accomplishment you achieved that you are proud of?
Sherry: Overcoming my fear of public speaking!
GTGA: Tell us about someone who has been a positive influence in your life.
Sherry: My Grandfather, William Symons, who lived to be 100 years old, embodied the spirit of living life to the fullest, and believed that five words applied to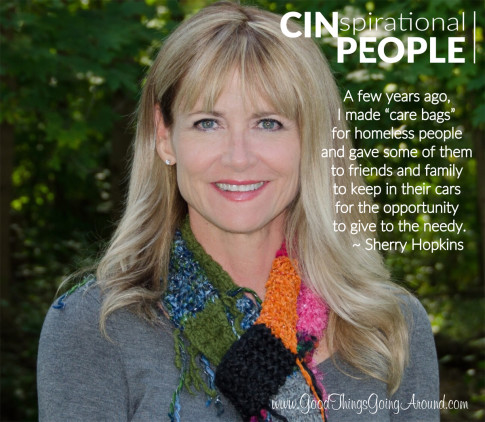 anything worth doing: knowledge, education, curiosity, imagination, and perseverance.  His strong work ethics began as a 10-year-old boy working 20-hour days for a grocery store, during the summer.  With a boy scout's handbook, he made his first ham-radio receiver using a "coherer" and 2 electric doorbells.  After taking violin lessons, he played in the high school orchestra, and went on to become a Concert Master for Symphonies in Indiana, Illinois, California, Florida, and Cincinnati.  Working as a Radio Engineer for WLW in Cincinnati, he witnessed the Flood of 1937.  He held a variety of engineering positions for Voice of America and Radio Free Europe, in Munich, Berlin, and other Cities across Germany.  He designed and built the first portable sound projector and portable public address system.  We have so much to learn from this generation of individuals!
GTGA: What is a motto you live by and why or how has it impacted you?
Sherry: I have quite a few…here are two of them:  "In the end we only regret the chances we didn't take" and "Work like you don't need the money, love like you've never been hurt, dance like nobody's watching."  These resonate with me, because too often people make fear based choices, and if you follow your passions, you'll be successful!
GTGA:  What is your biggest motivator?
Sherry: The passing of time.
GTGA: Tell us about an act of kindness you have done, witnessed or been the recipient of and how that made you feel.
Sherry: A few years ago, I made "care bags" for homeless people, filled with deodorant, toothpaste, razor, crackers, fruit snacks, pudding, etc., and gave some of them to friends and family to keep in their cars for the opportunity to give to the needy.
GTGA: Tell us about what you do and what are some of the reasons why you enjoy it.
Sherry: Having served in the U.S. Army following High School to take advantage of the G.I. Bill for college, and working in the corporate world for 30 years, I've been fortunate to follow my passions and have my own company, "Sherry Lachelle Photography", and am a freelance photographer for Local 12's online magazine, "Cincinnati Refined".  I also take people on trips around the world as a Tour Director through my "Travel Spirit Meetup", and help elderly people organize their homes.  These are all things I love to do and did them for free before they turned into money-making ventures.  If you haven't heard, Scientists have identified a "travel" gene and I'm sure I was born with it!