Gene Armentrout was surrounded by family when his heart beat its last pulse March 10, 2015. He was an avid tennis player, an amateur bridge partner, sometimes golfer and passionate runner for 25+ years. He was the guy running in Eden Park or on bridges across the Ohio River at lunchtime – in a Santa suit during December. Gene was also a respected businessman and philanthropist. A graduate of the first class of Leadership Cincinnati, his last position before retiring in 2012 was as president of Gradison Financial Services (later acquired by McDonald & Co. Securities, then Key Bank; currently owned by UBS). He was president of the Good Samaritan Hospital Foundation, and served on the Boards of the Urban League of Cincinnati, the Northern Kentucky University Foundation, the Business Advisory Council at Xavier University, and many other arts, humanitarian and educational organizations.
But more than that, Gene was a family man. He met Rita, the woman of his dreams, in first grade, and 58 of his 78 years were spent married to her. Together they enjoyed five children and eight grandchildren, and many lifelong friends.
It took just a few short months for Lewy Body Dementia (LBD) to rob friends, family, and a community of a man whose brain helped him achieve great accomplishments, who lived with passion and heart, who loved and gave love generously.
Gene's daughter, Tish Hevel, had been living in Columbus for 20 years when her father became ill and she became a caregiver. It was during her search for more information that she learned of the critical need for brain donations to study the growing and vast number of neurological diseases and disorders. The decision was made to give that piece of her dad to benefit others.
Only it was a decision that came with far too many complications. In his final four hours, a time when Tish would have liked to have spent holding his hand, she researching how to ensure her dad's final gift would be carried out.
More than 50 million Americans are estimated to have some form of neurological disorder, among them Parkinson's, autism, dementia, schizophrenia, and CPE from concussions. In other words, about one in six of us will experience or know someone who is experiencing one of these disorders in our lifetime. Research has come a long way but human tissue is necessary in the quest for answers, and there simply is not enough of it being donated. Part of that reason is due to the complication of the donation process, part of the reason is a lack of knowledge and misunderstandings.
A New Chapter
Less than a year later, the Brain Donor Project, was an official 501C3 with a mission of raising awareness of the need while simplifying the process for human brain donation for research. Tish is its founder and president.
In just about seven months, already the Brain Donor Project has had almost 500 brains committed from 46 states and the District of Columbia, representing some 45 categories of brain disorders.
Brain Donations Simplified: How the Brain Donor Project Works
Arranging to donate your brain for research may be the most valuable legacy you can leave to improve the health and wellbeing of future generations. The first step is visiting http://www.braindonorproject.org to have your questions answered. In one stop you can register to donate your brain when you die, receive authorization and consent forms, and tell your friends
The Truths About Brain Donation
Registering as an organ donor IS NOT the same thing, and just because you have registered to donate your organs to science does mean you have also registered to give your brain. There is a different consent process for donating a brain.
You DO NOT need to have a brain disease in order to donate your brain. In fact, 'control' brains are in just as much demand and are just as valuable for research.
There is no additional cost to your family for donating your brain.
Bodies are not disfigured when brains are donated. Families can still plan for open casket funerals.
Hear Tish's Story at TEDxCincinnati
And on June 17, she will be sharing her story at TEDxCincinnati.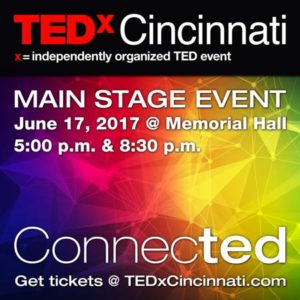 This year, for the first time ever, TEDxCincinnati will be on a Saturday with new times and more ways to connect and learn. The Main Stage Event will be Saturday, June 17 at Memorial Hall, 1225 Elm St. Cincinnati, OH 45202​ and will feature the same show at two convenient times:
Pre-Dinner Show at 5:00 pm (registration opens at 4:00 pm)
Post-Dinner Show at 8:30 pm (registration opens at 7:15 pm)
All guests are encouraged to attend the networking cocktail hour from 7:00 pm – 8:15 pm. Food trucks and entertainment will be on site while guests network with the evening's speakers and performers.