Today I would like to introduce you Liz Johnson, Ph.D., chair of the Department of Computer Science at Xavier University with a big heart for cats. In addition to her busy career, she is the volunteer executive director of Cincinnati nonprofit, Ohio Alleycat Resource (OAR), a position she has held since 2009.  Please read more about her below.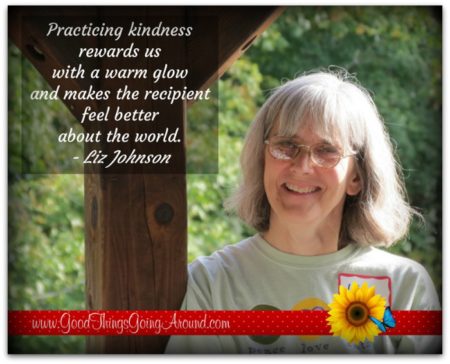 Lisa: Please tell us a little about yourself.
Liz: I grew up in Dayton, Ohio with 3 brothers.  I graduated from Baylor University with a degree in computer science and worked at various universities in computer user support.  During that time, I discovered that I loved teaching so I went back to school at Indiana University and completed a doctorate. I've been a faculty member at Xavier University since 1997 in computer science and am currently chair of the Department of Computer Science. One of my passions is increasing the diversity of the computer science field. I've been involved in various activities focused on that, including a summer camp for middle school girls to promote interest and confidence in science, technology, and math. I live in East Hyde Park with my husband of 31 years.
Lisa: We would love to learn more about your work with OAR and why it is important to you.
Liz: In 2001, I heard about a cat rescue in O'Bryonville and decided to look into volunteering.  I quickly became hooked, joining the board of OAR the next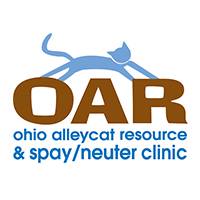 year and becoming its executive director in 2009.  I've done most of the jobs at OAR at one time or another – cleaning litterboxes, fostering kittens, doing trap-neuter-return (TNR) on feral cats, driving the Neuterville Express van to bring cats to our spay/neuter clinic.
Since 2001, OAR has grown from a small rescue in the basement of a local business to a spay/neuter clinic, adoption center, and community cats resource housed in 2 buildings in Madisonville with about 15 staff members and more than 200 volunteers.  We spay/neuter almost 10,000 cats a year and last year we adopted out almost 500 cats.  We're working closely with county shelters in our area, including the Cincinnati SPCA, to save cats who enter the shelter system.
I've loved cats since I was a young girl begging for a kitten of my own.  My work at OAR is an extension of this love.  I've recently been working with a woman who has been feeding stray cats in her yard. Even though these cats are too wild to be pets, she loves them.  She started with two cats but these multiplied so she asked OAR for help.  We've trapped and spayed or neutered 11 of these cats and will soon get the rest.  8 of them were female so many litters were prevented.  She's appreciative and her neighbors have also thanked us.  This work is important to me not only because cats' lives are bettered through our efforts, but also because we are helping the people who love the cats.
Lisa: Please share with us an experience during your volunteer work that really touched you.
Liz: One of the reasons I got hooked at OAR was that I helped to socialize a shy kitten who was not adoptable when I started.  Each week, I would spend time with her after my cat care shift was finished, slowly winning her over through treats and petting.  Eventually she learned that humans were ok and she was adopted.  Though I don't have as much time to do this now as in the early years, I'm still drawn to the shy cats who need reassurance and love in order to come out of their shells.
I try to do the same thing in my teaching – encourage a struggling student to overcome a barrier, convince someone that they can succeed in computer science who may never have considered it as a career.  Whether human or cat, we can all use affirmation that we matter in the world.
Lisa: What is something good that has happened to you?
Liz: I just finished a four-year term as chief reader for the Advanced Placement Exam for Computer Science.  We score the exams for almost 60,000 students to determine if they should receive college credit for their high school course. My colleagues in this work surprised me with a farewell gift of sponsorship of a cat at OAR in my honor.  I was quite touched by their thoughtfulness in honoring me by supporting a cause dear to my heart.
Lisa: What is one of your life lessons?
Liz: I'm a firm believer in the power of kindness to change the world.  Every day, especially at OAR, I see this in ways big and small, shown to both animals and people.  Practicing kindness rewards us with a warm glow and makes the recipient feel better about the world.  Life would be pretty barren without it. I've regretted missed opportunities to show kindness but I've never been sorry when I made the effort to be kind.
#GoodThingsCincy