featured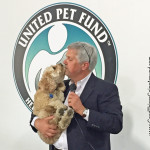 I have got to say. I so admire people who have a dream and a passion, and absolutely do not quit in pursuing it.
Dr. Zeke Zekoff is one of those people. As a busy veterinarian, he has witnessed the tremendous gift of life and love given to animals who, for any number of reasons, have found themselves homeless only to be saved at the hands of caring people. Those people are the advocates, volunteers and staff of many area rescue organizations.
The problem is, there are just SO many animals in need and heart alone is not going to help those organizations flourish, or even maintain their level of sometimes very difficult, emotional and challenging work at nourishing, rehabilitating and finding new homes for those in their care.
Dr. Zekoff had a vision…to create another nonprofit that could assist those animal care and service organizations including dog and cat shelters and rescues with basic business services, education, food and emergency funding, and products.
That vision is United Pet Fund; and in five years they have supported the work of dozens of local member causes. They even hold a Pet Health Day in Over-the-Rhine once a year with a free preventative health clinic.
This week the culmination of five years of fundraising was celebrated with the grand opening of the 8,500 sq ft United Pet Fund Resource Center and warehouse.  Dozens of animal advocates were there to celebrate such an important goal, and one that is going to allow for expanded services.
"I've always felt the need to give back to those who take care of homeless animals and use the gifts I was given that could most help them. United Pet Fund is a personal ministry to me,"  Dr. Zekoff said. "This is what I will do to help this unrecognized army caring and finding homes for the animals the Lord has here now."
He is excited about the future and wants to reach more organizations. "In five more years I would like to see United Pet Fund take on the role of "the" go-to animal support organization in the Tri-State and the State of Ohio. In 20 years, I'd like to have every major city with a UPF-type organization using the internet and major shippers to parcel out the blessings that businesses and the public donate.
"You never know when the big opportunities or supplies will arrive, but you have to be ready," he said. "Now with the space a Resource Center provides, we can take our core mission to the next level and be a central source of distribution to really be impactful."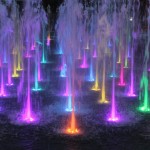 The big kid at heart in me can hardly wait to see the new elements of our Cincinnati Parks' Smale Park, truly one of our city's great gems.
On May 12, this new spectacular 'Splas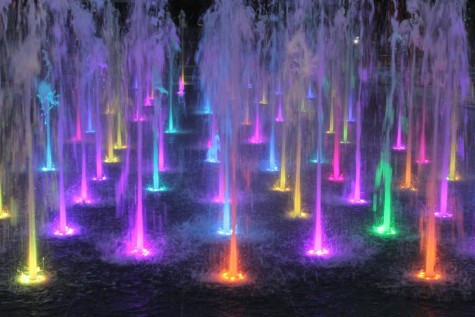 h & Play' Susan and Joe Pichler Fountains element opens atop the carousel plaza.
And, speaking of the Carol Ann's Carousel…it opens May 16,  just west of the Roebling Suspension Bridge in downtown Cincinnati. Located inside a glass building, the carousel is 20 feet tall and 46 feet in diameter and will operate year-round. The Cincinnati Parks Foundation received a $5 million gift from the Carol Ann and Ralph V. Haile, Jr. / U.S. Bank Foundation to build the carousel, which honors Carol Ann Haile's philanthropic vision.
You can bet you will be seeing me there this summer!
What makes this carousel ride even more special is that its 44 animal characters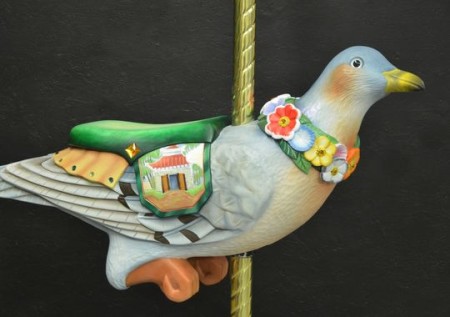 are hand carved and each tells a story of our great city.  This one is Martha, the Last Passenger Pigeon.  After magnanimous efforts to save from extinction the beautiful bird that once numbered in the billions, her death at our Cincinnati Zoo resulted in stronger conservation laws.
The paintings on the carousel feature a whimsical exploration of one of Cincinnati's parks. Animals featured in the paintings include an elephant flying a kite at Ault Park; giraffes enjoying the sunset at the Alms Park overlook; a squirrel, toad, and lizard band playing in Washington Park; and an artist owl painting the Abraham Lincoln statue at Lytle Park, with the Taft Museum of Art in the distance.
Local artist Jonathan Queen was selected to create them.  "My own experiences in Cincinnati's parks inspired most of these scenes," he said. "I also thought about my own family and what we've enjoyed doing together in the parks."
In addition to the Cincinnati Parks landscapes, Jonathan worked with ArtWorks apprentices to paint 16 views of Cincinnati architectural landmarks for the center of the carousel.
His paintings appear effortless, but they required nearly two years of painstaking work. You can that work in an exhibition at the Taft Museum of Art called From Studio to Carousel: The Whimsical World of Jonathan Queen from May 22 to September 6, 2015.
The exhibition will include preliminary sketches, clay models of animals, and all 16 painted studies.
ARTIST TALK: JONATHAN QUEEN
Thursday, June 4, 7 p.m.
Jonathan Queen will discuss his work decorating Carol Ann's Carousel and From Studio to Carousel: The Whimsical World of Jonathan Queen in the Sinton Gallery. Reception to follow.
FREE Taft Members and Students. $10 Public (includes Museum admission)
Reservations: (513) 684-4515 or taftmuseum.org