Howard Thurman once said, "Don't ask yourself what the world needs; ask yourself what makes you come alive. And then go and do that. Because what the world needs is people who have come alive."  It is one of my favorite quotes, and it very much reminds me of a third grade student I recently met, who attends Hyde Park Elementary School.
In November, nine-year-old Caden Elrod became the youngest recipient of the Student Recycler of the Year Award from the Hamilton County Recycling and Solid Waste District.
Let there be no mistake. Caden has found his calling, what makes him come alive and inspires him to lead by example.
Caden told me he has been recycling his whole life except for when he was a baby. But I think his spark was really ignited when he saw trash in the Ohio River and all along its shores. Then, in about the first grade he started looking into it and found information on a massive patch of literally billions of plastic pieces that have accumulated hundreds of miles into the Atlantic Ocean, known as the Island of Trash.
"It kills animals, and plants won't be able to grow because stuff may get stuck in the plants," he told me.
And that, Caden thinks, is just unacceptable. So, in his own way he set out to be a change maker.
Caden has been encouraging his school and his fellow students to recycle more. He made a cake that looked like a recycling truck for his Boy Scouts annual cake auction. He has shared photos of garbage along the Ohio River and elsewhere to get people's attention. He and his dad drop off used electronics to Cohen R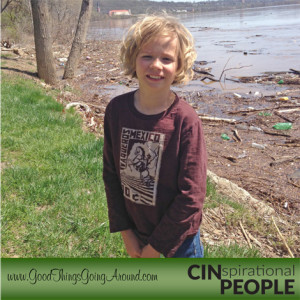 ecycling. He will talk to anyone who will listen about the importance of doing their part. And he has applied to participate in the Hamilton County Recycling Policy Committee, although he won't be old enough to join for a few more years.
At home, he has inspired his whole family to recycle (with the exception of his sister and that, he told me, is just because she is still a baby). They have recycling bins throughout their house.
"He will hold us accountable. He will always say to us, 'I want you to do a little more', Tonia Elrod, Caden's mother said. "I am always conscious of it now. Even today I went to lunch and had a plastic cup but they couldn't recycle there so I brought the cup home."
Caden wants people to be aware that there are a lot of ways we can reuse products. Here are a few examples he pointed out.
He has turned worn shoes into flower pots (a boot is easier to put a flower inside)
You can make tunnels out of used plastic bottles by cutting off the top and bottom (he is not sure what you would use these for)
You can make shelves from leftover wood
He once made a giant thing out of cardboard that he rode on with his dad
He once made a chair from a stick and a piece of wood
He once made a game out of cardboard pieces
He has also learned there are some things you cannot recycle like foam things and packaging peanuts.
"I am trying to be an example for the whole world and my family," he told me.
Here are a few more questions I asked him.
Lisa:  How does it make you feel to recycle and encourage others to do the same?
Caden:  It makes me feel good and like I am doing something that will help other people to live in a better place.
Lisa: What advice do you have for others about recycling?
Caden: Everyone should recycle as much as they can. There are like 33% of communities in the United States where you have to subscribe to recycle and that is not good. If you have contact with one of the leaders, you should tell them that you want to stop that so more people can recycle.
Lisa: When you grow up, what are some ways you can do more?
Caden: After school, I want to learn how to recycle electronics and foam.
#CINspiration  #GoodThingsCincy