Celebrate The New Kennedy Heights Cultural Campus!
There is exciting news ahead for the racially and economically diverse Kennedy Heights neighborhood. After nearly six years of planning and construction, it is about time for the official ribbon cutting and grand opening of the all new Kennedy Heights Cultural Campus. Not only is it going to be an incredible asset to its surrounding community, but also to our region. The Campus will be a place where people of all ages can come for arts performances, classes, studios, and even an art gallery. And children will have an opportunity for education in the award winning Kennedy Heights Montessori.
I'm helping them to promote the festivities – August 28 and 29 – and can hardly wait. These organizers sure do know how to throw an incredible time!
On Friday morning, August 28, at 10:00 am, friends and supporters will help celebrate with an official ribbon cutting followed by refreshments and a tour of first look at inside the building. Then, on Saturday, beginning at 11:00 am will be the Raise the Heights Art Parade followed by a family festival.

Have A Creative Side? Be Part Of The Parade!
The Raise the Heights Art Parade promises to be filled with vibrant colors and sounds and will travel from Ridge Road, up Montgomery Rd to the Campus site (at the corner of Kennedy Ave and Montgomery Rd). Ten of the region's very talented artists received small grants to create incredible entrees depicting their own very personal interpretation of the Campus' meaning to our community.
Just some of what you will see…Pam Kravetz is designing and building five incredible replicas of hot air balloons that will include in their baskets, children dressed to resemble various performing arts; and each one to be pulled by dancers and actors masked with body paint. Jesse Mooney-Bulluck is creating a visually striking 16 ft tall totem pole puppet with engaging moving parts to celebrate diversity.
You can be in the parade too!
We are inviting visual artists, dancers, musicians, street performers, civic groups, schools, organizations and neighbors to participate. With the theme of art, we are asking that groups and individuals either create a portable sculpture, moveable artwork, decorate a car, wear costumes or puppets, hold creative flags/banners/signs, or perform their way down the road.
There is NO fee to participate.
DATE:     Saturday, August 29, 2015
TIME:      11:00AM
ROUTE:   Montgomery Rd. from Ridge Ave. to Kennedy Ave.
DEADLINE FOR ENTRIES:   August 14
Please click here to download an Entry Form.

Raise the Heights Festival
Following the parade, there will be a free festival on the grounds of the Kennedy Heights Cultural Campus, 6620 Montgomery Rd., from 12-5pm with live music, performances, interactive art installations, food trucks, activities for kids, and more.  Grammy nominated children's entertainer Zak Morgan will perform at about 3:30 pm.
Funding is provided in part by grants from the National Endowment for the Arts and Nellie Leaman Taft Foundation.
About the Kennedy Heights Cultural Campus
The Raise the Heights event will mark one of Greater Cincinnati's most dramatic revitalizations as the once derelict building (on the corner of Kennedy Ave and Montgomery Rd) which once housed a Kroger will open its doors as a destination for exploring and experiencing creative expression. Among its occupants will be the Kennedy Heights Arts Center's Carl, Robert, Richard, and Dorothy Lindner Annex and the Kennedy Heights Montessori Center. The building was purchased with a $675,000 grant from the City of Cincinnati.
The Kennedy Heights Arts Center new second location will quadruple its size and double the number of people served.  The Annex will include a 3,000 sq ft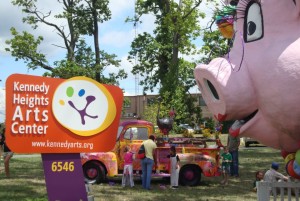 multi-purpose event center for theatre, dance and music classes and performances; a state-of-the-art Scripps Howard Media Center that will offer arts education programs for all ages in video, photography, animation, website design and graphic design; and ten individual artist studios. The Ohio Valley Woodturners Guild will be among the groups offering workshops for people of all ages. A gallery in the lobby will be a venue for resident artist exhibits.
A $250,000 leadership gift from Robert D. and Betty Lindner paved the way for Kennedy Heights Arts Center's Satellite Expansion $700,000 project. Other major contributors include: Greater Cincinnati Foundation, Scripps Howard Foundation, George and Margaret McLane Foundation, The Kroger Co., John A. Schroth Charitable Trust/PNC Bank Trustee, Louise Taft Semple Foundation, Thomas Emery Memorial, Ruth and Robert Conway Foundation and gift from many individual donors. Website:  www.kennedyarts.org
The Kennedy Heights Montessori Center is an award-winning, not-for-profit parent cooperative school that has been educating neighborhood children, ages 2 to 6, for fifty years. Its presence strengthens the community by providing high quality superior educational opportunities to a racially and economically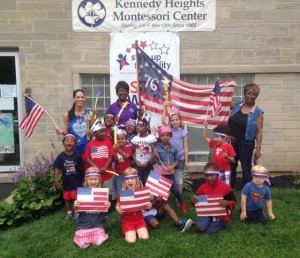 diverse student body of toddlers, preschoolers and kindergarten children. Its sliding scale tuition means families who otherwise would not be able to afford it are assured their children are well prepared. KHMC is a United Way Agency providing half-day and full day programs.
The Center opened its first school in Kennedy Heights in 1965 and with the completion of the new Campus, will be returning to this neighborhood. Its new 12,000 sq ft location will include 4 large classrooms, an extended day care area, a muscle room with indoor play equipment and two outdoor playgrounds. It will be introducing a toddler program for 2 year olds which will be taught by a highly qualified Montessori teacher. Openings are available for both programs. Website: kennedyheightsmontessori.org