Circus Mojo Is Building Medical Clowning Training Site
When it comes to higher education, not many people can claim they hold a degree in Higher Hilarity from Ringling Bros. and Barnum & Bailey Clown College. But my client, Paul Miller, founder of Ludlow's Circus Mojo can. He graduated and went on tour with the Circus before creating CircEsteem, a Chicago-based organization designed to build self-esteem through the circus arts and later performing as Pauly the Clown at home and abroad, including six months in an international show in Japan. Lucky for Greater Cincinnati, he settled here. His Circus Mojo has not only entertained but lifted the spirits and increased self esteem of thousands in our region – from children in hospitals to urban youth to executives at area companies.
To see the faces on children who he interacts with is well, just magic. Paul has a gift. One that I don't think school can teach – although I admit I have never been to a clown college before.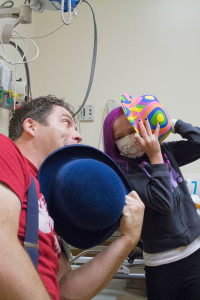 But Paul has more than a gift. He has a passion. Every day through his work he is making a positive difference in the lives of others. Emma's smile in this photo says it all. She was born with Fanconi Anemia (FA), which causes bone marrow failure and cancers. Please click here to read her mother's blog post about one of Paul's visits.
Now Paul, whose company has been working with Cincinnati Children's Hospital Medical Center for years, is gearing up to open the country's very first training site for medical clowning. Next week he will be hosting a public workshop. Below are details from my news release.
Head of the World's Only Four Year Degree Program In Medical Clowning
Travels From Israel And Visits Future Site Of The United States'
First Training Site for Medical Clown Certification In Ludlow, Kentucky
When it comes to alleviating tension, reducing pain, and speeding recovery time of hospital patients, medical clowning has serious healing power. And soon, Circus Mojo in Ludlow, Kentucky will open the United States' very first training site to offer medical clown certification. On October 3, Dr. Atay Citron, head of the world's only four-year degree program in medical clowning at Israel's University of Haifa, and David Barashi, trained medical clown who has performed in India, Thailand, and with the Israeli Defense Force in the aftermath of the 2010 Haiti earthquake, will be visiting and co-hosting with Circus Mojo a free, three hour workshop.
Free Clowning Workshop
Thursday, October 3 from 6 to 9 pm
at Circus Mojo (322 Elm St in Ludlow, Kentucky, 41016)
Dr. Citron and Barashi will be in Greater Cincinnati as part of an educational exchange through Cincinnati Children's Hospital Medical Center's Israel Exchange Program.
It was two years ago when the two first met Circus Mojo founder, Paul Miller, at the 10th anniversary of the Dream Doctors Conference in Israel, where Miller – a veteran Ringling Brothers Barnum and Bailey Circus clown – performed with pioneers in the study and implementation of medical clowning.
Mr. David Barashi is a Medical Clown; he has earned an undergraduate degree in Nursing and theatre arts from the University of Heifa. This episode also features a documentary on medical clowning through which physicians relate to acutely and chronically ill children and their parents to help them endure painful and stressful medical procedures."
What is a medical clown or circus wellness specialist?
A medical clown or circus wellness specialist is a trained profession who has the ability to understand a patient's behavior and medical staff interaction, and can connect with parents and non-ill siblings as well.  A 2005 study by Vagnoli and Caprilli demonstrated that the presence of clowns, together with the child's parents, during the induction of anesthesia, was an effective intervention for managing children's and parents' preoperative anxiety.  (http://www.ncbi.nlm.nih.gov/pubmed/16199685)
Over the past four years Circus Mojo has had a contract with Cincinnati Children's Hospital Medical Center (and other leading institutions) to dispense 'Mojo Medicine.' Performers work as Circus Wellness ™ Specialists to reduce anxiety in patients and their families, and work to build hospital staff morale in a highly stressful environment.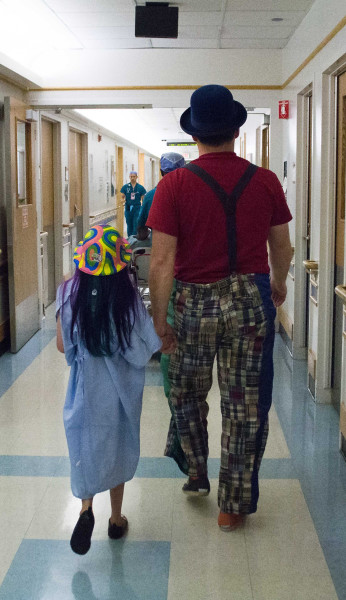 "We have seen firsthand the benefits of our Mojo Medicine in hospitals, and our vision is to expand this very important work with an accredited training center at our newly acquired 9,000 square foot facility in Ludlow," said Miller.
The Institute of Social Circus & Vocational Training Center L3C
In October 2012 Miller and a group of international partners purchased the former Duro Bag Headquarters from the City of Ludlow with the help of a $10,000 contribution from Duke Energy.
The Institute of Social Circus is developing a certification program in applying circus training with three focus areas: Youth, Medical Settings, and Adults Who Are Seniors And/Or Who Have Disabilities.
When complete in mid-2014, the Institute of Social Circus & Vocational Training Center, will be the first training center in the world dedicated to teaching adults the circus techniques, team building skills and social work principles for the purposes of training, educating and meeting the social service needs of disenfranchised youth or in Cirque Du Soleil terms, "youth in difficulty", hospitalized individuals and youth in detention or in other institutionalized settings, serving a growing need in the United States and abroad.
About Circus Mojo Founded in 2009 by former Ringling Bros. and Barnum & Bailey clown Paul Miller, Circus Mojo  engages people of all ages to focus on abilities in hospitals, boardrooms, events, workshops, and other venues. With three focus areas – entertainment, education and community development – its programs and performances are designed to unlock personal talent, confidence, drive and spirit.

Paul explains Circus Wellness
Circus Mojo's Circus Wellness (™) PechaKucha from Paul Miller on Vimeo.