Walnut Hills Kids Growing Vegetables This Summer
This summer, children in Walnut Hills are learning to appreciate and enjoy vegetables at Camp Walnut Hills at the Melrose YMCA.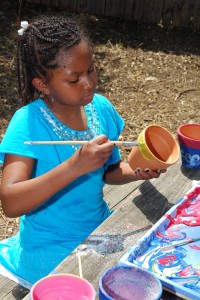 In the center of a grassy lot across the street from the branch, youth have been working side-by-side with YMCA staff building and nurturing a vegetable garden…even making colorful signage. It is important work – planting, weeding, and making sure the plants are watered so that in the fall they will have lots of colorful nourishment to try for themselves and share with older adults in their neighborhood.
It is all part of the Let's Move It! program partnership between the YMCA and Cincinnati Children's Hospital aimed at encouraging youth throughout Greater Cincinnati and Northern Kentucky students to lead healthier lifestyles.  The Programs goals are to encourage kids to strive daily to eat FIVE servings of fruits and vegetables; aim for less than TWO hours of screen time; engage in ONE hour of physical activity; and have ZERO sugary drinks.  In addition, the program focuses on water consumption and making physical activity fun.
"Exposing children to healthy eating and social responsibility is an important focus for us at the YMCA," said Sara Lewis, Director of Out-of-School Time Programs. "Through creating the garden and participating in its cultivation at every step of the way, youth learned the importance of giving back to their communities and gained a true appreciation of vegetables and the farm to table journey."
In the fall the students will be sampling their produce, sharing it with community members, and preparing healthy meals for their families.