CINspirational People: Jill Dunne
CINspirational People is a new feature of Good Things Going Around profiling diverse people of Greater Cincinnati, what inspires them, and what is inspiring about them. Know someone for us to consider? Please submit your idea.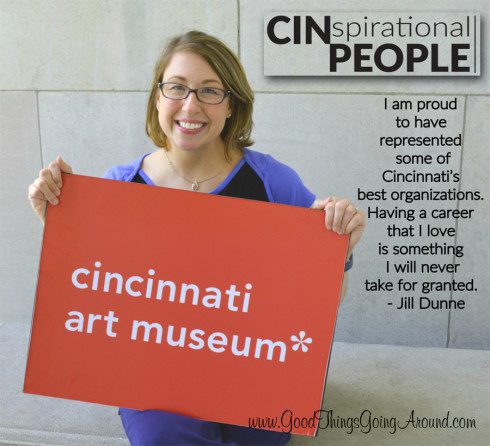 GTGA: What is an accomplishment you achieved that you are proud of?
Jill: Professionally, I am proud to have represented some of Cincinnati's best organizations. Having a career that I love is something I will never take for granted. Plus, I can't help but tell people that I was on the Today Show and Good Morning America.
GTGA: Tell us about someone who has been a positive influence in your life.
Jill: It's a cliché to say my mom – but it's absolutely true. I've never met someone more patient, kind and loving. She has been an inspiration to me, my four sisters and so many others.
GTGA: What is a motto you live by and why or how has it impact you?
Jill: I remember watching David Letterman on the Late Show when I was a teenager and hearing him say: "If you think life is boring, you are doing something wrong." Through the years, I think of that quote when I feel overwhelmed and I remind myself I must be doing things right. I am NEVER bored.
GTGA: What is your biggest motivator?
My family is my motivation. My parents, sisters, husband and my daughter give me my drive. They are so awesome – I want to make them proud.
GTGA: Tell us about what you do and what are some of the reasons why you enjoy it.
Jill: I love my job as the marketing and communications director for the Cincinnati Art Museum because I get to tell the stories of 65,000 works of art spanning 6,000 years. Although I've been in this role for just seven months, I am passionate about bringing art into the lives of the people of Cincinnati. My husband and I got married at the Cincinnati Art Museum well before I started working here, so that's proof that I genuinely love this place.