CINspirational People: Amanda Boehmer
CINspirational People is a feature of Good Things Going Around profiling diverse people of Greater Cincinnati, what inspires them, and what is inspiring about them. You can read more profiles by clicking on the link at the top of the blog. Do you know someone to suggest? Please reach out. Thanks!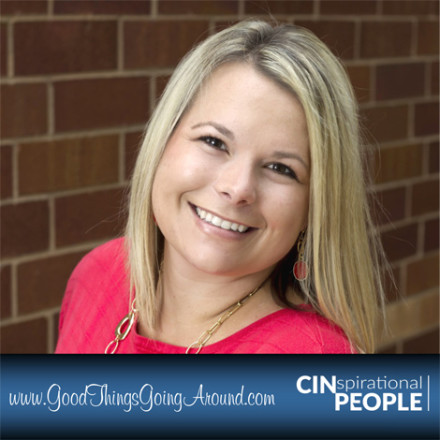 GTGA: Tell us about yourself?
Amanda: I am a busy mom of two. I have been married to my college sweetheart for 10 years. I am addicted to social media! I like to stay up to date on what is going on! I enjoy reading, blogging, boating, I love fall weather, trying new things, and shopping. I work full time at P&G in Finance.  My main hobby is acting as Vice President of TheClubMom.com. I am also a contributor for Date Night Cincinnati reviewing and writing about keeping the spark alive through different dating adventures.
GTGA: Tell us about The Club Mom?
Amanda: The Club Mom is a blog where mommies get the 411 on Fitness, Food, Fashion and Family.  We do great giveaways for families to enjoy the arts and events around Cincinnati.  We also share work out tips, Super Steal Mommy Deals, Recipes and other Mom Hacks we find along our own journeys in motherhood!
GTGA: What is the most rewarding part of blogging?
Amanda: Sharing something that hits home with other mom's whether that is a frustration, a tip, a deal!  I absolutely love getting to experience all the fun media opportunities with my family and give tickets to fun events away to my readers!  I love giving gifts and sharing with others!
GTGA: What is your biggest motivator?
Amanda: My Children, My Husband, & My Parents.  They are the reason I wake up every day.  They keep me focused and motivated and sometimes distracted!  I love them with my whole being.  Everything I do, I do it for them.
GTGA:  Tell us about one of your simple pleasures.
Amanda: Talking to my friends.  I am blessed to have a few long-term solid friendships.  These people are my rocks.  Every woman needs her girlfriends.  It's important to connect and make time for each other whether it is daily, monthly, or even yearly.
GTGA: What is a motto you like to live by?
Amanda: Life should not be a journey to the grave with the intention of arriving safely in an attractive and well preserved body, but rather skid in sideways, chocolate in one hand, wine in the other, body thoroughly used up, totally worn out and screaming "WOO HOO what a ride!"  Author: unknown

One Response to CINspirational People: Amanda Boehmer