CINspirational People: Aurora Lira
CINspirational People is a feature of Good Things Going Around profiling diverse people of Greater Cincinnati, what inspires them, and what is inspiring about them. You can read more profiles by clicking on the link at the top of the blog. Do you know someone to suggest? Please reach out. Thanks!
I'd like you to meet old Dr. Aurora Lira, M.D.  At 88, she wants people to know you are never too old to put on your dancing shoes and have fun in life.  It was about 15 years ago for her when she took their first lesson at an Arthur Murray Studio, and she has been hooked ever since.
For years Dr. Lira (who retired as a family medicine practitioner just three years ago) has been learning from, rehearsing and competing with local professional ballroom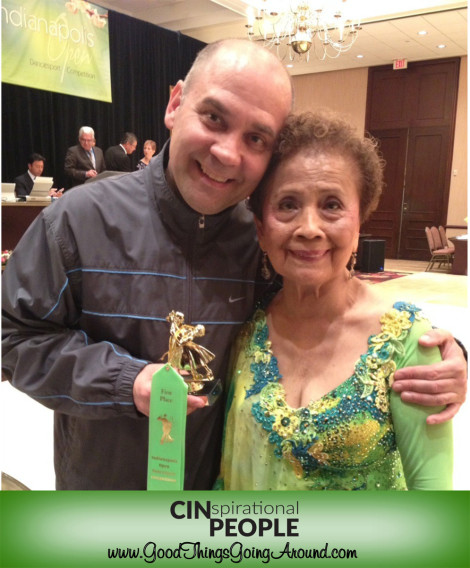 professional, Jozsef Parragh. Entering about four regional competitions every year – including the international Ohio Star Ballroom in Columbus, she just advanced to the Gold Level has amassed an entire cabinet of awards. Most recently she was named the CincySensational Award recipient at the Cincinnati Ballroom Classic.
Born in the Philippines, Dr. Lira moved here many years back to do her residency, met her husband, and eventually came to call Cincinnati her home.
Competitive and compassionate. Strong willed and determined.
A caring woman who loves and takes great pride in her family.
An inspiration to all of us.
– These are among the words Patty Lira Relojo uses to describe her mother.
Let's learn a little more about Dr. Liro.
GTGA: What do you enjoy most about dancing?
Dr. Lira: Dancing makes me feel young. It makes my mind dance with the music and I forget about everything. I feel like I have to do my best so I can satisfy myself and

I like being viewed as a good dancer, and when I dress up like that people always compliment me.
GTGA: What are your favorite dances?
Dr. Lira: My favorites are the International Smooth Style (International is distinctive in that it emphasizes remaining in a closed dance position) such as the waltz, fox trot, tango and veinnese waltz; and the American Standard Style (American is distinctive in that it is less strict and allows the partner to open up in several steps).
GTGA: Practicing and competing is a lot of work. And each of your competitions includes some 35 to 40 heats. How do you do it?
Dr. Lira:  My feet do get sore after dancing so many dances but when I am out on the dance floor I don't feel it at all. I am just enjoying myself.
GTGA:  Tell me about someone who has been an inspiration to you.
Dr. Lira: I owe my dancing to my dance partner and teacher, Jozsef. He said to me, "You can dance whatever you want to dance and you can meet your goal if you want to meet it. You have to be very meticulous in your dance step and your appearance on the dance floor."
GTGA: What advice do you have for others about reaching for goals?
Dr. Lira: I would tell them that if anyone can do it, you can do it better. That is my motto. When I was younger (I have five sisters and a brother), my father told us what occupation we would all study and become. He told me I was going to be a doctor. I worked hard and became a doctor.
GTGA: How did it make you feel when you were named the Cincysensational Award recipient at the Cincinnati Ballroom Classic?
Dr. Lira: It meant so much to me. I was so happy that I could even cry.