CINspirational People: Avtar Gill
I was reminded this week of Avtar Gill aka 'The Hat Man' in Cincinnati, and how he was remembered by a city that embraced him. I got an email out of the blue from a reader of The Cincinnati Herald who had read my editorial. I have written a number of opinion pieces over the years but this one really touched me in a deep way. I had originally written this for my enewsletter in 2014, and I thought I'd share it here too.
Rest in Peace Avtar. Thanks for giving me the gift of this life lesson.
The news is all over the internet. I've been reading about it on all of the social networks and traditional news media outlets. Our Greater Cincinnati region lost a beloved symbol of peace, friendship, and civic pride.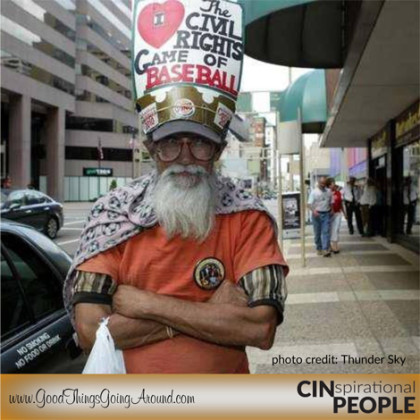 Avtar Gill died quietly in the motel room he has called home for many years. It isn't known whether he had family or what his life was like in his earlier years (at least not that I could find when I searched) but what is known is that he had a huge following.
Dozens showed up this past weekend to memorialize the man known as Cincinnati Hat Man. Hundreds are fans of the Facebook tribute page. And there is talk about how we as a community can more broadly and permanently pay homage to his gifts.
In the final years of his Avtar's life, he brought smiles to the faces of strangers – thousands of them. If you have attended any large public gatherings downtown, you have more than likely seen him. Dressed in casual slacks and mostly colorful t-shirts, he was always adorned with his signature ball cap attached to a piece of poster board decorated in bright colors with positive messages. Among them – "Mother's Day: Be proud to be a mother." "Rejoice. World Choir Games comes to town. Wow!"
He spread good news and welcomed everyone. And he died alone, before telling us his story.
I remember seeing him at events. I remember uplifting billboards. He was hard to miss. But I never said hello. I never asked him his name or why he made it his life mission to quietly spread messages of goodwill. I never told him his signs brightened my day. I never said thank you. Sadly, only now in the wake of his absence, am I learning about the man whose messages of hope and inspiration touched so many in deep, meaningful ways.
How many of you can relate?  Why is it that so often we wait until a person is gone to memorialize their gifts?  Please don't get me wrong. I think the outpouring of emotions from people who were impacted by Avtar is beautiful.  I have no doubt that Avtar is smiling looking down upon this city right now.  I only wish that he could have seen this outpouring of admiration while he was still with us.
In our busy lives, we often go about our routines without taking the time to let others know of their value to us. Or we put off saying what we want to say because there is always later. It isn't because we don't care or that others don't matter. For whatever reason, we just don't say what is in our heart.
I always say life is one big classroom and every experience is a learning opportunity. Let this remind us that life can be short. None of us know what is in store for our tomorrow. Caring and being there for each other is what makes our time here so special. We need to practice voicing our appreciation.
Our lesson from this if we choose to learn it is to not take our time here for granted. In Avtar's honor and memory, let's rejoice in life and in each other. Today, tomorrow, next week and all year, make a point to let others know they are important. Let's celebrate and cherish gifts in the here and now.