CINspirational People: Christina DeVine
CINspirational People is a new feature of Good Things Going Around profiling diverse people of Greater Cincinnati, what inspires them, and what is inspiring about them. Know someone for us to consider? Please submit your idea.
GTGA Liza: What is a motto you live by and why?
Christina: "Change your mindset, change your life!"
GTGA Liza: What is an accomplishment that you are proud of?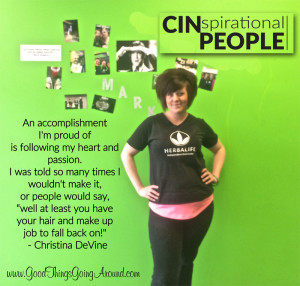 Christina: An accomplishment I'm proud of is following my heart and passion. I was told so many times I wouldn't make it, or people would say, "well at least you have your hair and make up job to fall back on!"
GTGA Liza: Tell us about what you do and what are some reasons why you enjoy it.
Christina: I love everything thing that Epic stands for healthy, active, lifestyle. People come in for a healthy meal replacement shake, which replaces most peoples' "fast food diet." We also run free exercise classes to help people to save money. Over time, we have become a family supporting and encouraging each other and not letting anyone give up! Not only do we provide a positive atmosphere where people can come hang out with us while they drink there shake, we really care about people. Everyone who walks in the door we greet by name and anyone who comes in is always treated like family!  We are here to help support the community in getting healthy.
GTGA Liza: How did you get involved with Herbalife?
Christina: I got started in HERBALIFE when I turned 23. I was an overweight, low energy, and self-conscious hairstylist. I was having what I call my "mid life 20's crisis." My friend told me about a place that served these meal replacement shakes. I stopped in twice a day for breakfast and lunch. By replacing my "fast food diet" with vitamins, minerals and nutrients the side effect just so happens to be happiness, more energy and weight loss. People started to notice, which started my business journey.
GTGA Liza: So, what is your favorite shake?
Christina: Lemon cream cake! It's delicious!
GTGA Liza: What advice would you give to people who are in need of some inspiration and motivation in their lives?
Christina: My favorite quote is: "Don't ask for life to be easier, ask how to get better!" Jim Rohn