CINspirational People: Cyndy Driehaus
CINspirational People is a feature of Good Things Going Around profiling diverse people of Greater Cincinnati, what inspires them, and what is inspiring about them. You can read more profiles by clicking on the link at the top of the blog. Do you know someone to suggest? Please reach out. Thanks!
Today we are featuring author Cyndy Driehaus, who has been a published writer since the third grade. Her book Royal Adventures of Princess Darcy and Princess Daisy is a series of bedtime stories she made up for her daughters when they were young. Published in May, 2007, it has been a feature story on television and been exhibited at over 200 book signings. Her adventurous world travels led her to South Africa and Swaziland in the summer of 2013, a destination she had only dreamed of. In her book, Songs of the African Sun, she whisks you along on her journey with thought provoking imagery and photography of five safaris and resting peacefully in the mountains of Swaziland with her family.
GTGA Intern Liza Hartke interviewed Cyndy.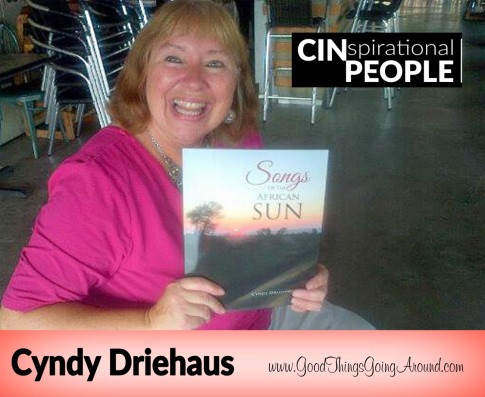 GTGA Intern Liza: What are some accomplishments that you've been proud of?
Cyndy: My greatest accomplishment is raising four productive, kind and fun loving good kids to adulthood! Some others would be traveling and living in other countries, publishing two books, and receiving awards for my writing and volunteerism. Also, just making a positive impact on the community by volunteering.
GTGA Intern Liza: Tell me more about your books! What inspired you to write them?
Cyndy: What inspired my books? My kids suggested that I publish the bedtime stories I made up for them. Also, my journey to South Africa inspired my book of original photography and poetry.
GTGA Intern Liza: If you would meet anyone – past or present, who would it be? Why?
Cyndy: I would love to meet Bono from U2. Why? I admire him so much for his musical accomplishments and philanthropy around the world.
GTGA Intern Liza: Of all the places you've traveled, what place would you like to live?
Cyndy: If I could I would love to live in Spain again! I lived there 3 months in college.
GTGA Intern Liza: What is next for you?
Cyndy: My future project is writing a series of children's books, and starting my own non profit animal rescue.
GTGA Intern Liza: What is your life motto?
Cyndy: The motto I live by is "Age is a state of mind!"