CINspirational People: Denise 'Ladybug' Hill
I think I first met Denise when she was training for her first trek, walking the Appalachian Trail in 2004. She wore a heavy backpack as she walked distances in training.
It is hard to believe nearly ten years has passed since I first met my friend Denise 'Ladybug' Hill at the gym. Day in and day out she would work with a trainer, and then walk on the track with a heavy backpack.  Then, for many months at a time she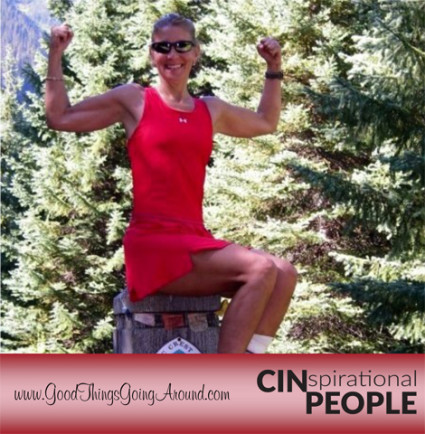 would be gone, on long journeys trekking through rugged, beautiful and sometimes very dangerous terrain in loving memory of her sister who lost a 10 year battle with cancer in 1998.
Cheryl had told Denise she feared being forgotten; Denise wasn't about to let that happen. Part of Cheryl's legacy is in the thousands of miles worn by Denise's feet as a way of raising awareness and money for breast cancer patients and their families. Those charity distance hikes were named Walking for Walden. With the exception of when Denise was sponsored on the Continental Divide Hike, she paid for all of her own expenses giving all of the money raised to hospice.
Denise is the first solo women to have walked the longest world trail in the world measuring 1445 miles, the Ohio Buckey Trail, in the trail's 60+ year history.
Her journey has also included:

Charity Distance Hiking Adventures:
The Appalachian Trail….2,174 miles….Georgia to Maine, 2004
The Pacific Crest Trail…..4,450 miles….Mexico-Canada…..2006,2007,2008
The Continental Divide Trail, 3,100 miles….Mexico to Canada..( DNF) sponsored-athlete
The Arizona Trail…800 miles…..( DNF )
Mountains Climbed:
Mt. Whitney, 14,505'… the tallest mountain in the lower forty-eight states
Mt. Rainier, 14,410'…the tallest glacial mountain in the lower forty-eight states.
Mt. Kilimanjaro, 19,241′ , the Roof of Africa….Tanzania, Africa
NOTE that Denise only included hikes totaling 500 miles or more in this list. In actuality, her distance was much greater.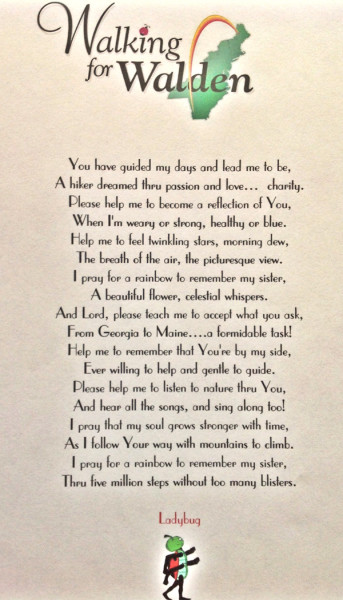 Please continue reading to learn more about her story.
GTGA: What is something people may not know about you?  
Ladybug: I just renewed my teaching license, grades 1-8 and Reading Certification, grades K-12. I am presently earning a Gifted Education Endorsement through Xavier University's Graduate School of Education. GPA…3.985.
GTGA: Tell us about a challenge that you overcame in life and how it impacted you.
Ladybug: I was airlifted after hiking 2,258 miles on the Pacific Crest Trail. I was almost to my goal, the Canadian border. I fell into a rushing stream of lava rocks just north of Mt. Adams, WA. I was in angst for nine hours before we made communication and I was rescued. I shattered my tibula-fibula to the extent that several doctors could not count the number of breaks. Dr. James Muccio, Cincinnati,OH, surgically repaired my leg and I worked extensively for months with a physical therapist and personal trainer so that I could go back out west the next year and complete my hike.
GTGA: Tell us about someone who has been a positive influence on your life and why.
Ladybug: My husband, Bruce. We have been married thirty-four years. We have known each other since high school. Together, we bounce ideas off of each other. Also, he allows me the space to serve others and he supports me in each and every endeavor. We are separate, yet one. Marriage works!
GTGA: What is a motto you live by?
Ladybug: Live life in "real time." Look for the good in everything and everyone. Family COUNTS! Age is a State of Mind. Strong body, strong mind.
GTGA: Tell us about an act of kindness you have done, witnessed or been the recipient of and how that made you feel.
Ladybug: I don't share my good deeds….
GTGA: Tell us about an activity you love to do and why.
Ladybug: When I am not on a hiking trail, I enjoy serving others through teaching in local school districts.
GTGA: Have you had an experience that has changed your life? 
Ladybug: The passing of my parents who had been married for sixty years changed my life forever. My mother and father were such great role models and lived their lives with purpose and passion for family and God.
GTGA: Do you do any volunteer work? 
Ladybug: Always….done everything! This is not a good question for me because I do so much volunteer work.
GTGA: What is the best advice you have ever received?
Ladybug: "Be your own hero." I realize that the quote could be misinterpreted as narcissistic, but if we live our lives serving others without all of the outside attention, media, press releases, bragging,  etc., then we are living a Godly life by doing what is right and not making it noticeable to others.
What was your first job and what do you remember most about it?
Ladybug: I babysat for my high school principal and his wife. The kids went to Harvard for which I take full credit. 🙂
GTGA: Tell us about some of your most important life lessons.
Ladybug: Dream forward, but live in the present. Awaken each dawn with cheerfulness and eager anticipation for how the day will unfold.
GTGA: How would you like for others to describe you?
Ladybug: I would like others to describe me as a loving and devoted wife and mother who is passionate, community oriented, and a highly gifted and sensitive woman who knows no limits when it comes to serving others.