CINspirational People: Jennings Barnett
CINspirational People is a feature of Good Things Going Around profiling diverse people of Greater Cincinnati, what inspires them, and what is inspiring about them. You can read more profiles by clicking on the link at the top of the blog. Do you know someone to suggest? Please reach out. Thanks!
Jennings Barnett teaches in a private school in Lawrenceburg, Kentucky but older adults and audiences of all ages recognize him for his Red Skelton impersonations. Jennings has been entertaining for years, playing the role of many Red Skelton characters including Gertrude and Heathcliff, Clem Kadiddlehopper, Junior the Mean Widdle Kid, and Will Lump Lump. Jennings also performs Red's most requested pantomimes.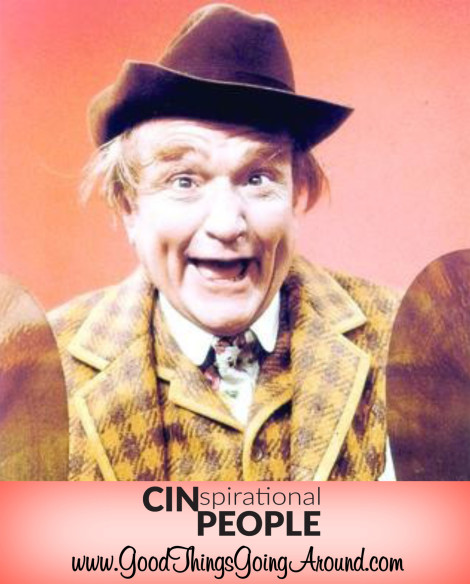 Let's learn more about the man who shares the same passion as his idol.
"God's children and their happiness are my reasons for being." – Red Skelton
GTGA: What inspired you to begin imitating Red Skelton's comedy?
Jennings:  Since the first time I saw Red on television when I was eight, I never missed another of his shows. What impressed me most about him was HIS character. His love for God, family and country.
I often dreamed of meeting Red and I got the chance twice. The last time, I literally snuck into his dressing room after a St. Louis performance and we talked for over an hour. I asked him if he would be offended if anyone did his character, pantomimes and skits. He looked at me with a grin and told me, "No, I would be very honored."
After Red passed away in 1997, I contacted the co-owners of the Red Skelton Gallery of Clowns in California to share what I wanted to do and they gave me their blessing. "Go and honor your hero, Mr. Red Skelton," they told me.
Since 2001 I have been carrying on Red's family oriented comedy, doing 60 to 70 shows a year. I have performed in 16 states.
GTGA: What do you hope will be the impact on others of your comedy?
Jennings: I keep my act clean, bringing back precious memories of a legend. For a few brief minutes they can enjoy a time of laughter and enjoyment; and if someday they are going through a difficult time, they might bring back to memory some silly thing I said or did. In doing so, it will lessen their sorrow.
GTGA: What is the best advice you ever received?
Jennings: The best advice I ever received came from my dad. He told me, "Son, don't ever be afraid to take a chance. If you try and succeed, it was for you. It was meant to be.
On the other hand, if you try and you don't succeed, it wasn't to be. That way, years later when you look back on life, you will have no regrets. One of the worst things in life is to look back when it is too late, and 'say, why didn't I try?'".
Listening to and taking my dad's advice, I have been able to accomplish so many things that to others would boggle their minds. One example is carrying on the legend of Red Skelton's comedy.
Who would have ever believed it would happen or could happen?
I did.