CINspirational People: Katie Walters
CINspirational People is a new feature of Good Things Going Around profiling diverse people of Greater Cincinnati, what inspires them, and what is inspiring about them.
Today we are featuring Katie Walters, promotions coordinator for Q102.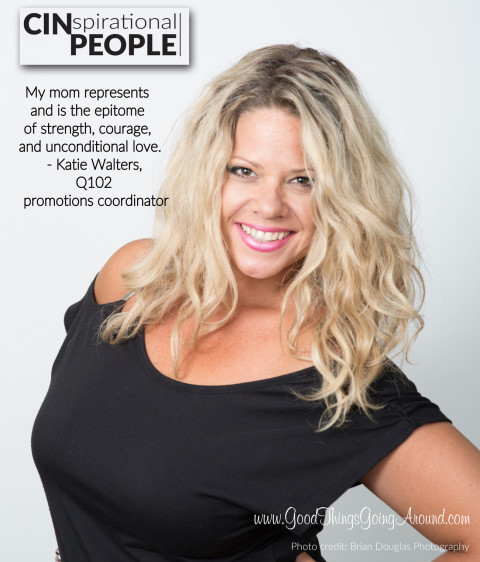 GTGA: What is an accomplishment you achieved that you are proud of?
Katie: I have two accomplishments that I'm proud of.  First and foremost, being a mother and raising my children right.  I have 13 and 12 year old boys, and I work very diligently in teaching them respect, hard work, and character.  Secondly, I am proud of my position at Q102 radio.  I first started working at Q when I was 18 years old, and always had a goal of being hired into my current position.  I am very lucky and very fulfilled with both my children and career.
GTGA: Tell us about someone who has been a positive influence in your life.
Katie: Two people, no question.  My mother, Sally Walters, has instilled values that I live by and she led by example.  My mom represents and is the epitome of strength, courage, and unconditional love and is the best role model any daughter could have. Secondly, my boss, Patti Marshall.  She has taught me the ins and outs of my career and set an example of a being a successful woman in the music industry.  Patti is not only my boss and mentor, but she is also my friend.  I would not be where I am today without the guidance, love, support, and encouragement from Patti.
GTGA: What is a motto you live by and why or how has it impact you?
Katie: Always, always be yourself and believe in yourself.  Confidence is very empowering and only you can blaze your own path in life.  Also, always be kind….you never know what someone else is going through.
GTGA: What is your biggest motivator?
Katie: Happiness.  If you are happy with your job, family, and life in general, then waking up every day with a smile on your face is a gift.
GTGA: Tell us about an act of kindness you have done, witnessed or been the recipient of and how that made you feel.
Katie: I am a Board Member at the Brighton Center and I throw an 80s Party every February to benefit Brighton's Recovery Center for Women (80% are recovering heroin addicts).  The recovery ladies volunteer and help me set up the party.  This year, I was able to have the Highland Country Club (party venue) donate a fancy lunch to the ladies.  We all sat together and ate a served lunch on white tablecloths in the club's dining room.  The conversation consisted of past stories and choices made by everyone in the room.  It really broke down a barrier and showed the women that people do care and they are of value.  Just to see them treated nicely, eating a delicious lunch, and laughing made me almost cry from happiness.  Each of those ladies matters and it reinforced why I throw the 80's benefit party….because of them, not me.
GTGA: Tell us about what you do and what are some of the reasons why you enjoy it.
Katie: I am the promotions coordinator for Q102 radio.  Essentially that means that I run "front of house" for Q102 and execute all events.  Patti refers to me as "the station's cheerleader." I love my job because it's different every day and I get to work incredible events and meet amazing people. The Q102 staff is family to me and I am very, very blessed in my career.