CINspirational People: Lauren Ulmer
CINspirational People is a new feature of Good Things Going Around profiling diverse people of Greater Cincinnati, what inspires them, and what is inspiring about them. Know someone for us to consider? Please submit your idea.
GTGA Intern Liza Hartke interviewed Lauren Ulmer as this CINspirational People feature.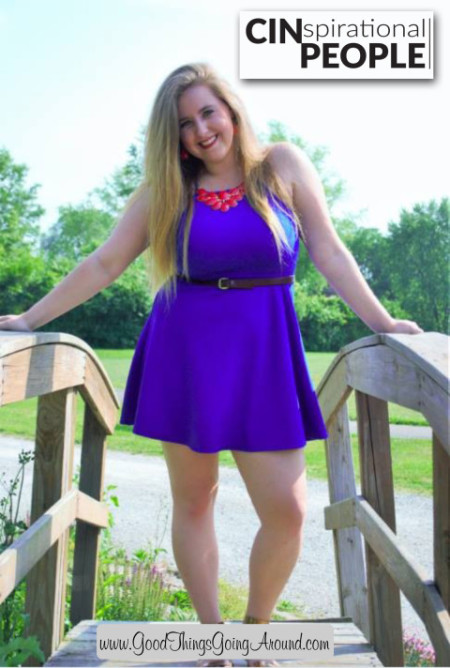 GTGA Intern Liza: What is a motto you live by and why?
Lauren: Be somebody who makes everybody feel like a somebody. I strongly believe in the first and foremost fundamental truth that every person you cross paths with has dignity and worth – and they should be treated that way! I like to make people happy and show people they are important, simply because they are. People are special, they are gifts, so I try to always remember that in my day to day life. If everyone lived with a little more love and kindness towards others, just think what our world would look like!
GTGA Intern Liza: What are you looking forward to this summer?
Lauren: Very soon I am leaving for a mission trip in Chimaltenango, Guatemala to do service work at Agua Viva Children's Home, an orphanage of dozens of children. This will be my second year going and I couldn't be more excited! Working at Agua Viva has impacted my life more than I could have ever imagined. The work we do is important and appreciated, such as building roads and chicken coups, painting, and landscaping, but the time we have to spend with the kids is so much more valuable to me. Despite what they've been through, these kids are the happiest, most loving children I've ever laid eyes on. Spending time with them playing on recess, eating meals, and doing crafts together are the simple things that mean so much to these kids, and in turn, me. The little things are the most valuable and are often the things we take for granted every day. They have taught me more appreciation, humility, friendship, and love in the short span of a mission trip than I have learned during most of my life. A few of the girls and I write letters back and forth, and it's an amazing feeling knowing they remember me and can't wait to see me again – Agua Viva has groups come consistently throughout the year to do service work. My heart is absolutely full when I am at Agua Viva and I can't help but count down the days until I am in that beautiful country with the most beautiful kids ever!
GTGA Intern Liza: How can others get more information about Agua Viva?
Lauren: For anyone who is interested in Agua Viva, sponsoring a child, or donating, please visit http://www.aguavivahome.org/
GTGA Intern Liza: Where do you see yourself within the next few years?
Lauren: In the next year, I plan to graduate from Xavier University in the Spring of 2016 with a double major in Communication Studies and Public Relations and a double minor in Advertising and Theology. I will definitely celebrate and enjoy my accomplishments by going on some sort of traveling vacation, and hopefully my third trip to Agua Viva. I also hope to settle into a full time job and begin my career in anything along the lines of event planning, nonprofit work, or communications/public relations. The best is yet to come!
GTGA Intern Liza: What advice would you give to people who are in need or some inspiration and motivation in their lives?
Lauren: First, I would challenge others to choose to see the good. Often, I think our minds are so clouded with negativity towards others and the world because of all the bad that is thrown in our faces. But if you make the conscience choice to see the good in people and in every situation, I think you'll be much more likely to fill the world with more good yourselves. I would also say it's important to step out of your comfort zone. Normally I get very homesick, which is why a mission trip to Guatemala didn't seem very realistic to me at first. But once I threw myself out there, I didn't want to come home. I think if you step outside your own box of comfort, you will surprise yourself with opportunities and experiences you might never have imagined for yourself. If you never try, you'll never know. So take a chance. Life's too short to sit back and watch it go by!
GTGA Intern Liza: Who has been a positive influence in your life?
Lauren: I am very lucky to say my mom is one of my best friends. She is the definition of a hardworking, caring, and loving mother. She is involved in the community, her work, and at home, and sometimes I wonder how she balances it all! She has a zest for fun in life while walking humbly, doing whatever needs to be done without a second guess. This has rubbed off on me and I have my mom to thank for being such a good example to my brothers and I. For all you do, for all you say, for all you are – I lov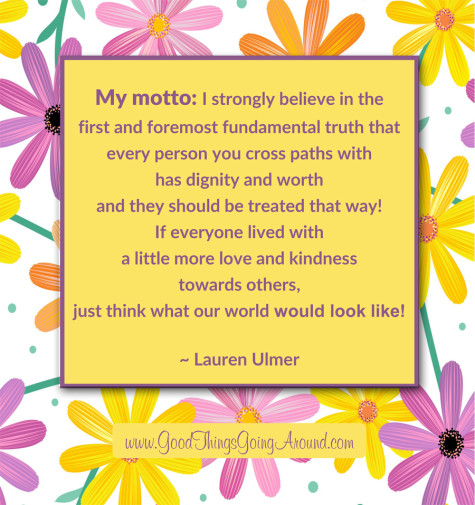 e you mom!!
GTGA Intern Liza: What is your biggest motivator?
Lauren: I have this mindset that "good enough" is not okay with me. I want my life, the people in it, and the experiences shaping it to be above and beyond amazing. Living an "okay" life is not appealing to me. This motivates me to live a life both myself and God are proud of. I try to go the extra mile, talk to more people, take chances, and experience every opportunity possible in life while I am able, and I hope in the process I can lift others up and glorify God.
GTGA Intern Liza: Thank you, Lauren! Is there anything else you'd like to add?
Lauren: I'll leave you with Colossians 3:14: "Most of all, let love guide your life. "