CINspirational People: Linda Mitchell Hendley
CINspirational People is a feature of Good Things Going Around profiling diverse people of Greater Cincinnati, what inspires them, and what is inspiring about them. You can read more profiles by clicking on the link at the top of the blog. Do you know someone to suggest? Please reach out. Thanks!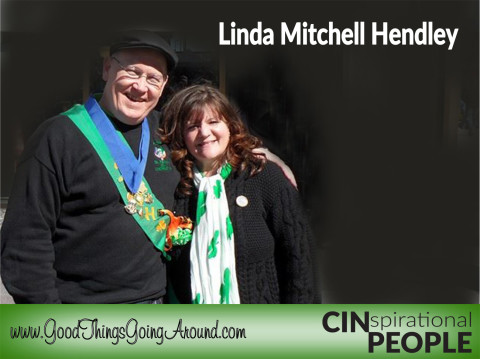 Linda is an incredibly talented illustrator and graphic designer who was someone that has been a friend and supporter of my work since I began this blog. In fact, Linda not only drew the art for Good Things Going Around, she also created my So Much PETential training art as well. I am so grateful to her. I love what she came up with for me.
Linda shared with me a quote that inspires her and reminds her of her own life.
"When the world says, 'Give up,' hope whispers, 'Try it one more time.'"
Below are Linda's words
When I first got on Facebook in 2009, I wanted to find a phrase that expressed how I felt about my life. In a matter of months, I had lost my husband of 34 years, Ken Mitchell, and my career of over 25 years in graphic design. I found myself in a very desolate place, questioning everything I had always believed in. Inch by inch, with the help of my children, Kevin Mitchell and Shannon Mitchell Bowman and a few very special friends, I made my way back to a life worth living. I found love again with Mike Hendley, and was recently hired as Creative Director at Tressa, Inc. Life IS good! Enjoy it! And NEVER give up.