CINspirational People: Nick Beiler
CINspirational People is a new feature of Good Things Going Around profiling diverse people of Greater Cincinnati, what inspires them, and what is inspiring about them.
Today we are featuring Nick Beiler. He was interviewed by GTGA Intern Liza Hartke.
GTGA Intern Liza: Tell me a little about yourself. (Where you grew up, how old you are, where you went to high school, what your degree is in, any hobbies,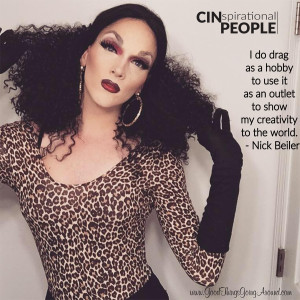 basically, anything you would like to say!)
Nick: I'm 22 years old and I am a fashion design student at the University of Cincinnati. Growing up on the west side of Cincinnati, I always knew I was different from most of the people around me, and I eventually discovered it was because of my sexuality. For me, I was almost ashamed that I was gay and didn't want anyone to know for fear of how people would react, especially since I attended Catholic school for 12 years and went to Elder High School. I think I channeled a lot of my emotions into art to express myself. I was always drawing something growing up, and it wasn't until recently that I discovered I have a passion for makeup. I do drag as a hobby to use it as an outlet to show my creativity to the world. For me, it's not about dressing up like a girl just for the heck of it. I see it as an art form. There is such a drastic transformation behind it all and I love it.
Liza: What is a motto you live by and why?
Nick: Live your life authentically regardless of what other people think. Live a life that you are proud of. So many of us get so caught up on what other people are going to think of our actions, that we don't always do what will really make us happy. I think it's so important to be you and have no fears. If you are enjoying what you are doing, who really cares what other people think. It's your life, so make the most of it!
Liza: Tell us about what you do and what are some of the reasons why you enjoy it.
Nick: Right now, a lot of my life is devoted to improving my craft when it comes to drag and elevating it so that I could potentially make more of a career out of it. Right now, it is just a hobby, but I see so much room for growth, because I am constantly looking for ways to improve myself. I love doing drag because it makes me happy. It's fun and so freeing to be able to take a break from all the stress in your life, go out with an entirely different persona, dance, and make friends. Ideally, I'd like to be able to showcase my art to a wider audience, but until then, I'm just trying to make sure I can have fun with it while still focusing on school.
Liza: When did you first start taking interest in drag and what inspired you?
Nick: I think it was 5 or 6 years ago that I really started to become interested in drag. I remember seeing RuPaul's Drag Race on TV and being amazed at the art and transformation from the men to their drag persona. Not only that, but I was so inspired by their ability to be so open with who they were and what they loved. At this point in my life, I wasn't openly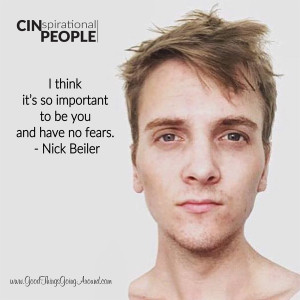 gay, so it was so amazing to see people who were out and proud be celebrated on a television show.
(Note – Drag is the use of appearance (clothing, make-up, etc.) to perform a gender identity, often separate from one's own, but not always. It involves taking stereotypical notions of gender to the extreme for the sake of entertaining an audience. Drag is an exploration and performance of the ways in which we perform gender in our everyday lives, taken to the extreme, and for entertainment purposes."
Liza: What is an accomplishment that you are proud of within the last year and how did you get there?
Nick: I think my biggest accomplishment in the last year was being able to take my drag to New York City and Los Angeles and perform as my drag persona, Noodles. I'm in DAAP at UC, so I get to do various internships, and I was fortunate enough to go to New York and Los Angeles for a couple of them. When I was in New York, I would go out in drag, and I actually had my photo published in a Brooklyn new artist magazine. While I was in Los Angeles, I had the opportunity to perform at a very well respected gay bar, which was awesome!
Liza: What advice would you give to people who are in need or some inspiration and motivation in their lives? /// What advice would you like to tell young men and women interested in doing what you do?
Nick: I would tell them that they could be inspired by almost anything in life. Whether it is something they love or something they hate, they can channel the emotion into creating something amazing.
Liza: Tell us about someone who has inspired you.
Nick: I think one of my biggest inspirations is RuPaul. He has done so much for the LGBTQ community that I can't even think of where to begin. He has so many quotes that inspire me daily, but one of my favorites would have to be "What other people think of me is not my business." This has inspired me to think how I do today, honestly.
Liza: What and/or who is your biggest motivator?
Nick: My biggest motivator is definitely the idea that there might be younger gay boys (heck, any LGBTQ youth in general) that might look up to me some day in the same way that I look up to my idols. Knowing that makes me want to try so much harder to achieve all my dreams and to be a role model to others.
Liza: Where do you see yourself within the next few years?
Nick: I see myself on the same path I'm on right now – one towards happiness. I don't know where life will take me, but at the end of the day, all I want is to be happy. And I hope that I will be.
Liza: Any other information or quotes you would like for us to feature in your post.
Nick: The quotes I really want to focus on are when I said, "Live your life authentically regardless of what other people think. Live a life that you are proud of.