CINspirational People: Pam Kravetz
CINspirational People is a feature of Good Things Going Around profiling diverse people of Greater Cincinnati, what inspires them, and what is inspiring about them. You can read more profiles by clicking on the link at the top of the blog. Do you know someone to suggest? Please reach out. Thanks!
Today we are featuring Pam Kravetz.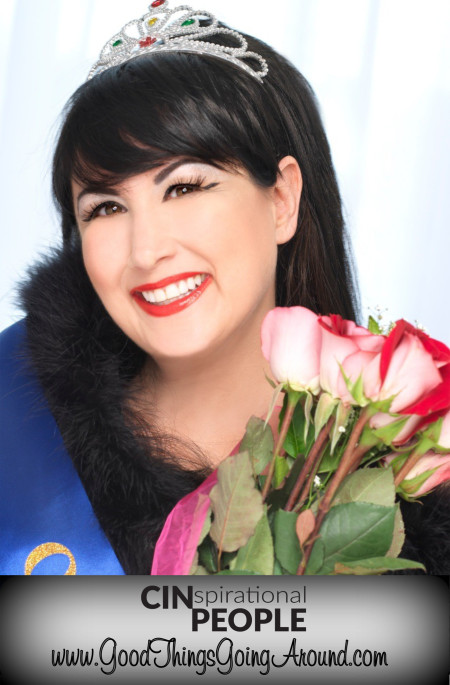 As a visual artist, Pam is known, respected and admired regionally and nationally with more than 50 art exhibitions and installations. Pam's work has a magical way of bringing out your smile. She is also a national board certified teacher with a career spanning twenty years and has twice been awarded Teacher of the Year. Pam teaches an after school program at Uptown Arts, a free arts program for inner city elementary children.
We asked Pam a few questions.
GTGA: What is something about yourself that people may not know about you?
Pam: There are a few things that I think people would be surprised to know about me, sometimes I even surprise myself!. One is that I am a rule follower! Yep, I know, I know hard to believe. I drive the speed limit, I don't cut in line, I like order! Even though I am driven by chaos and thrive on crazy!  Something else many people don't know about me is that I am a high school art teacher. I have been teaching at Harrison High School for 23 years and love it! One more thing  – I love scary movies and I am addicted to the SyFy channel, anything from Sharknado to Blade to Shawn of the Dead. My artwork is time consuming and labor intensive to create, so I sit down and turn on Syfy and work away!
GTGA: Can you describe your art?
Pam: I'm a mural makin', street paintin' quilt sewin', yarnbombin', curatin', flashmobin', tutu wearin' rootin' tootin' art monster.
My artwork is somewhere between Willy Wonka and The Chocolate Factory and Sex in the City. Whimsical, colorful, full of pattern and lust for life! It is  sometimes snarky, funny, heart on my sleeve self portraits that tell a simple story that on the surface seems light hearted, but with a closer look it is touching, honest and sometimes a little heart breaking. My art is what it is – it is in your face, up close and personal, no reading between the lines view into my own microcosm of the universe. I make larger than life sized marionette puppets that the viewer activates, I make narrative quilts, I work collaboratively with a group of fantastic artists to create live interactive installations. From working with the yarn bombing performance art group The BombShells of Cincinnati, to body painters, dancers, visual artist and designers to create an installation. I love to work together to create art and experiences that I can't do alone!
Viewing my art is not a spectator sport,  the viewer is encouraged to interact, become part of the art, to be engaged. The viewer activates the art and makes the pieces come to life.
GTGA: Where does your creative inspiration come from?
Pam: My creativity and art is inspired by the beauty and the chaos of the everyday. From a conversation with a friend, to a cupcake I received on the way to a road trip, to  watching my husband Craig's beautiful daughter's Erin and Jill making pickles, to an insecurity, to a shade of MAC lipstick. Nothing is too big or too small for me to explore using my art. My mom says, "Pam's artwork is cheaper than therapy!"  My work is about me and my journey through life's crazy obstacles and surprises from
GTGA: Tell us about one of your projects, what it has meant to you and its impact on others.
Pam: I have been so fortunate through out my art career to have created art that have been life enriching experiences for me. My first show at a museum, The Cincinnati Contemporary Arts Center UnMusuem, "The Beatuy Queen, The Super Hero and The Peanut" was one of the first monumental, life changing times for me. I loved creating it, working with my husband Craig to work out the engineering and having my mom and sister and friends help me make my vision a reality. Then, watching children and grown-ups alike interacting with the puppets, reading the tex and stories, laughing, learning, engaging was phenomenal. I used my experience as an art teacher to create an installation that engaged children, taught them about self esteem in a playful non threatening way and showed me that I can make a dream a reality. Showing at the CAC was a HUGE dream of mine since I was a docent there in the 80's. Flash forward to last year… Being commissioned by the CAC to be part of their 75th Anniversary celebration. Creating CAC-tv and having a 'starring role" in the show! Then creating two 50' feet memory quilts was a pretty mind blowing experience. Working with artists, history, dancers, body painters, the CAC staff and the community to create both the performance art and the narrative quilts was amazing. At the Memory Quilt unveiling I met one of the three founding women of the Modern Art Society in 1923 (now the CAC) and she was so kind, and so gracious and so excited that the history of the CAC was being created in a quilt by a group of women artists. We laughed and cried together! It was a pretty special interaction.
GTGA: What is your greatest reward from what you do?
Pam: And when my parents and family are at my shows (they never miss one) and seeing how happy they are by the art I create. That is my greatest reward. My son Max, has been by my side, inspiring me. We actually had a show togheter when he was 11! He sold more art than I did. I am so happy that he thinks that the friends that I make art with are amazing, and loves to come home to us working on ideas and art in our kitchen.
GTGA: What is one of the greatest pieces of advice you have received?
Pam: From my kindergarten teacher that saw I was struggling with my "ABCs," she let me use the painting easel everyday. She encouraged me to do what I loved and was good at doing, creating. Then again in high school, my art teacher encouraged me to create, make art, and honor the person I am.
GTGA: What advice do you have for others about life?
Pam: Find your passion, something that belongs only to you! No matter what your  life, and career choice is. Working in the garden, painting a picture, working on cars, taking dance classes. Feed your soul, do what you love and do it the best you can.