CINspirational People: Pat Frew
CINspirational People is a new feature of Good Things Going Around profiling diverse people of Greater Cincinnati, what inspires them, and what is inspiring about them. You can read more profiles by clicking on the link at the top of the blog. Do you know someone to suggest? Please reach out. Thanks!
In this feature we are profiling Pat Frew.
GTGA: What is an accomplishment you achieved that you are proud of?
Pat: I am grateful to have founded a free job transition support group that has met monthly for the past 15 years helping hundreds of people "between jobs" in sales, marketing and public relations find employment.  I know for a fact that lives have been not only helped but changed through this process.  I've found myself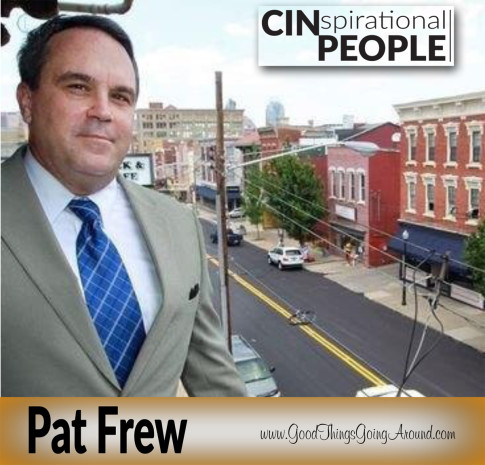 jobless many times in the past and this is my way of giving back.  In fact for me it's a ministry.
GTGA: Tell us about someone who has been a positive influence in your life.
Pat: There are many people. But right now I'd say it's one of my best friends in the business world—Tom Tilmes, a commercial loan officer for Republic Bank.  Tom knows probably more people in the Greater Cincinnati area than anyone.  And he is a great example of someone who uses his relationship-building skills for good as he is one of the kindest, most helpful, most encouraging individuals I know.
GTGA: What is a motto you live by and why or how has it impact you?
Pat: My personal branding statement is Respected and Connected Communicator.  I try to use my skills as a connector to be a blessing to others whether it's at work, home, church or other avocational interests.  And I enjoy being a part of a greater cause. I have a quote printed from motivational leader and author John Maxwell by my computer at work that sums it up pretty well: "I want to make a difference with people who want to make a difference doing something that makes a difference."
GTGA: What is your biggest motivator?
Pat: I truly believe God has a purpose for my life, and I love people.  And I am compelled by God's Word to love others in the same way Christ demonstrated His love for me by dying on the cross for my sins. I try to model that in my family, to my loving wife Melanie of 30 years, to my four beautiful daughters, to work colleagues and to all my other contacts and friends.  I was reading a passage in the Bible just today that speaks to this:
Then I was constantly at his side. I was filled with delight day after day, rejoicing always in his presence,  rejoicing in his whole world and delighting in mankind.  Proverbs 8: 30-31
GTGA: Tell us about an act of kindness you have done, witnessed or been the recipient of and how that made you feel.
Pat: About 15 years ago I had a chance to compete in an iron man competition that was a 14-hour endurance event combining swimming, cycling and running.  In training for that I decided to raise funds and support from friends to benefit a little ten year old NKY girl dying of cancer.  In the end $10,000 was raised so little "Julia" could go on a memorable vacation with her parents and sister.  She died about a year after the trip.  I felt a strong sense of blessing in that God used me to shower love over that family in a time of intense sadness and loss that the family was already beginning to sense.
Pat is executive director of the Covington Business Council.