CINspirational People: Ron Harper
CINspirational People is a feature of Good Things Going Around profiling diverse people of Greater Cincinnati, what inspires them, and what is inspiring about them. You can read more profiles by clicking on the link at the top of the blog. Do you know someone to suggest? Please reach out. Thanks!
I have known Ron Harper for years, from back when he worked in radio. Ron is gifted with the most incredible voice that can be modified in so many ways, and he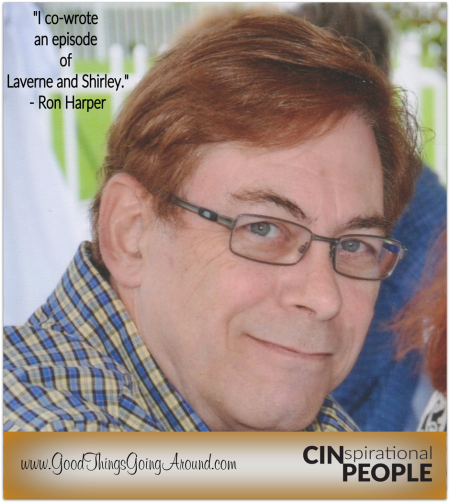 uses his gift as both a voice talent, writer and producer and website video producer.
Please learn more about Ron below.
GTGA: What is something people may not know about you?
Ron: I co-wrote an episode of Laverne and Shirley. Actually I wrote the scene for WKRP, but the agent I had at the time wouldn't present it to Hugh Wilson. By the magic of Hollywood, it landed instead in a Laverne and Shirley. It was a learning experience. Not entirely fun.
GTGA: What is one of your favorite childhood memories?
Ron: The neighborhood where I grew up in Ft. Worth was full of creative and enterprising brats like me. The two brothers across the street would buy candy and soda and resell them in a "snack bar" on their front porch every summer. The rest of us were hired on and actually made some money for a few days "work". The rest of the time we were writing or performing neighborhood plays. A few of us approached the management of a large shopping center and convinced them to let us use their community room and stage for one of our productions. We probably did 4 or 5 performances and donated the ticket sales to the local foodbank.
GTGA: Do you do any volunteer work? Please explain.
Ron: A few years ago I worked with an organization that would invite emerging leaders from around the world to the US to get a feel for how business is done and American life and culture. I got to meet radio personalities from Poland, the manager of a racetrack in Hong Kong, and a woman who had escaped the KhmerRouge in Cambodia as a young woman. Each one had a remarkable and compelling story.
GTGA: Tell us about one of your simple pleasures.
Ron: I learned to cook from my Mom when I was young, and I still like doing that very much. My wife says that's one of the reasons she married me…and I don't let her in the kitchen.
Besides that, we have two cats each with very different personalities. The female calico is a daddy's girl, and the male shorthair is a mama's boy.