CINspirational People: Vickie Mertz
I have known Vickie Mertz virtually for years.  Her day job is with a nonprofit organization called Cincinnati Works, a nonprofit organization that helps people in our community who are unemployed or underemployed to raise above poverty and gain economic self-sufficiency.  It has always been so obvious that Vickie's career means so much more to her than simply a paycheck. Her passion for wanting to empower and energize people comes through loud and clear.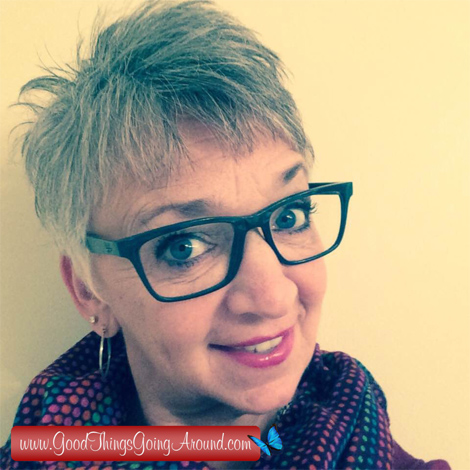 I learned recently of yet one more reason to admire the woman behind those inspirational posts. Quietly, without any need or want of recognition, Vickie has been using her own money to buy ingredients for brown bag meals of peanut butter and jelly sandwiches with pretzels or chips, and distributing them to people on the streets who haven't the means to purchase meals for themselves. Tucked into each bag is a little note from Vickie that reads, "God loves you and so do I. Sign my name."  John 316  In the cold months of January and February, she also collects winter outerwear.
Vickie is known to always have a stock with her in her car, as she never knows when she may see someone from her window in need of generosity. She also spends some of her lunch hours downtown, walking the sidewalks in search of hungry and/or cold people.
"I have been blessed over and over by them wanting to hug me or thank me because I got there at just the right time," she told me as her voice broke in emotion. "One man said, 'thank God I (Vickie) was there' because he was about to get something off the street."
I was so touched that I needed to feature her. Vickie is absolutely a CINspirational Person.
Lisa:  Where does your inspiration come from for doing this?
Vickie:  Personally in my own life, I went three years without a furnace and just used space heaters when my husband wasn't working.  Doing this for others is just something my heart tells me to do. I know that I need to share now because I can.
Lisa: How do you find the people to help?
Vickie: I work on Walnut Street. They are not difficult to find. When I head out, I pray about whether to turn right or left; and either direction, I always find people in need.
Lisa: Are there any people whose stories stand out to you?
Vickie: I don't ask people why they are on the street so I don't know many of their stories, but I remember how the impact of my helping them.
I remember seeing one woman right across the street from me.  She slept there day and night.  One morning I walked over to her with coffee. She had a blanket over head. I asked her if would like the coffee, and the woman said 'no'. The next day I took her coffee and a protein bar. On the third day, I said my name and asked for her name. 'Jeanelle', she said. She said she had a laptop in her backpack and she went to school. When she pulled her hands out to accept the gloves I had brought, I noticed the gold ring on her grimy hands. It occurred to me that she was able to keep the ring and backpack somehow. I knew there was more to her story. I reached out to organizations asking they come and talk to her about going to a shelter. Then, one day she was gone. My prayer is that she is in a better place.
#GoodThingsCincy #randomactsofkindness