Jerry Williams Is An Everyday Hero
Do you believe in fate? I bet that Ernie Robinson, 51, and Jerry Williams, 52, do!
A student of CPR for several years, Jerry just happened to be at the right place at the right time to save his co-workers life.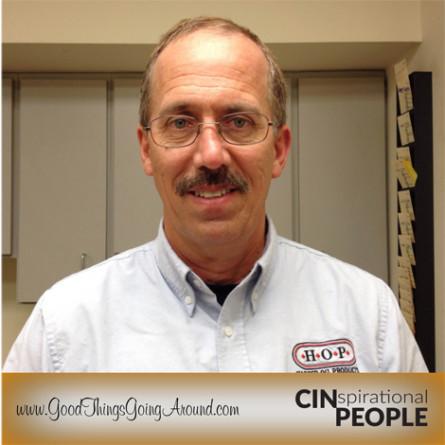 It was October 8, 2015. The fuel delivery driver for Harper Oil in Florence was working an out-of-the-norm schedule. His usual 7:00 am to 5:00 pm shift was changed – for one day. After clocking out at 10:00 am, he ran some errands and came back to work around 3:30 pm. It was the only day in his years of working for Harper Oil that Jerry's schedule was different.
And, on that day, when Jerry was talking to his supervisor, an employee burst into the room asking if anyone knows CPR. The three men dashed down the hall into the boss' office where Ernie was unconscious and slumped over a couch. Ernie was gasping for air. He did not have a pulse.
"There was shock on everyone's faces," Jerry told me. "I just kept thinking, 'he can die.' That helped me do what I didn't think I could do."
Meanwhile, an employee called 911. "With the new training, it stresses those compressions are the most important thing so I just went as fast as I could for as long as I could. They told me it was about six to eight minutes," Jerry explained. "Ernie wasn't breathing, and then just before the ambulance got there, everyone began chanting and he started to breath."
Company Chairman and President Stephen Harper told the Kentucky Enquirer,  "I am extremely grateful for the heroic action taken by Jerry as he immediately took control of the situation, applying his knowledge and training and saving the life of Ernie. We are proud to have him as part of the Harper Oil Products team and he has inspired us to follow in his footsteps and make CPR training available to everyone in the company."
Jerry told me when we talked that he hadn't seen Ernie since the incident but he is really glad fate stepped in the way on October 8. "I'm glad I was able to help. I was real anxious a few days afterward but it really makes me appreciate life," he told me. "I didn't think I'd ever need my CPR training and now I am so glad I have it. If I didn't know CPR, Ernie probably wouldn't be alive today"
And about fate? "I am thinking God put me on that schedule October 8 just for Ernie. The very next day I went back to my usual schedule."
On appreciating life, what are some of Jerry's simple pleasures? "I love watching my grandchildren play, riding my motorcycle, and looking at the sky," he said.

2 Responses to Jerry Williams Is An Everyday Hero