Kelly Camm Inspires Can-Do
I want to introduce you to Kelly Camm.  We met when I was promoting the 2015 Cincinnati ReelAbilities Film Festival. She was a volunteer and also is development director of 4 Paws for Ability, one of the Fesival's beneficiary organizations that trains and places assistance dogs for children and veterans.
What I think of when I think of Kelly is her warm smile. She has a genuine, caring nature that I was drawn to in a crowded room.  It gives me great pleasure to share some of her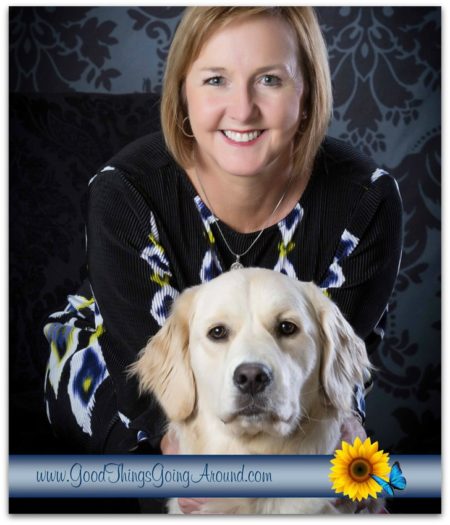 story.
Lisa:  Please tell us more about you.
Kelly: I was born in Cincinnati and lived there until I was in my late-20s. Then, I met this wonderful man (my husband, Mark) and moved across the river in NKY to be with him. I graduated from McAuley High School, University of Cincinnati, and Thomas More College. I have over 20 years of experience in marketing, brand management, product development, planning, communications, cause marketing, and public relations. As development director for 4 Paws for Ability, I oversee the identification, solicitation, and development of community, corporate, local, and national funding sources. I manage fundraising, cause-related marketing, and complete grant research and proposals.
In my spare time, I am an assistant adjunct professor at Thomas More teaching business writing and marketing courses in the evening. I also do occasional PR and marketing communication consulting, and I met Lisa Desatnik through my volunteer work with the ReelAbilities Film Festival.
Lisa: Please explain your passion for your work – where it comes from, why it is important. 
Kelly: I learned about 4 Paws for Ability in 2006 when I was getting my MBA at night. After graduation, I decided to volunteer and joined the board of trustees and then became a staff member in 2010. My initial interest in 4 Paws was because of my love for dogs; however, after meeting the children who receive these dogs, they stole my heart too. 4 Paws Service Dogs give kids the chance to become more independent, which makes for a happy, successful life.
Lisa: What is an accomplishment and/or challenge you have overcome and how did that impact you. 
Kelly: I was the first person in my family to graduate from college, and I was the baby of the family. I did it by taking evening and weekend classes all while working full-time during the day. It took me 14 years total to complete my goal, but it taught me time management, perseverance, and cemented my love for learning.
Lisa: Who is someone who has been a positive influence in your life and how.
Kelly: I have been fortunate to have had many positive influences in my life; however, the most constant, positive influence is my husband, Mark. He has always supported my endeavors and is a very calming presence in my life. He has given me great advice over the years, and he is my soulmate and best friend. It is so easy being me with him around.
Lisa: Tell us about an activity you enjoy doing and why.
Kelly: I absolutely love going on vacation. Once one vacation is over, I start planning the next one. I love experiencing new places and different cultures, and when I go on vacation, I try to completely unplug. That way, when I return to the "real world" I am recharged and ready to get back to work.
Lisa: What are some of your simple pleasures?
Kelly: I always start my day with coffee and reading the paper (old school print version). I think I get that from my mom (although my mom drinks tea)! Walking my dog, Lucy, is also one of my simple pleasures because she reminds me to slow down and appreciate things that I may be too busy to recognize, see, or enjoy.
Lisa: How would you like for others to think of you?
Kelly: I would like others to think I am kind, giving, compassionate, loyal, and hardworking.
Lisa: What is a piece of advice you received that has impacted you and how?
Kelly: I read numerous self-help books in my 20s and 30s. I cannot explain how much that helped me become a more positive person, to believe in myself, and to take risks. One thing I read in one of those books was, "No negative self-talk." I tell my students that on the first night of every class. Rather than saying, "I will never understand this material" one should say "I will be able to learn and master this."