Marty Polk Inspires By Example
Marty Polk has smiled at me and asked me about my day more times than I can count. No matter what I am doing or where I am on the exercise floor at the TriHealth Fitness Pavilion, I can't help but notice him. Holding a towel in one hand, his eyes are drawn to people like magnets. His is that familiar face that always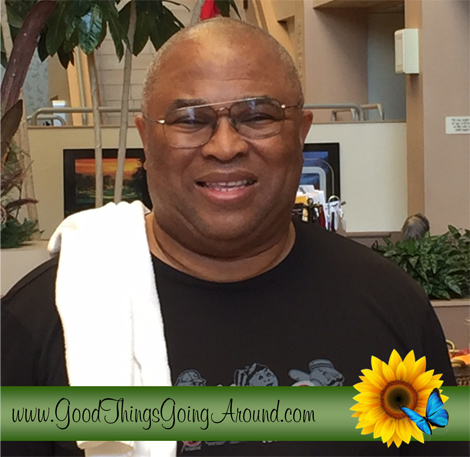 carries a smile, inviting everyone to take up conversation. Marty knows no strangers there. His is everybody's friend. On a day when there is no sunshine, he brightens it just by being present.
I had known that Marty was a retired police officer but not much more. After sitting down with him and his son, Martin, I developed a whole new level of admiration and respect.
For 30 years Marty was a plain clothed officer working in the Cincinnati Police Department's park unit. Often his job was undercover, helping to bring to justice the people selling drugs. But there is much more to his story than searching for the bad guys.
On those days when he walked Cincinnati's parks, he was also on the lookout for those needing a step up. Marty had a reputation for fairness and integrity. He wanted to help people he met who were down on their luck. "I wouldn't give them money," he told me. "I would take them to White Castle or someplace else to get them something to eat, or I would bring them food or coffee. As long as they tried, I was always helpful to them."
I am willing to bet Marty paid for this out of his own pocket. He was also known for taking people who were homeless to the Drop Inn Center or another agency like the Salvation Army.
Those acts of kindness changed and empowered lives. Several individuals even came back to tell Marty he turned them around from a path headed toward destruction, saved them.
"It is why I wanted to be a police officer," he said. "We are here to help people. I always tell people to try and do the right things, be positive and return favors to others. When I know I have helped someone, it makes me feel good inside. It shows that police officers can do more than just be police officers. We can take care of people."
But Marty's story has taken a turn since those days walking the Cincinnati Parks. Just three months past his retirement, January 18, 2012 to be exact, he had a stroke that took away use of his entire right side…and one of his greatest gifts, his speech. He was hospitalized for three months, during which his family never left his side. He endured a rigorous schedule of therapies that detoured when he coded three separate times from a blood pressure drop. He battled long and hard. Ultimately Marty's journey took him from a wheelchair to a cane to being able to exercise three days a week….with enough energy left over to greet everyone with whom he comes in contact. His trainer has him spend 30 minutes on the elliptical machine, ride the stationary bike for 5 miles and walk a mile in less than a 15 minute stride.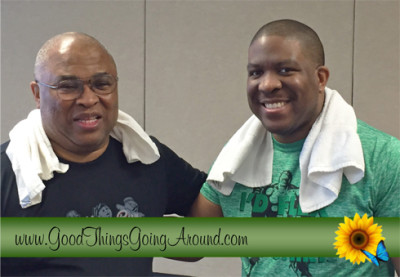 Since his stroke, Marty has even become a seasoned 5K participant, having walked in two Flying Pig races, the American Cancer Society 5K, and the NFL Hall of Fame Walk.
"He is my best friend and role model," Martin said sitting next to his father.
Lisa: What are some life lessons you have taught your sons?
Marty: I always have taught them that when you approach people, you call them 'Yes Sir' or Yes Ma'am'. I try to teach my sons the way my father taught me to be honest, have integrity and do the right things in life.
Lisa: What do you hope you impact will be?
Marty: I like to inspire people. It is the reason why I try to speak to everyone to see how their days are going because not everyone has good days. But you've got to keep fighting to maintain what you have got.
#GoodThingsCincy