CINspirational People: Nick St. Pierre
Nick St. Pierre has an absolutely incredible, rare gift to make people smile and laugh. I have admired him for many years, probably even given him a hug or two. That is…to his former alter ego – Cincinnati Reds mascot, Gapper.
Little did he know when he was first hired by the Reds as a rally pack cheerleader shooting T-shirts to the fans, that his career would go on to create one of Major League Baseball's most beloved mascots. The idea began over a conversation Nick had with then Reds Chief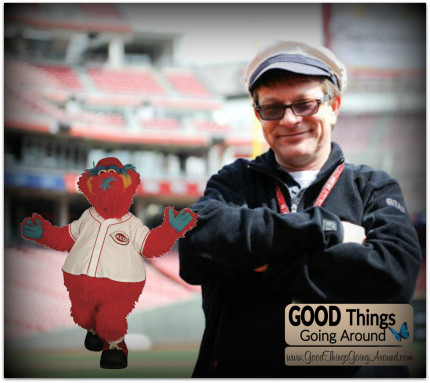 Operating Officer John Allen in 2001. Gapper made his first appearance in the new stadium in 2003.
These days, while Nick has passed on the torch of being Gapper a couple seasons ago, he continues his full time job as mascot coordinator with the Reds.
After reading my interview below, I think you will see why Nick was the perfect person to originate our Cincinnati legend. And, if you see Nick on the street, you will probably want to run up and give him a hug.
Lisa: What is an accomplishment you achieved that you are proud of?
Nick: I am very proud of being employed with the Cincinnati Reds for the past 19 yrs and all the, not only fun, but good things I have been able to do for people. Knowing how much people enjoy this team and being able to share it with those who love it is a blessing.
Lisa: Tell us about someone who has been a positive influence in your life.
Nick: It is difficult to limit it to just one. I am surrounded by positive influences from players, coaches, celebrities and some of the richest people in the city but if I had to narrow it down, I would have to say a small boy that I met while making an appearance at the Cincinnati Airport.
A guest of a Christmas Celebration being hosted by CVG and Delta, he, as well as the rest of the group were of low income families. The kind you never hear about because they are working very hard and are very proud of not accepting assistance. In costume I gravitated to him because he was shy and stayed away from everyone else. In a short amount of time we bonded.
I, pretending to be one of my loving dogs, without speaking was able to communicate that I was there for him and we were pals. There came a time in the event when the kids were given large gift bags full of toys and other stuff. Each one had a name on it for each child. As the distribution went on, my guy kept getting passed up. Other children around us were opening their bags and revealing in the gifts they had received while my buddy and me sat and watched. After what felt like a very long time and watching everyone else now adding batteries to said gifts, still nothing came. Finally, the volunteers found his gift bag and we had a great time together, opening and sharing in his new stuff.
I talk about him because he still inspires me. While we sat waiting, he did not waiver from his smile. He appeared to be genuinely happy for everyone else and satisfied with just watching. This still amazes me, to remember his sense of calm and comfort and for him not to have, at any point, stated "well what about me?" was truly an inspiration.
He taught me to see the joy and delight in any situation. During all this taking place, I am running through my mind of how I am mad that this is happening, and I will personally take him to Toys R Us and buy him one of everything. But as I say, watching him not get the least bit upset calmed me and everything worked out. So, to make a short answer long, my person who was a positive influence in a nameless little boy that I spent an hour with at a Christmas Party.
Lisa: What is a motto you live by and why or how has it impacted you?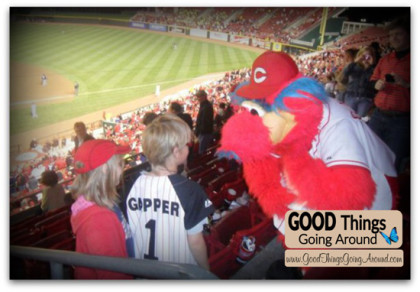 Nick: I have one chance to make a fan for life
and
It's always someone's first game.
These have served me well in the world of sports, but both apply to me in my daily life. I have one chance to make a fan for life is the same as only one first impression. I approach everyone, even strangers as though we are friends. At this point neither one of us have done anything to upset the other so why wouldn't we be friends?
It's always someone's first game refers to approaching everyone with a sense of "how can I help you". I don't avoid folks that may appear in need even if I cannot help. Sometimes a kind word, or acknowledgement of existence, goes a long way. By adapting these motto's to daily life, it really helps to avoid becoming selfish and cold and closed minded.
Lisa: What is your biggest motivator?
Nick: The fans of the Cincinnati Reds and my son.
The fans give me motivation to come to work every day. Having the chance to grant wishes for folks makes me feel like a real life genie. Then there is my son, He is 23 and has assumed my responsibilities as Gapper, one of my mascots. I am motivated to make things better and easier for him than I had it. I am motivated by his growing love for a job that I was so very proud of personally. I have had the conversation with others that as a parent, I can think of nothing more satisfying than knowing you have taught your child a skill that he can feed and support himself on. I am comfortable that my son could get him a job in any pro sports venue as the mascot performer coordinator person.
Lisa: Tell us about an act of kindness you have done, witnessed or been the recipient of and how that made you feel.
Nick: There are more examples than I can name. One comes to mind.
I was in Marietta doing an appearance at a baseball camp. While in costume I had a young man that would not leave me alone. At one point I was tripping over him because he would not stop. At that point to get a little distance, I grabbed his hat and threw it knowing he would go after it, this would give me a minute to get to the next location before he returned to stand on top of me again. He did not return as quickly as I would have thought. When he returned, he stated that he couldn't find his hat, that it had disappeared. There were many older kids standing in the area of where I threw it. I assumed all being in the same camp that they wouldn't steal from each other. But, that I feared, is what happened. He hung out with me the rest of the event and at the end, his mother approached me and explained that the hat was brand new and how difficult it would be to replace since they had to save for so long to afford the camp itself.
This crushed me. As soon as I got back to the office a couple days later, I immediately went to our team shop, purchased a professional style hat, had is named stitched onto the outside and sent that to him. I heard back a few weeks later from an uncle stating that he had gotten the hat and was very proud of it.
I have since and still do send him things that I collect from around here. I have never gotten a thank you but am not in it for that. I figure if this kid realizes there is someone other than his family who cares about him, and perhaps he will have a better shot in life than those who fell they have no one.
Please join me for my newest event,
A Night of CINspiration on February 25, 2016
and you will hear Nick share more stories…
and meet Gapper!
#GoodThingsCincy