Russ Childers Shares His Appalachian Roots
For more than 20 years, I coordinated the media relations for the Appalachian Festival at Coney Island; and two of my favorite people who I got to know through it were Barb and Russ Childers. Musicians, storytellers, educators, square dance fans, and all around kind hearted people who are also passionate about their Appalachian roots, they were always fun to be around.
I caught up with Russ the other day, and I thought he would be a perfect person to feature here.
As fiddler, and banjo and dulcimer player, for more than 40 years, Russ has been sharing his heritage with our community through music at our region's most popular events and venues. On stage he is often recognized as part of the Rabbit Hash String Band or his and Barb's husband-wife team known as Bear Foot. He is a master musician with the Ohio Arts Council. Russ's banjo playing has even earned him numerous state awards including the Kentucky State Clawhammer Banjo Champion. In May 2000, he was the recipient of the Appalachian Heritage Award from the Cincinnati Appalachian Community Development Association.
School children throughout Kentucky and Ohio look forward to his presentations where he demonstrates instrument building, teaches them how to make music on reclaimed materials, and has even been known to get them up and square dancing.
Let's get to know a little more about Russ.
Lisa: What is one of your greatest accomplishments?
Russ: I am most proud my ability to give the gift of music to people. I have a knack for helping others learn how to play it. When they are successful, it makes them very happy. And makes me happy too. I have a buddy who wanted to play the banjo. He became my apprentice and even played in my band. It is such a joy to see how his face lights up when he is on stage as part of our group.
Lisa: Square dancing is an important part of your story. Can you explain?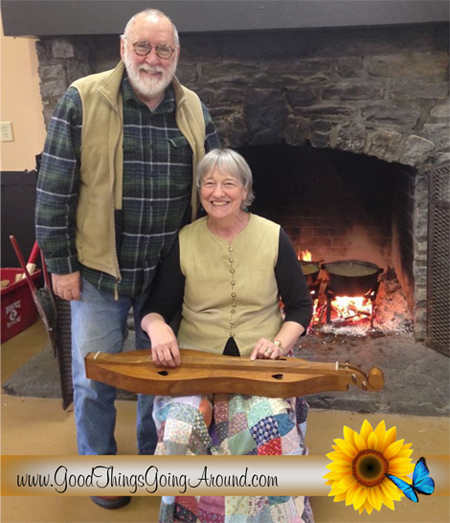 Russ: My dad used to talk about how he would ride a mule to the dance, and ride the mule home again. When he moved to Cincinnati in the late 1930s there was a square dance at the YWCA downtown, and that is where he met my mom. Barb is an accomplished Appalachian clogger and we met at a square dance too.
These days, for the past three or four years, the Rabbit Hash String Band has been playing music and I have been honing my skills as a square dance caller at the Northside Tavern. It is all about spreading information on the Appalachian culture in a positive light. Our philosophy is that we are not there to make you a better dancer but we want you to leave smiling, and, if you gain some knowledge about square dancing, all the better.
Lisa: What would you like for people to remember most about you?
Russ: I want people to think of me as a nice person who wants to share his knowledge. Someone who is a good friend.
Lisa: Can you tell us about someone who has been an important influence on you?
Russ: My wife, Barb. She believes in everything I do and encourages me to try everything. When I am feeling down, she is always there to bolster me up and encourage me to look at things from a new perspective.