Tami Boehmer Spreads Hope On Surviving Cancer & Winning At Life
Sometimes it's really hard to make sense from the circumstances life throws our way.  We have to do some soul searching, questioning. Lots of questions.
What is our purpose here, really? Why were we presented with such mammoth tests of strength that to overcome seems almost surreal at the time?
Everything that we endure, the people with whom our paths intersect alone the way, the challenges, the defeats and the successes, the joy that comes from pure living – they are all part of this huge classroom that teaches us about our destiny.
What we do with those lessons is completely up to us. We can choose to fail in our exams. Or we can use that knowledge as power to triumph. To make our mark on this world. To lift others up from our own courage and wisdom.
Tami Boehmer chose the latter.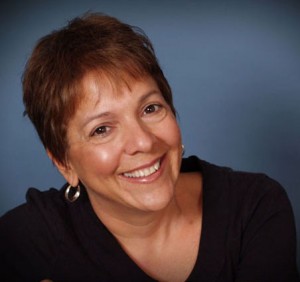 Just shy of her 39th birthday Tami felt a lump. She learned she had cancer. Making plans for a lumpectomy, chemotherapy and radiation weren't exactly what she and her husband, Mike, and daughter, Chrissy, had in mind for celebrating another year older.
But they caught it early. Doctors were optimistic. The Boehmers were optimistic. Early detection is so important in eradicating breast cancer.
"They say after five years you are pretty much home free," Tami said on a talk show recently.
Maybe that clock got reset along the way. It was in February, 2008 – just months past that mile marker – when Tami found herself staring into the eyes of a forlorn breast surgeon.
The biopsy showed a tumor nine centimeters in diameter and nine out of fifteen lymph nodes tested positive. Subsequent tests reported that it had also spread to lymph nodes in Tami's chest and liver.
"My world as I knew it ceased to exist," she wrote in her book, From Incurable To Incredible.  "My first thought was Chrissy, my eight year old daughter. I had to do something to make sure I'd be there for her."
But Tami soon realized her life had an even bigger purpose. She and Mike got to talking and brainstorming. An idea popped into Tami's head, "Why not write a book about other advanced stage cancer patients and how they beat the odds?"
"I knew from experience that people needed to hear success stories and the importance of hope in fighting cancer. The empty hole I was feeling started to dissipate. That was the sense of purpose I was seeking," she wrote in the book.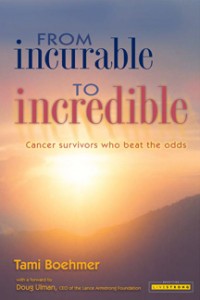 From Incurable To Incredible was released in 2010. It features 27 cancer survivors who were given a terminal diagnosis but surprised everyone by thriving years past their prognoses. What they share is an incredible drive to stay in the battle.
"These miracle survivors taught me cancer doesn't have to be a death sentence. From them, I learned cancer was the beginning of a new way of life filled with appreciation, hope and discovering my potential," Tami wrote.
And now Tami's potential and inspiration is permeating lives across the country through her talks and interviews. We can all learn from her life experience.
To learn more about Tami Boehmer and her book, From Incurable To Incredible, please visit her blog http://www.tamiboehmer.com

2 Responses to Tami Boehmer Spreads Hope On Surviving Cancer & Winning At Life