For Jeff Stone, It Is More Than A Job
I'd like to introduce you to Jeff Stone, a direct care professional for Stepping Stones, a Cincinnati nonprofit whose mission is mission is to increase independence, improve lives and promote inclusion for children and adults with disabilities. Jeff began working at Stepping Stones as a summer camp counselor in 2012, and quickly added more responsibilities before joining their team as a full-time direct care professional at in 2014.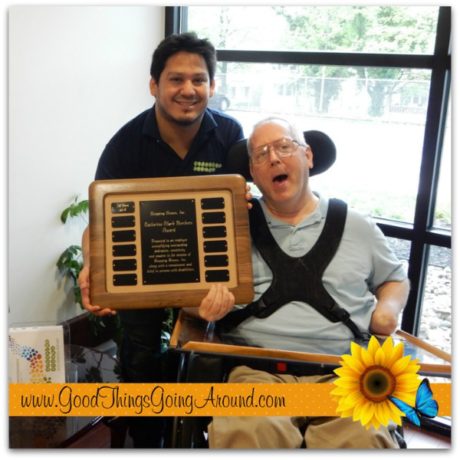 Each year the organization honors one of its employees who exemplifies its mission, and Jeff was this year's recipient.
These are some of things his co-workers had to say about him.
"One only has to work with him for one day and you'll see the care he puts into his second family at Stepping Stones."
"This job is so much more than a job to him. His passion is inspiring and I love working with him."
"He is one of the most selfless, compassionate and dedicated staff I've ever had the privilege to work with."
Let's get to know more about him.
Lisa: Please tell us about your job, what you do as a direct care professional, how long you have been at Stepping Stones, and what you enjoy most about your job?
Jeff: I have been with Stepping Stones for about four years. I started as a unit counselor at Camp Given in 2012 and have worked several Saturday Kids Clubs and Young Adult Clubs throughout the Fall and Winter. This is my third year at our UCP Campus as a direct care professional. One of the best things about being a DCP is understanding how rewarding it is to be in this field. At Stepping Stones we help individuals find pathways to independence. We offer several activities here for the participants such as, Art, Recreation, Continuing Knowledge, Technology (Computer Lab), Sensory, Life Skills, and Employment Exploration for those who are interested in finding a job some day. I also offer assistance with personal care (feeding, toileting).
I love my job because every day is different and I learn something new. There are many amazing people here, staff and participants and I have made some great friends. I love seeing the participants every day and having fun. I love making them laugh and making their day better. And I especially love making a difference in people's lives.
Lisa: Tell us about Fred (pictured with you) and your relationship with him.
Jeff: I would have to say that Fred is one of my best friends. He is such a funny person and is loved by so many. We always have a great time together every day because we make each other laugh. Fred is extremely smart and always cares about the other participants. He is always wanting to help me throughout the day and even letting me know if I miss something. He is very observant. Another thing I admire about Fred is his patience. Even when I am having a rough day, he understands and is always trying to make me feel better. If I need him to wait for a little bit, he will and not complain about it. Being with Fred for quite some time, I've noticed that he loves art. He will sit and paint if I give him a canvas using several different colors. Fred also loves nature, especially birds. I can relate that to him because my mom was a birdwatcher and has shared with me her experiences and knowledge of birding. I can show him a picture of a Cardinal and he will know what that is. Fred even just finished painting his very own birdhouse not too long ago. I know for a fact though that one of Fred's favorite things to do is laugh because you can always hear it no matter where you are in the building.
Lisa: How have you grown as a person as a result of the people whom you work with?
Jeff: The people I work with bring a whole new view on those with disabilities. A long time ago where I didn't understand someone having a disability, I would try and avoid them because I had no idea how to approach them. My parents had to tell me that they were "special" because they also did not know how else to explain it to me when I was that young. Today, I can tell anybody that individuals with disabilities are people just like us. Maybe some of them might need our assistance in doing some things but they have rights too and should never be denied doing something they enjoy. I honestly feel like a whole new person due to my job and also feel like a better person too. I have a lot more patience, I understand situations and views better, and respect those other people who work with individuals with disabilities.
Lisa: What is a piece of advice or words of wisdom that you have received that has stuck with you?
Jeff: One of the most important things that has stuck with me is "CCF" or Campers Come First. In this case now it is "PCF" or  Participants Come First. We should always try to help them first and not think about ourselves, even when we are doing something we don't want to do. If we are watching a movie, a staff member should not pick something that they want to see only because they like it. The staff and participants should communicate and agree on what movie to watch. If a staff member has a rough day and they just do not feel like being there one day, they can do several things to calm them down (take deep breaths, take a 5 minute break, exercise after work). Staff should always remember that they should make sure the participants have a good day because it's for them. We assist them, make friends, and should work to know them better every day.
Lisa: Who is someone who has been an influence in your life and how?
Jeff: I have met so many people and have made so many friends here at Stepping Stones. There have been several people who been an influence in my life but someone who has always stood by me no matter what is Amanda Kay. She was my boss back when I was a part of summer camp and is my boss now here at Stepping Stones/UCP. Amanda has a love for the people she works with and has helped me get to where I am today. She messaged me out of the blue asking if I wanted to interview for a job at the adult program in Norwood because I was recommended by several people. I'm really glad I did and got a job here. I can definitely call her a fantastic boss, a role model for others, and a friend.
Lisa: Outside of work, what are some of your simple pleasures?
Jeff: I love the city of Cincinnati even though my heart will always be in Cleveland (GO CAVS!!). I love going out with friends downtown and Newport, going to concerts, bowling, going Reds, Bengals, Cavs, Indians, and Browns games, kayaking, hiking seeing movies, checking out new breweries, playing basketball and football, and just being with my family. I just enjoy living life and having fun with those who I am close to.