Ian Inspires Passion In Schools
It was after attending Holmes High School in Covington, graduating from Northern Kentucky University with a bachelor's degree in radio and television, and working at ESPN that Ian Smith, founder and CEO of Skool Aid, realized he wasn't following his passion. So, he took a part time job substitute teaching and began pursuing a master's degree in special education. But, it turned out that wasn't his thing either. Music (and fun), now THAT was Ian's THING!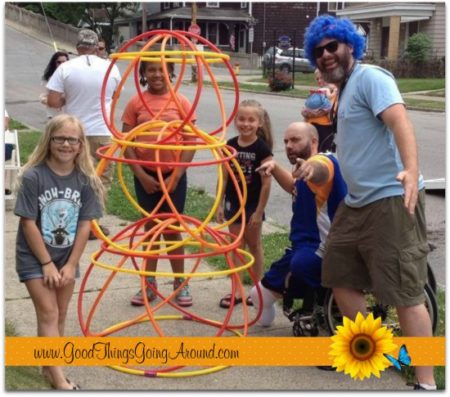 Ian developed a program he called Movement in Music, a class that incorporates the rhythmic sounds of Ian's drum with physical fitness games to teach kids about good sportsmanship, teamwork, and other life skills. It was an idea that caught on. Soon he was being hired by schools from Pleasant Ridge to Kenton County. "Then I began thinking, if I am building relationships with all these districts, why not help other teaching artists have an opportunity too to pass along their passions to students?," Ian told me.
Some five years later, his organization that he named Skool Aid includes 25 teachers presenting 28 different programs to area schools, mostly for afterschool programming. Skool-Aid is also contracted by LADD, Inc.'s Cincinnati ReelAbilities Film Festival to present ReelEducation in area schools, teaching children about appreciating and understanding differences.
Along the way Ian reconnected with a childhood friend, Jake Counts, who recently retired from professional wheelchair basketball. Together they began talking to classes and entire schools about disabilities and adaptive sports. Then they began incorporating a fun game of Jake's sport into their program.They gathered parts to build wheelchairs so they could teach kids about wheelchair basketball, and then realized, Cincinnati offered no opportunities for young people who use wheelchairs to actually play and compete in the sport.
Ian and Jake began working with the Cincinnati Recreation Commission to create a team for adults called the Cincinnati Royals, and organized the Cincinnati Dragons team for children  14 and under(under the umbrella of the Greater Cincinnati Adaptive Sports Club). They are in the process of expanding to also have a junior varsity team.
In Ian's Words
"One reason I am really passionate about this work because it is an opportunity to empower other teachers to work with kids, develop a class teaching what they are good at, and do that they are on earth to do. If I can supplement their income by their teaching kids their passion, then these educators are also influencing kids to identify their passion
Jake and my presentations open the eyes of kids who might not have anyone in their lives who has a disability. By seeing and getting to know Jake and how he is just like them in many ways, they come to realize that they can have commonalities with anyone who is different from themselves."