She Helps Others Achieve Victories
I am so fortunate that my work gives me the opportunity to get know and be inspired by some truly incredible people. Faith Maynard is among them. Faith joined the team of Cincinnati nonprofit organization, LADD, Inc. (Living Arrangements for the Developmentally Disabled) 14 years ago as a direct support professional, and several positions later is now program manager for LADD's Community Connections. That program is the only non-facilities based program of its kind in Cincinnati. Groups of 3 to 5 adults choose places in our area to explore with one of LADD's social guides. Community Connections reduces isolation and also provides an opportunity for participants to learn and strengthen life and communication skills, build confidence through decision making, and explore their own likes and dislikes.
Faith has a beautiful soul. Her passion for bringing out the best in others is evident from your first encounter with her. It is what drives her. It is how she transforms lives and gives people reasons to look forward to the day ahead.
It is very befitting that she was given the name that she has.
She shared some of her story with me. It is below.
Faith's Own Words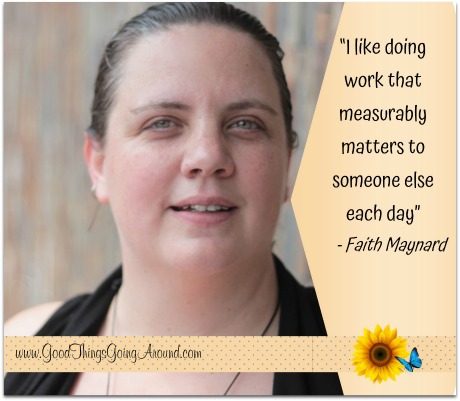 "I like doing work that actually, measurably matters to someone else each day.  I like dealing with real-life challenges.  I like taking ideas and turning them into reality.  If the realization of dreams is in some way surprising or empowering, that's just extra fun.  I feel best when the small victories that I get to shepherd people through lead to bigger, more brilliant ideas.  These are not my decisions to make or my lives to lead:  my job is to present a menu, envision solutions and, ultimately, walk beside them as their own decisions and solutions take root and bear fruit.
How I came to my career with LADD was a journey. In college I studied comparative social sciences: sociology, anthropology, psychology with minor emphasis in history and economics (because economics is a social science!).  I also did lots of organizing (politically and otherwise) through my association with punk rock music, it's sort of the defining thing of my life so far.  I'm not sure what I learned from this part of my life, but I know I felt that there was no cooperation as pure as volunteer cooperation towards an immaterial, non-monetary goal.  Cooperation for joy.  For cooperation's sake.  Graffiti on the world.
I love the variety that my work life here at LADD encompasses.  I love the occasions to work fully with my body as well as the time I spend envisioning a better way and a better world.  I love the try-it-and-see opportunities to sample the veritable smorgasbord of approaches and solutions to the problems we face each day.  I love helping the folks I support develop visions of their own and put them into play.
Beyond that, though, the most amazing thing about my job at LADD is how much of my life fits inside it.  I still book bands, I just do it for LADD.  In my capacity at LADD I throw parties, volunteer, make art, bake cookies, go to museums, do yoga, canoe and the list could go on and on! In my newest role I feel like a kid in a sandbox.  Here I've got ten groups of adults with disabilities that I can send out to be a force of good (and joy!) in the community.
As for someone who has greatly impacted my life, I'd say my most obvious influence is DJ Gatwood.  She has been my supervisor for 12 of the past 14 years here at LADD.  I've been taking great care to learn as much as I possibly can from her and I haven't quite captured her magic.  She's fantastic at making people feel heard, getting them to hear others and weaving solutions.  She is the picture of fluidity, flexibility and creativity.
Of course, my relationship with John Roach, someone with whom I have been a part of his life through my work, is pretty important.  His experience and strength is so different from my own.  He's the one who insisted I start taking folks with disabilities on amazing, ambitious trips.  He practically dared me to go on the dog sledding adventure (which I did with Gena Wade), pestered me into planning the Disney trip and wheedled me into canoeing through the Florida Everglades into the Gulf of Mexico.  He's so up for anything.  Without him in my life, I wouldn't have joined the Unitarian Church or volunteered with Mobo Bike Coop.  He loves to work hard and take big risks.
There have been other fantastic folks that I've served here at LADD.  Neil Dignan, Mike Weber and Dale Jackson jump to mind.  Their involvement with Visionaries and Voices and Thunder Sky has led me to build even more community ties.
Amazing doesn't mean easy.  Life will be better when you figure that out.