This Coach Loves His Work
Written by my Good Things Going Around intern, Isabella Noe, a senior at Walnut Hills High School in Cincinnati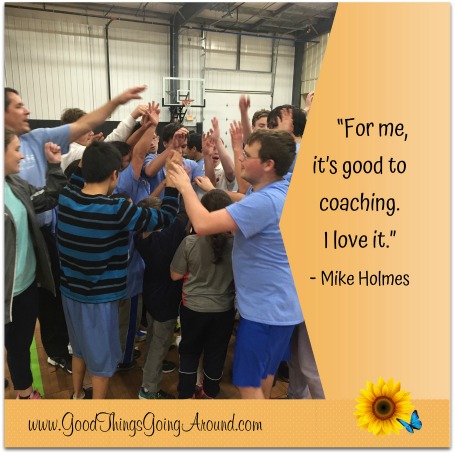 I recently had the pleasure of meeting Coach Mike Holmes.  He first started playing basketball in 1996, and is now in his fourth year of coaching basketball both for Swish Spirit and as an assistant at Mariemont High School.  Swish Spirit is "a unique program that offers basketball instruction to children and young adults who have disabilities. In addition to instruction, Swish Spirit provides children of all abilities the opportunity to be part of a team within a basketball league" .  A typical practice consists of working on dribbling, passing, and scrimmaging.  The team plays other teams like it in the area, such as the Snapdragons.  Many of the kids who attend practices have been doing so for years, and look forward to going back each week.
Coach Mike says his favorite part of coaching is helping kids who also have disabilities.  His father, Denis Holmes, notes that Mike loves "being able to share his enthusiasm and his passion for basketball" while being able to coach.  He sums up his son's coaching in two words: spirit and enthusiasm.  He says that Mike carries these gifts to work as well, at GBBN, an architectural firm.
A fellow coach, Brian Higgins, discussed how Mike has "done a fantastic job helping to be a leader for [the kids at Swish], helping them to learn the fundamentals of basketball, and teaching them how to come together as a team."
Coach Brian and Coach Mike, along with Coach Bill Noe, have given the joy of competing to many young athletes who may not have otherwise had the opportunity to play a competitive sport.  Coach Bill and Coach Brian have been involved in Swish Spirit for around eight years, and have watched young kids who at one time did not know how to dribble a basketball grow tremendously on and off the court.  Coach Brian finds it incredibly rewarding that many kids have gained so much self-confidence from their participation in Cincy Swish.  Coach Mike attributes this in part to of the "life lessons on community" that Swish teaches them.  Coach Bill agrees, noting that the level of sportsmanship between teammates is incredible.  The children involved in Swish truly care for one another.
As I attended a practice, I witnessed this firsthand as two young boys from opposing teams embraced upon one of them scoring a basket.  Although Mike is competitive, he encourages teamwork and collaboration on and off the court.
Mike's passion is clearly shown through his coaching.  He smiled and said that coaching is great for both the kids involved and the parents and coaches.   In the words of Mike himself, "For me, it's good [to be] coaching. I love coaching. I love it."