Help Cincinnati Fight Poverty
The past few weeks, I have been working with Sean Rugless to help raise awareness of an issue that affects all of us in Greater Cincinnati…and of an upcoming event where you can have input into trying to find solutions.  What is it?
It is poverty. Childhood poverty.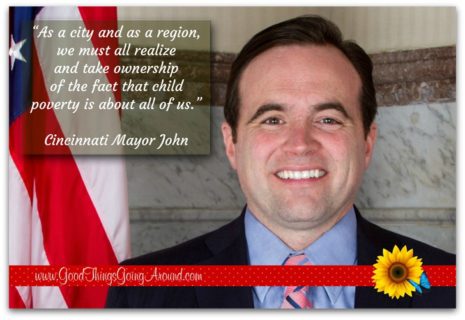 When our region is ranked #4 nationally in child poverty (source: The National Center for Children in Poverty) with nearly half of children estimated to be living below the federal poverty level, it is a problem that affects EVERYONE. And the Child Poverty Collaborative wants everyone to be a part of looking into a solution.
On Saturday, June 25, from 8:30 am to 12:30 pm, over 650 people representing nonprofit organizations, friends, neighbors, civic and business leaders, will be coming together at Xavier University's Cintas Center for a critically important Community Summit organized by the Child Poverty Collaborative (CPC). Charged with the very difficult process of creating an action plan for moving 10,000 Cincinnati children from poverty over the next five years, input and action from diverse people and perspectives is critical. At the Summit, attendees will share their voice and their ideas, connect with others who share an interest in strengthening lives children and their families within our region, and ultimately be part of the larger community effort that is taking action to find solutions.
"As a city and as a region, we must all realize and take ownership of the fact that this is about all of us," said Cincinnati Mayor John Cranley. "It is encouraging to see so many people step forward and want to be a part of this process of figuring out what we need to do differently to help our friends, neighbors, co-workers, and loved ones to move past financial hardship. We have a long road ahead. This Community Summit will be an important step in this process."
In one unique, open-to-the-public large Community Summit, people of different socio economic, cultural, racial, and neighborhood backgrounds will come together in an interactive day that will include speakers, small group break outs, and continuous reflections.  Input from this Summit be used to co-develop strategies that will be introduced at an October 2016 Summit. To reduce barriers of participation, the event is free, provides accommodations for child care, and includes lunch. (Pre-registration is preferred at this website.)
"We have been charged with the very difficult process of creating an action plan for moving 10,000 Cincinnati children from poverty over the next five years. Solving an issue as complex and deep rooted as this is going to require many different perspectives and approaches, and it is imperative that we begin with and include people who are impacted at every level help us determine how best to move forward," said Lynn Marmer, executive director of the Child Poverty Collaborative.  The innovative format of this Community Summit promises that regardless of attendees' titles or status outside, everyone will have an equal voice in frank, engaged discussions about where we are today and where we want to be as a region.
More information is at: www.childpovertycollaborative.org
Listen to the interview on WVXU. 
The Poverty Facts
The Census Bureau's American Community shows that nearly half (47.2 percent) of all children in the city of Cincinnati and one in five children in the Tri-state live below the federal poverty threshold. That's over 30,000 children within the city and 105,000 children in the Tri-state region; this big and complex issue touches everyone and will require a coordinated effort to solve it.
More statistics:
66% of City children in households headed by women live in poverty
In the City, the poverty rate for African Americans is 41%. (That's double the poverty rate of Whites). 70% of African American children under 5 in the City are in poverty.
From a workforce perspective, many people in poverty are actually working: 40% of adults in poverty work at least part time; $48,500 per year is necessary for a family of 4 to afford the basics. (That's 200% of the Federal Poverty Level.); 72% of all jobs I the region pay less than $50,000 per year.
About the Child Poverty Collaborative
The Child Poverty Collaborative is broad based community effort by leaders from government, business, civil society, faith-based organizations, and concerned citizens who are committed to co-creating solutions that significantly reduce the number of children living in poverty in our community. It is being managed by the United Way of Greater Cincinnati. Among the Collaborative's goals are lifting 10,000 children out of poverty in the next three to five years and helping 5,000 unemployed or underemployed adults get into jobs and out of poverty.