Melvin Grier Shares His Journey
For so many years as a public relations professional has spent a lot of time working in and around the media, I have met and been impressed with so many gifted photo journalists. Their lens is their eye to the world, capturing scenes with vivid images no words could do justice.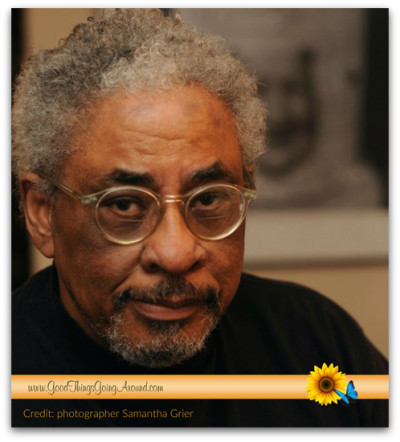 Award winning photographer Melvin Grier has been top on my list. In the days when Cincinnati was home to two daily newspapers, Melvin enjoyed a 33 year career at The Cincinnati Post. His images compellingly took us to places we would never have been exposed otherwise. They shared raw human emotions. They celebrated life. They shared kindness, ugliness, grief and joy.
Revisit Melvin's journey in a very special new exhibit called White People: A Retrospective at the Cincinnati Art Beyond Boundaries Exhibit Venue (1410 Main Street in Cincinnati's Over-the-Rhine) running from this Friday through May 13, 2016. There will be a FREE opening reception on Friday (March 25) from 6 to 9 pm with wine and hors d'oeuvres.
White People: A Retrospective
The photography exhibit is an encore show that was first shown in 2011 at the Kennedy Heights Arts Center. It is a forerunning installation of FOTOFOCUS 2016.
Melvin told me the idea for the show evolved from a conversation he had with his daughter, photographer Samantha Grier. She was working for the Hamilton Journal at the time and made an observation. She noticed that at many of her assignments, she was the only black person there. It got Melvin thinking, and actually he had the same experiences.
The exhibition will highlight a collection of photos that were taken during his career at The Cincinnati Post. You may recognize some. You may recognize their story. You probably will be moved.
Let's get to know Melvin.
Lisa:  Where did your love for photography come from?
Melvin: I was in the air force stationed in England, about an hour train ride from London. I remember going to London to take pictures when I could, and develop them in a hobby shop with a dark room. I entered a military photography contest called Stars and Stripes, and won first place. I taught myself. My first love was fashion photography but I discovered journalism photography and later decided to make it a career.
Lisa: Tell us about one of your experiences as a photojournalist that moved you.
Melvin: One of my assignments at The Post was going to Africa with a local group during a civil war. I went with Reporter Lisa Rose Cardillo. I remember getting on the flight and seeing the entire crew was black, and getting to Nairobi and feeling like everyone looks like me when I got off the plane.
The whole experience was very meaningful. I saw people running around with automatic rifles. When we went to a clinic, I saw children who were skin and bones. You have to be a professional and not let your emotions get involved. I wished I could have done more. I went to an orphanage, and there were so many beautiful babies. I remember picking one up and thinking I wanted to take it back to Cincinnati.
I knew that my job there was to create the best photographs I could so that people here could see what I saw. I wanted the reader to see things that were accurate. It was my obligation.
Lisa: Your daughter, Samantha Grier, is also a very talented photographer. How do you feel about your daughter following your path?
Melvin: Samantha reminds me that I was very lucky. I came to work at a newspaper when they were sort of thriving. There was a downward trend during my career. Young people today face a whole different set of circumstances up to and including that there are no jobs. For anyone who aspires to be a journalist, I know you don't get into it to get rich. It is something you do out of a sense of wanting to contribute.
Lisa: What is the best advice you have ever received?
Melvin: Ben Klein, one of the owners of a printing company I had worked for, had one standard. That was excellence. I remember how he would say that everything we did represented his company, whether it was a free job or not. I learned a lot from him. I know that everything that I shoot as a photographer is far from perfect but I try to make everything as good as I can make it.
Lisa: There is a poem that you read to people a lot. Tell us about it.
Melvin: It is a poem by James Baldwin from a book called Nothing Personal that has a lot of meaning to me. For me, it reminds me that my job as a photographer is to witness things so that people who could not be there for future generations would have a record of it. That was my responsibility, to document things and people.
For nothing is fixed
Forever and forever and forever
It is not fixed
The Earth is always shifting
The light is always changing
The sea does not cease
to grind down rock
Generations do not cease
to be born
and we are responsible to them because
We are the only witnesses they have
– James Baldwin
#GoodThingsCincy