'Pass It On' CD Benefits Animal Shelter
Dr. Dan Meakin of All Creatures Animal Hospital is as known for his veterinarian skills as his music skills. His band, The Stray Dogs, performs regularly at local festivals and events.
Now he is combining both passions for the common good of helping animals in need.
Dr. Dan has wanted to record some of his original music for years, and began production of his CD 'Pass It On' this past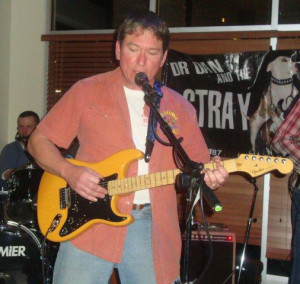 fall.  It is a fun, musical look at life from a veterinarian's perspective, and the songs are truly written with animal lovers in mind. "Learning From My Hound" and "My Dog Loves Me", are upbeat songs about man's best friend which remind us that dogs often seem to have insight that we sometimes overlook as mere humans. Meakin's version of John Shipe's "Pit Bull Blues" gives the breed a chance to tell their story and defend their reputation.
The best thing about 'Pass It On' is all that all profits from the album will go to help animals. Friends of Noah (FON) non-profit animal shelter was founded 12 years ago by Dr.s Dan and his wife Dr. Linda Meakin. The Meakins provide the building facilities in Amelia, which offers medical care and housing for around 20 dogs and 25-30 cats. "They are always full, and we are hoping that CD sales and more gigs for the band will trigger more donations or recognition for the FON shelter. We're just strumming for strays!" laughs Meakin.
Want to support the cause?
The 'Pass It On' Release Party is this Saturday, February 2, 2013 beginning at 9 p.m. at the Southgate House Revival in Newport, Kentucky. (111 East 6th Street, Newport, KY)