People Who Inspire Me: Ian Martin
Earlier this year, Ian Martin, a senior at Cincinnati's School for Creative and Performing Arts, was one of 40 area teens recognized by the YMCA of Greater Cincinnati as a Character Award recipient. The Award recognized young people who exemplify the core values of the YMCA – caring, honesty, respect and responsibility.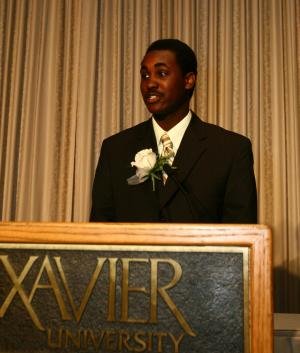 Growing up in a single parent household for the majority of his life, Ian has grown to appreciate some of the smaller things in his life. As the oldest of four children, he made up his mind at an early age that he would be somebody great. Ian strives to constantly be a positive role model to his siblings and others around him. He has volunteered at the U.S. Bank Boys and Girls Club in Avondale since he was 13 years old, tutoring and providing homework assistance to children. Ian also served as president of the One Voice Poetry Club and Keystone Club. In 2009, he was selected as the Cincinnati Youth of the Year. Through networking he has established volunteer connections with Ceasefire Cincinnati at the Urban League and is currently part of the YMCA Cincinnati Youth Council as Vice Mayor.
I spoke with Ian about some of his life choices.
What motivates you to give back and be all that you can be?
"My mom is a single parent and I have three siblings. She is a strong woman and encouraged us to do better than she did, to go 10 or 12 steps above her. She taught me to aim for the sky. My mom also taught us to value the smaller things and always be grateful. I remember people who were extremely helpful to me and my family so I feel an obligation to give back. It is rewarding to know I can help someone like I've been helped. It's a cycle."
In my younger years I also had teachers who told me that material things didn't matter. It is what is in your heart that matters.
What do have character values mean to you?
"I believe character values are the person you are, taking the initiative in your community, school and home to make them better. Character values are your motivation to succeed in all categories. They include having responsibility to take up actions that others may not be willing to do."
Tell me a little more about your volunteer work and your passion.
"I had to grow up real fast and was always real quiet. I actually went to the Boys and Girls Club first before I became a volunteer. A woman there asked me if I'd consider poetry. I was the only guy in their poetry club but I found a passion for it. Now I write plays and monologues too.
As a volunteer at the Boys and Girls Club of Greater Cincinnati I help kids with their homework or we play games in the gym. It is helpful for them to have a youth there who can relate to them. I think I'm making a small but powerful impact and that's more than good enough for me."