Win Tickets To The International College Circus Festival
This weekend, the Flying Pig Marathon isn't the only reason visitors are traveling to Greater Cincinnati. Just across the river, some of the most sought after college circus groups in the world are coming to Ludlow, Kentucky (some are already here) for a weekend of great fun at my client, Circus Mojo.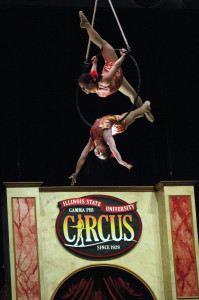 Among the groups will be Gamma phi Circus (the oldest collegiate circus in the U.S.), Cirque du K Kalamazoo, Flight Club Bloomington, Flight Club Bloomington, Kibera Social Circus from Narobi (Kenya), Omar Fuentes of Mexico 's Circo Callejero, and Hidung Merah Circus from Jakarta (Indonesia).
Also performing will be 18 year old Wawan Kuriawan from an impoverished village in North Jakarta, Indonesia. Kuriawan dropped out of school in the 6th grade when his family was unable to pay for his education; and in 2009 joined the Red Nose Foundation. Circus Mojo is sponsoring his visa to study circus arts in town this summer.
The participants of the International College Circus Festival will be performing two shows on Saturday, May 4, at the Ludlow Theatre (next door to Circus Mojo – at 322 Elm St; Ludlow, KY 41016).  Details are at the bottom of the post.
You'll be able to see them at the Flying Pig Marathon..in the Kentucky Enquirer, or on FOX19, WLWT and WCPO Saturday morning (barring any breaking news).
You can win tickets!
I'm giving away a four pack of tickets to the evening performance that begins at 8 pm. I will randomly draw a name on Thursday, May 2, at 3 pm.
 How to enter, do one or more of the following:
Post a comment to this post telling me what you love about the circus.
Post a comment on the Good Things Going Around Facebook page about why you love the circus.
Or email lisa@goodthingsgoingaround.com and tell me why you love the circus.
Shows
Where:                Circus Mojo in Ludlow, Kentucky (insert address)
When:                 Saturday shows for the public   3 pm and 8 pm
Cost:                    Saturday – 3 pm matinee –  $5 for adults and kids are FREE
8 pm – $10 for adults and kids are $5
Tickets available at the door.

One Response to Win Tickets To The International College Circus Festival