Events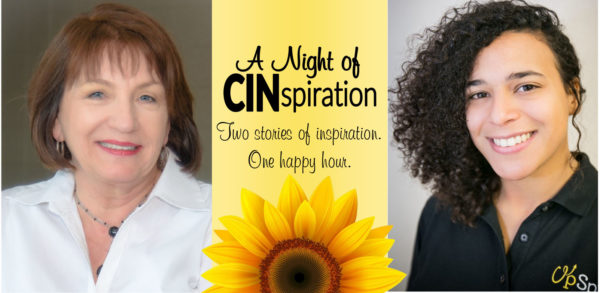 A Night of CINspiration is a dinner and happy hour event series of Good Things Going Around that will uplift and inspire you through life stories of impact told by Cincinnati people profiled in the blog. Guests of A Night of CINspiration will receive a 15% discount on their food and drink orders that evening.
This event's Featured Speakers: Lily Raphael, program manager at UpSpring, and Carolyn Dickerson, digital marketing manager with David C Cook.
Carolyn is brilliant when it comes to business leadership and marketing. Always studying to remain up-to-date on technology advances, she has successfully managed projects ranging from $100K to $2.5M; and is someone who has a knack for pulling out the best in people. Carolyn has said that her inspiration comes from her childhood in rural Kentucky, "When you grow up in a very poor family, your parents give you what they can. Mine didn't have money to give, but they gave me my values," she said.
Lily has a job that helps homeless youth just be kids through Cincinnati nonprofit organization, UpSpring, that removes barriers in the way of classroom and life success for more than 3,000 Greater Cincinnati youth experiencing homelessness. "Working with young people is so inspiring and energizing.  I love that my work challenges me to create, think quick, and problem solve, and that each day is different.  I also love working for an organization that creates environments and experiences for kids to just be kids.  Due to the trauma and challenges that children experiencing homelessness face, their living situation often asks of them to act more like adults, causing their childhood to be accelerated in some ways but then unlived in other ways.  For me, this work has taught me the importance of consistency and stability, and how easily it is taken for granted by people who have it."
I hope you will join us on Wednesday, May 24, 2017 at Tavern on the Hill in Mt. Adams for my next A Night of CINspiration. Come and be inspired!
Please pre-register below. Thanks!
Lisa