A Mom's View On Beauty
You may not recognize the name Perry Elliott aka Scott Perry, but, I have no doubt you would recognize his deep, polished, dramatic at times and sometimes whispy voice that has promoted Steve Harvey, NBC's hit America's Got Talent, the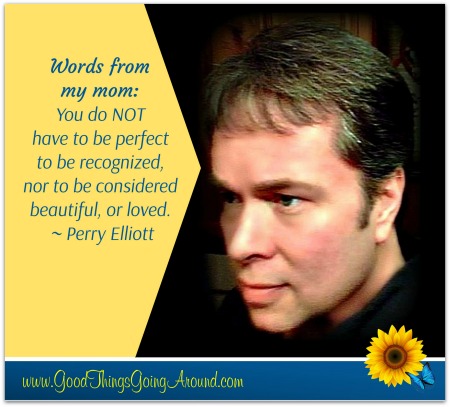 Oscars, sports broadcasts, big screen movies, and other television shows.  It is that distinctive sound that has earned him his nickname, That Voice Guy.
But behind that voice is a beautiful human being who sees and appreciates life, in its darkness and its light. Perry embraces the lessons his journey continues to teach. He stops to smell the flowers and doesn't take any moments for granted.
His mom, his best friend, died in his arms in 2001 after a short battle with cancer, but not before imparting her wisdom upon her children. Her final days were spent surrounded by friends and family. She and Perry shared some pretty important conversations.
"Periodically during our evening talks ,Mom would comment on what a nice voice I had," he shared.  "After about the 4th time of her telling me this, I asked her what she meant by saying this to me. She got that smile on her face, and explained that when she passed away, if she made it to heaven what a wonderful thing it would be to still hear her only son and perhaps if I were in radio or television, maybe some of the broadcasting waves would reach her, thus she could still hear me. At that point, I promised her I would see what I could and try my best."
It was about 30 days after burying her that Perry found himself enrolled in the Ohio Center for Broadcasting and graduated nine months later at the top of his class earning the 'Gary Burbank Award' for his achievements. His first radio gig was as a news anchor for 700 WLW. I am pretty sure that is where our paths first crossed.
Perry recently shared this reflection from his mom, and it is so moving. I asked him if I could share it.
I distinctly remember waking from the surgery to remove my cancerous right eye and asking Mom: 'What am I gonna do until my prosthetic eye is made, people are gonna look at me like I'm a freak with an eye patch'…

Mom: 'Honey, you're still a handsome man with a huge heart and you always will be, and you're imperfect, but I'm imperfect, and every single person in this world has imperfections. And when anyone looks at another and sees them as imperfect or less than attractive, that… is a reflection upon them and it shows their true colors and limitations… and not yours.'

The point of the above conversation with my Mom when she was living is:

No matter what has set you back, a stroke, loss of a limb, any type of injury, disease, or abuse you've had to suffer. You do NOT have to be perfect to be recognized, nor to be considered beautiful, or loved.

Because being perfectly imperfect is more than good enough for those who love and adore you and me for who and what we are… And those people who love you and me through all of our imperfections, well… quite simply put, they're keepers.
To Perry, your mom was one very smart and very beautiful woman. I would have loved to have met her.  I see so much of her in your perspective of life. That is an incredible legacy. There is absolutely no doubt that your mom is listening to you right now and smiling.