An International Friendship Reunited
Written by Good Things intern, Isabella Noe, a Walnut Hills High School senior in Cincinnati.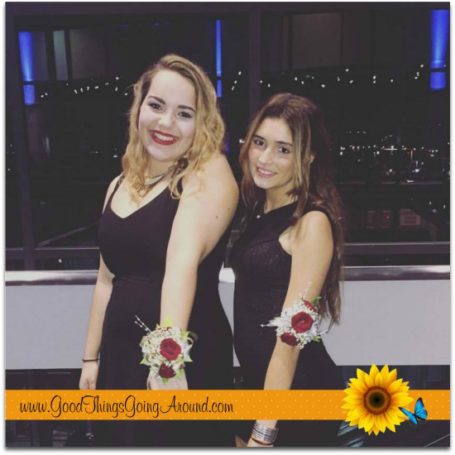 "Typically on Good Things Going Around, I have the pleasure of telling other people's incredible stories.  Today, however, I get to tell my unbelievable story of how I met one of my dearest friends.  When I was eleven years old, I traveled to Japan with a program called CISV, or Children's International Summer Village.  The program focuses on instilling ideas of world peace and wanderlust into children to create more empathetic and worldly adults.
While there, I met a plethora of people from 12 different countries.  One girl who I met while in Japan was Carmo Gomes, from Portugal.  We went on our second homestay together and although she couldn't speak perfect english, we became friends.
Fast forward six years.  We had not really kept in contact other than occasionally liking or commenting on each other's Facebook posts.  I never thought much about her until my senior year of high school.  Sitting in my fourth period class, I saw a girl who I could not place, but who looked incredibly familiar to me.  My teacher asked me to show her to the office, and I agreed.  As we walked to the office, I turned to her.  'This is going to sound incredibly specific,' I said, 'but did you by chance travel to Japan when you were 11?'
She looked at me quizzically and said 'yes, I had (in perfect English).'
I reintroduced myself, and within a second we were jumping around the hallway, screaming in excitement, and hugging.  Carmo explained that she was with a program called AFS, living for a year in Cincinnati, Ohio.  As the day progressed, we discovered we are both involved in theatre and have many of the same interests.  It has now been a month and a half since Carmo and I rediscovered each other.  Now, we see each other every single day and spend almost every single weekend together.  We go to football games together, we are in Julius Caesar together,  and she enthusiastically joins me at Good Things Going Around events.
So quickly I have realized how lucky I am to have her back in my life.  We never connected on this level as 11-year-olds, so without this incredible miracle of fate, I never would have known one of my best friends.  She has already invited me back to Portugal with her, and I look forward to what the rest of this year brings us.
"Accept the things to which fate binds you, and love the people with whom fate brings you together, but do so with all your heart." -Marcus Aurelius