Bobby, You Just Made My Day!
On the other end of the phone, I hear "Lisa! You just made my day!"
It is the kind of welcome that I have come to expect when I call my long time friend, Bobby Harrison; and pretty high up there on my list of reasons why I value our friendship. This is not only the way in which Bobby approaches our relationship, I have a pretty good indication it is how he sees all of his life, and the people who are part of it.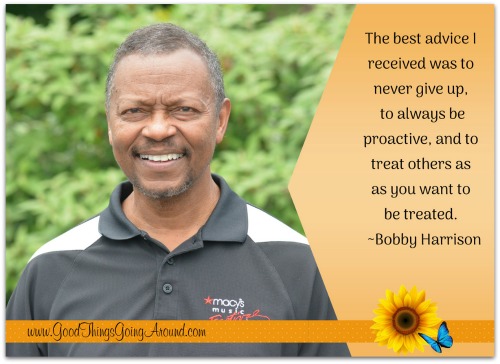 One could say he has a knack for being at the right place at the right time. But that would not give credit to where credit is due.  People like to work with Bobby, and just be in his presence, because he has so many outstanding qualities. In his personal and professional relationships, he exudes genuine integrity and a sense of caring about the welfare of others. He has a rare ability for spontaneously coming up with jackpot ideas for creating impact. And his positive outlook is infectious.
Among those for whom he has created outreach programs include NBA player Tyrone Hill's Celebrity Basketball Classic and Stedman Graham's Athletes Against Drugs Program. He has created a statewide HIV/AIDS minority advertising campaign and created a video for Dial Corporation's 75th anniversary of their flagship brand, Dial soap. His long list of clients (past and present) has included Procter & Gamble, Macy's, Boy Scouts, YMCA, Honda, and Stedman Graham. And, for the past 23 years Bobby has served as creative director for the Macy's Music Festival, working with industry greats such as Ray Charles and Aretha Franklin.
Really, this only scratches the surface of Bobby's achievements. He is an accomplished musician who, many years back, was in a band that opened for the Jackson Five and the Commodores. He is an artist who draws and paints, and attended the Cincinnati Art Academy. Currently he is pumped about his idea and project that is quickly gaining momentum. It is about building interest in music among school children. Bobby and his team have been presenting it to organizations, businesses and educational institutions. Every time we talk, more organizations are stepping up to become involved. You will be hearing more about it soon.
I look up to Bobby, president of The Harrison Group, as a creative genius who has no fear of looking adversity in the face and saying, "You will not get in my way."   For my dear friend, that foe is non-hodgkins lymphoma. It is something that lives in his body permanently and nearly took Bobby's life. It has changed his perspective and given him renewed incentive to appreciate everything with stamina and vigor.
Bobby told me his story one day over lunch. It came on suddenly. One day he began limping. Three days later his leg was becoming numb. He drove himself to the emergency room and had to crawl on the ground from the parking lot. The physicians told him he probably pulled his hamstring running, gave him food and crutches and sent him to his own doctor, who, after a five minute exam sent Bobby back to the emergency room. It ended up being the result of a massive blood clot that stopped six inches from his heart. During that ten day hospital stay they found out the underlying reason. Bobby experienced an intense ringing in his head like nothing he could even describe, and he was diagnosed with Stage 4 cancer in his bones.  It was the one time in his life that Bobby contemplated suicide.
"But I was lying there and couldn't get up to go to the bathroom. And I looked out the window and saw birds landing on ledges and realized 'that is life'. I realized I want to be that bird and be able to fly anywhere. It changed everything. I decided I don't want to be around negative people any more. I don't want to have any more arguments. I want to have a good time in life. I never want to live with regret," he said.
These days Bobby is the one to lift others up. When he gets his chemo treatments, he is the one to make others smile and forget for a little while of the unpleasantness of the moment. When friends are going through difficulty, despite his crazy busy schedule with deadlines and meetings, he is a present spirit with encouragement.
He is an incredible human being who makes the world brighter by being in it. I, for one, am better for having him around.