Carol's Work Inspired By Humanity
I have often said I am so fortunate that my work has introduced me to some pretty incredible people. Carol Stevie is among them. We came to know each other through my work on the Greater Cincinnati Planned Giving Council's Voices of Giving Awards. A committee member, Carol had been my main point of contact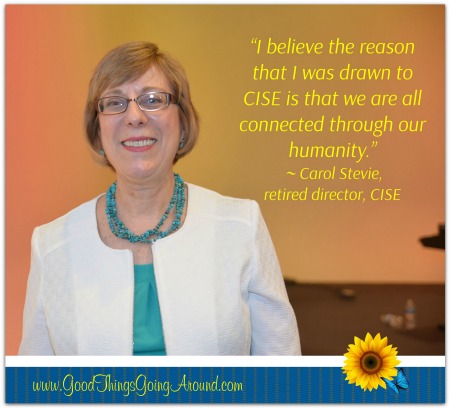 for numerous years. Always appreciative, upbeat and welcoming, she was one of the reasons I looked forward to that project.
Carol was involved through her work with a Cincinnati nonprofit organization, Catholic Inner-City Schools Education (CISE), which supports the education of about 2000 urban students at eight Catholic elementary schools and several Catholic high schools. The CISE schools welcome all children, regardless of their religious backgrounds and economic circumstances. (Around 75% of the students at CISE are not Catholic, 83% are minorities and 93% are poor.)  Carol worked there almost twenty years before her retirement, 8.5 years as its part-time associate director and 11 years as its first full-time director.
CISE was, and probably still is, her passion; although now, in her retirement she is enjoying spending quality time with her family – husband Richard, two adult daughters & spouses – Beth Walker (Tom), Laura Ash (Joe) and our four grandchildren Nathan, Evan, Ava and Eli.  Retirement also gives me more time to pursue my love of travel and to plan our upcoming adventures.   In the fall, she will be doing more volunteering.
Lisa:  Tell me about some of what you are most proud of in life.
Carol: One of things of which I am most proud – in addition to my family – is having had the opportunity to work with CISE and have a positive influence on the lives of so many young people. The growth of community support of the CISE program over the past 20 years has been amazing.  It was a privilege to work with the dedicated, hardworking CISE Board and staff, as well as with the principals, staff and faculties of the CISE schools.  They are all so mission-driven and inspiring. In addition, I am in awe of the extremely generous donors who have done so much for the students at the CISE schools over the years because they feel committed to giving children the same opportunities that they have receive.  Everyone involved with CISE shares the belief that education is the key to overcoming poverty.
Lisa:  Where does that drive and passion come from?
Carol: My personal belief in the power of education was shaped by my mother.  I grew up in East Price Hill and attended St. Lawrence School, now a CISE school.  Neither of my parents had the opportunity to attend college and worked hard to provide for our family.  My mother was insistent that my sister and I go to college because she wanted us to have more opportunities than she had.  Mom went to work full time to pay for our tuition at Seton High School and to put us both through the University of Cincinnati.  I am so grateful to her and have been inspired by her selflessness and by the great value she placed on education.
Lisa:  Tell me a little about your philosophy on life.
Carol: I believe the reason that I was drawn to CISE is that we are all connected through our humanity.  I love the following quote by Dr. Martin Luther King:  "Whatever affects one directly, affects all indirectly.  I can never be what I ought to be until you are what you ought to be."