CINspirational People: Zak Morgan Makes People Smile
CINspirational People is a feature of Good Things Going Around profiling diverse people of Greater Cincinnati, what inspires them, and what is inspiring about them. You can read more profiles by clicking on the link at the top of the blog. Do you know someone to suggest? Please reach out. Thanks!
GTGA Intern Katie Reinstatler enjoyed learning about Cincinnati's popular children's entertainer sought after nationwide, Zak Morgan, as she wrote this about him.
Wordsmith, musician, storyteller, innovator; these are just a few of the words that come to mind for Zak Morgan, a 2004 Grammy nominee and children's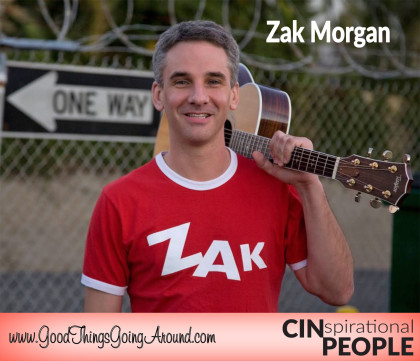 performer.  In listening to his music and watching his performances, it quickly became clear to me that he is driven and passionate in his work performing for children. Not only this, but Zak has this presence on stage, in his performances, and in his interactions with others, that is absolutely enthralling. His ability to engage with and connect with his audience, not only through his sheer skill and talent in music and storytelling, but in his sense of humor, his empathy for and understanding of others, and the ease with which he carries himself, has shaped his success, and the passion that is evident in his work.
Growing up, storytelling and wordplay were an integral part of Zak's life. Zak describes his grandpa George as one of his greatest inspirations, and talks about how the characters from his grandpa's stories, and the way his grandpa weaved words into marvelous adventures and tales, served as a great inspiration to him. Zak also describes his grandma as an inspiration, citing her as one of the sources of his musical aspirations. She attended the Cincinnati Conservatory and is an accomplished classical singer and pianist. In the answers to our questions (please scroll down to read the Q&A), Zak makes it clear that his grandparents played an integral role in shaping who he has become as a performer and storyteller.
Zak's love of storytelling, music, and children, make him successful in his role as children's performer. More than this, though, he is innovative in his creations, and draws much of his inspiration from both Roald Dahl and Shel Silverstein. He finds humor in the simplistic, knows how to make the audience laugh, enjoy themselves, and find fun in the absurd. Zak's love for his work radiates outward to those around him. The joy he finds in what he does and his enthusiasm for life and working with children is an absolute joy to see. In his music, in his performances, in his writing, and in his interactions with others, Zak is truly an inspiration.
"The beauty of Morgan's style is that adults are entertained as well, chuckling along to Morgan's inventive vocabulary,"
Rick Bird, Cincinnati Enquirer contributor
Our questions for Zak:
GTGA: How has your family been an inspiration to you?
Zak: My grandpa George was a great storyteller.  He made up wonderful stories and characters and on summer nights after swimming in my grandparents pool, my siblings, cousins and I would gather around him and he never disappointed.   Our favorites were Suzy and Joe stories about a big sister and a little brother and the adventures they would have.  I later realized that the characters were based on my grandpa and his big sister Florence.  My third children's record is a concept album about Suzy and Joe.  My grandma attended the Cincinnati Conservatory and is an accomplished classical singer and pianist.
GTGA: Tell us more about your grandparents and how they influenced what you do and who you are.
Zak: I'll share with you what I have shared on my website. Grandpa Rooney kissed the Blarney Stone and was the best storyteller I ever met. On summer nights in the 1970's, he would let my cousins and me stay up past bed time drinking 7-Up and eating Lorna Doones and sherbet while he told us stories about Suzy and Joe, a brother and sister who were always having adventures and getting into trouble. Along with being a marvelous storyteller, Grandpa had many other special gifts. Most memorable were his magnetic feet, which enabled him to walk up the sides of buildings and upside down along the ceiling. He was also very brave and once caught a lion by the ears with his bare hands in his backyard after all of the animals escaped from the zoo.
The most amazing story my grandpa ever told me was about how he met and married Grandma Lucille. In the early 1930s there was a race to see which lucky woman would get to marry Grandpa. If no one caught him, Grandpa would be allowed to stay a bachelor his whole life. Grandpa was a very fast runner and wasn't worried, but he practiced just in case.
When Grandpa saw the long line of ladies on the day of the race, he knew he would have to run very fast indeed. The starter fired the pistol and as the race progressed, it looked as though Grandpa would win for sure. There were no women in sight as he rounded the last turn. Little did he know that Grandma Lucille had taken a shortcut and was hiding in the bushes near the finish line. At the last second she jumped out of the bushes and onto his back and the rest is history.
Grandpa soon realized how lucky he was that Grandma Lucille had taken the shortcut. She is a glorious grandma who sings like an angel. Each night after Grandpa told us a great story, we would lie in bed and listen to Grandma play the piano and sing downstairs as we fell asleep.
My grandparents are two of my biggest influences and The Candy Machine is in large part a tribute to them.
GTGA: Do you remember when the first time was that you knew you wanted to sing and perform?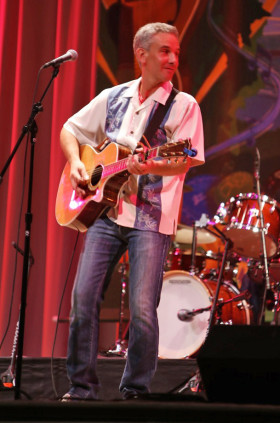 Zak: I have always had a good ear for music and I think I was three or four and when picked out the melody of Scott Joplin's Entertainer on my grandparent's piano, probably in a wet bathing suit.  I went to elementary at Lotspeich.  We had drama class daily in a barn on campus and I LOVED it from the beginning.
GTGA: Who is someone that your career has allowed you the opportunity to meet, who has been a big impact on you and why?
Zak: My career has allowed me to meet many very talented people, some of them very famous.  This has been exciting and lots of fun.  But the biggest impact by far has been the children I've met and worked with over the last 16 years.  They remind me what's important and their wide eyed curiosity, innate goodness, and free imagination without fear of being wrong or being judged has kept me a kid at heart and made me a better person.
GTGA: How do you come up with your music?
Zak: It varies.  I like to write story songs and I'm influenced by Roald Dahl and She Silverstein, my favorite authors when I was growing up.  Some songs are based on my own childhood experiences, others are inspired by books I have read and still others grew out of a simple play on words or double entendre that popped into my head like "when bullfrogs croak," "the white shark's chum," or "fluttered by a flower bed."
GTGA: What is it that you enjoy most about your work?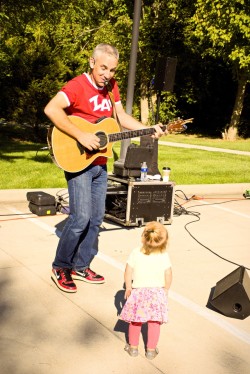 Zak: Playing with kids.
GTGA: Can you share a story of how you impacted a young person – or how a young person impacted you? (or both)
Zak: Now and then I'll hear about a child I encouraged or helped in some way and it always moves me.  One child first came to one of my shows when she was four and she was non-verbal.  A song I wrote called The Butterfly helped her turn the corner and start to sing and speak.  I recently bumped into that family and she is a healthy, happy 16 year old.
GTGA: Tell us how you came up with TIODNACI, why it is a message so important to you, and some of the impact you have seen by sharing it.
Zak: I was working on my DVD ZakLand with director Jay Silverman and advisor Tony Thomopoulos.  We were trying to come up with a catch phrase that could be repeated throughout.  I think it was Jay who said, "What about "I can do it" spelled backwards?  I went home and wrote the song that night.
GTGA: What is one of your simple pleasures?
Eating an entire row of Oreos or hitting a pure shot on the golf course.
GTGA: What is one of your proudest accomplishments?
Encouraging children.

One Response to CINspirational People: Zak Morgan Makes People Smile